Thomas Murphy Collection (5 vols.)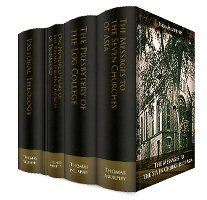 Thomas Murphy Collection (5 vols.)
•
Runs on Windows, Mac and mobile.
$20.00
Reg.: $81.95
Print: $105.55
* Projected price. Future bids may change this price.
Place Your Bid!
Click on the highest price you'd pay. If the final price is lower, that's what you'll pay.
Overview
Thomas Murphy was a prominent Presbyterian minister in the late nineteenth century, pastoring the Presbyterian Church of Frankford in Pennsylvania for many years. This collection offers five of his best works, published between 1877 and 1895, in which Murphy brings his sharp analytical mind, quarter-century of ministry experience, and careful concern with day-to-day practicalities of Christian living to bear on a variety of subjects. These volumes offer rich practical, pastoral, and scholarly insights, as well as a window into Presbyterian life and ministry in America's booming Gilded Age.
Featuring Pastoral Theology: The Pastor in the Various Duties of His Office—a classic volume still used in Reformed seminaries today—this collection is packed with useful insights that translate easily to the twenty-first century. The Thomas Murphy Collection also includes the supplemental Duties of the Church Member to the Church, which gives a concise guide of the chief responsibilities of lay-members of the church, encouraging a thriving church body where everyone is involved in ministry, not just the "professionals." You can also explore Murphy's history, Presbytery of the Log College: The Cradle of the Presbyterian Church in America, and One Hundred Years of the Presbyterian Church of Frankford to gain great insights into the history of the church in America.
Studying Murphy's work with Logos streamlines and enhances your experience. Scripture citations link directly to English translations, and important terms link to dictionaries, encyclopedias, and a wealth of other resources in your digital library. Bolster your study by cross-referencing and comparing with an extensive library of Reformed scholarship. Take your study with you using tablet and mobile apps. With Logos Bible Software, the most efficient and comprehensive research tools are in one place, so you get the most out of your study.
Key Features
Offers a selection of Thomas Murphy's best works
Provides a historical window into the nineteenth-century Presbyterian Church in America
Includes Pastoral Theology: The Pastor in the Various Duties of His Office, still used in Reformed seminaries today
Product Details
Title: Thomas Murphy Collection
Author: Thomas Murphy
Volumes: 5
Pages: 1,984
About Thomas Murphy
Thomas Murphy was an American Presbyterian minister in the nineteenth century. He was the pastor of the Presbyterian Church of Frankford in Philadelphia for many years.