AdventSource Health Ministry Collection (2 vols.)
AdventSource Health Ministry Collection (2 vols.)
•
Runs on Windows, Mac and mobile.
Overview
The AdventSource Health Ministry Collection contains the basic information information that local churches need to facilitate a healthy and holistic lifestyle in their communities.. It details how to launch a health ministry, explains basic parish home care skills, provides guidance for counsellors on how to encourage healthy lifestyle changes, and presents the possibilities and limitations of natural remedies. This collection also describes how to provide compassionate care for patients, with specific maladies such as AIDS.
With the Logos editions, these valuable volumes are enhanced by amazing functionality and features. Scripture and ancient-text citations link directly to English translations and original-language texts, and important terms link to dictionaries, encyclopedias, and a wealth of other resources in your digital library. Perform powerful searches with the Topic Guide to instantly gather relevant biblical texts and resources. Tablet and mobile apps let you take the discussion with you. With Logos Bible Software, the most efficient and comprehensive research tools are in one place so you get the most out of your study.
Key Features
Provides instructions for starting health ministries in local churches
Explains basic skills needed in parish church home care
Provides counselling techniques for facilitating lifestyle change
Explains the role of natural remedies in health ministry
Individual Titles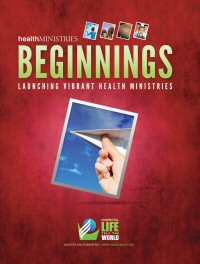 Beginnings: Launching a Vibrant Health Ministries helps readers discover how their church can become a center for health, healing, and wholeness in the community. Although many organizations provide clinics, schools, and programs to encourage wellness, none of them offers the life-changing power found in Jesus Christ—the only healer and savior of body and soul. With over one hundred and fifty contributors, this book covers a wide array of topics including basic health skills, tips for doing health ministry, and where to find key resources for teaching about health in the church.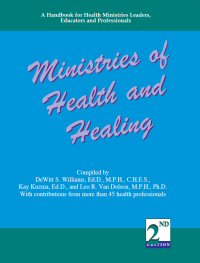 Ministries of Health and Healing: A Handbook for Health Ministry Leaders, Educators and Professionals in the North American Division
Authors: DeWitt S. Williams, Kay Kuzma, and Leo R. Van Dolso
Edition: 2nd
Publisher: AdventSource
Publication Date: 2002
Pages: 464
This second edition of Ministries of Health and Healing is a great resource for health ministry leaders, educators and other professionals in connecting the community for the sake of guiding people into a healthier lifestyle. Compiled by experienced health professionals, this handbook describes basic parish home care skills, explains how to facilitate a healthy lifestyle, and provides key information about natural remedies, collaborating with health institutions, and health education services.
DeWitt Stanton Williams served as associate director of health for the Health and Temperance Department at the General Conference from 1983 until 1990, and then as director of health for the North American Division from 1990 to his retirement. Williams lectured in more than 100 countries, wrote articles about the importance of good health, and talked to young people about the dangers of drugs.
Kay Kuzma is the president of Family Matters Ministry, a Christian organization involved in meeting family needs. With an EdD from UCLA, she specializes in child development and family life and provides informative programming for families through radio, television, newspapers, and live seminars. A prolific author, Kay's latest books include The First 7 Years: Parenting with Strong Values and a Gentle Touch, Serious About Love: Straight Talk to Single Adults and Mending Broken People.
Leo R. Van Dolson was a SDA pastor, evangelist, educator and editor who authored and co-authored 23 books including, Healthy, Happy, Holy Boost Your Prophets Call to Revival, and This We Believe.
Product Details
Title: AdventSource Health Ministry Collection
Authors: NAD Health Ministries, DeWitt S. Williams, Kay Kuzma and Leo R. Van Dolso
Publisher: AdventSource
Volumes: 2
Pages: 570
More details about these resources