Elementary Russian Grammar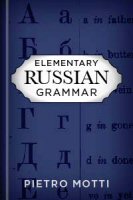 Elementary Russian Grammar
•
Runs on Windows, Mac and mobile.
$5.00
Reg.: $14.95
Print: $22.75
* Projected price. Future bids may change this price.
Place Your Bid!
Click on the highest price you'd pay. If the final price is lower, that's what you'll pay.
Overview
In his 1901 text, Elementary Russian Grammar, Piettro Motti offers simple, practical approach to learning the pre-Revolution Russian language, making this text a valuable introduction to the the language and a great reference tool for its older alphabet. Covering basic syntax and accidence, Motti designed his text to promote successful self-study, hoping learners will "soon perceive that Russian is by far not so difficult as it is generally believed." The bulk of the work is divided into 30 lessons which include a short written exposition of a specific topic, relevant examples, a selection of vocabulary words, translation and reading exercises, and practice conversations. Elementary Russian Grammar also contains an introduction covering the Russian alphabet, pronunciation of vowels and semi-vowels, as well as the italic and written alphabet. Helpful supplementary appendixes offer extra reading and conversational exercises, a selection of useful words, and brief English-Russian and Russian-English dictionaries.
With the Logos edition of Elementary Russian Grammar, you can streamline your Russian language education. Fully integrated into your digital library, this text will link to dictionaries, encyclopedias and a wealth of other resources. Perform powerful searches to find exactly what you're looking for. And free tablet and mobile apps let you take the classroom with you. With Logos Bible Software, the most efficient and comprehensive research tools are in one place, so you get the most out of your study.
Key Features
Provides a basic introduction to Russian
Contains lessons including translation and conversation exercises
Includes helpful appendices, notes, charts, and examples
Offers language-learning materials designed for the beginner
Contents
The Russian Alphabet
Pronunciation of Vowels
Pronunciation of Semi-Vowels and Consonants
The Italic and Written Alphabet
Law of Permutation
Lessons
Appendix
Vocabulary
Product Details
Title: Elementary Russian Grammar
Author: Pietro Motti
Edition: 2nd
Publisher: Julius Groos
Publication Date: 1901
Pages: 152
About Pietro Motti
Pietro Motti was professor of modern languages at the Royal Piacenza Technical Institution.
Sample Pages from the Print Edition