Select Works of St. Nikolai Velimirovic (2 vols.)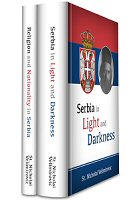 Select Works of St. Nikolai Velimirovic (2 vols.)
•
Runs on Windows, Mac and mobile.
Overview
This collection contains two works by Nikolai Velimirovic, now venerated as a Saint by Orthodox Christians, and sometimes referred to as Serbia's "new Chrysostom." A monk, scholar, and Bishop of Žica, Velimirovic speaks with great erudition and compassion on issues regarding the Serbia and the Orthodox Church, experiencing first-hand the suffering and tumult he discusses. Arrested by the Nazis in 1941, he was eventually sent to Dachau in 1944, where he witnessed the horrors of mass killings and torture. In 1946, he was able to immigrate to the United States from Communist Yugoslavia as a refugee. As summed up by his statement introducing Serbia in Light and Darkness, he writes to "give to the English-speaking people some glimpses into the past struggles, sufferings, and hopes of the Serbian nation. I have tried to describe the Serbian life in light, in its peace, its peaceful work, its songs and prayers; in darkness, in its slavery, its sins, its resistance to evil and battle for freedom."
The Logos editions of Serbia in Light and Darkness and Religion and Nationality in Serbia are designed to enhance and expand your study. Scripture citations link directly to English translations, and important terms link to dictionaries, encyclopedias, and a wealth of other resources in your digital library. Perform powerful searches to find exactly what you're looking for. The Timeline feature enables you to instantly contextualize the people, places, and ideas discussed in this text. Perform powerful searches with the topic guide to instantly gather relevant biblical texts and resources together. And free tablet and mobile apps let you take the discussion with you. With Logos Bible Software, the most efficient and comprehensive research tools are in one place, so you get the most out of your study.
Key Features
Provides a history of Serbia and details Christianity there
Includes an overview of the interplay between nationality and religion in Serbia
Offers a look into the sufferings of the Serbian people
Individual Titles

Serbia in Light and Dark provides a powerful look into the history of Serbia and Christianity. Divided into three parts, this text includes four lectures on Serbia given by Nikolai Velimirovic, as well as "Fragments of Serbian National Wisdom" and "Fragments of Serbian Popular Poetry."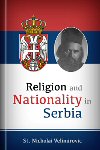 As R. W. Seton-Watson indicates in the preface, Velimirovic's aim in this "remarkable pamphlet" is to "emphasize the great work performed by the Orthodox and Catholic clergy in kindling the flame of national feeling among the Southern Slavs, alike in free Serbia and Montenegro and in the unredeemed provinces of the Dual Monarchy."
Product Details
Title: Select Works of St. Nikolai Velimirovic
Author: Nikolai Velimirovic
Volumes: 2
Pages: 170
About St. Nikolai Velimirovic
Nikolai Velimirovic (1880–1956) was an influential Serbian theologian, as well as a gifted speaker and writer. He studied at the Seminary of St. Sava in Belgrade, and earned a doctorate in philosophy from Oxford, as well as a doctorate from the old-catholic faculty of theology of Berne. During World War I, he was delegated to the United States and England, where he gave numerous lectures promoting the unity of Serbs and South Slavic peoples. In 1919, he was consecrated Bishop of Žica. Arrested by the Nazis in 1941, he eventually emmigrated from communist Yugoslavia to the United States where he taught at a number of seminaries. He is now venerated as a Saint by the Orthodox Church. Nikolai Velimirovic is also the author of Prologue from Ohrid, Prayers by the Lake, Thoughts on Good and Evil, and many more titles.
More details about these resources