The Gentile and the Jew in the Courts of the Temple of Christ (2 vols.)
The Gentile and the Jew in the Courts of the Temple of Christ (2 vols.)
•
Runs on Windows, Mac and mobile.
Overview
These works explore the historical context surrounding the dawn of Christianity, outlining the religious systems, philosophies, and cultural habits of the various pagan belief systems present at that time in an effort to better understand how Christianity developed and what cultural obstacles it had to overcome. Spanning from the first century before Christ to approximately AD 160, Döllinger's work examines both the antagonism toward Christianity and the cultural and intellectual foundations that enabled its progression.
With Logos Bible Software, these valuable volumes are enhanced by cutting-edge research tools. Important terms link to dictionaries, encyclopedias, and a wealth of other resources in your digital library. Powerful topical searches help you find exactly what you're looking for. Tablet and mobile apps let you take the discussion with you. With Logos Bible Software, the most efficient and comprehensive research tools are in one place, so you get the most out of your study.
This product will be downloaded as one resource.
Individual Titles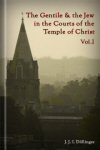 Volume 1 provides a general view of the state of the world surrounding early Christianity, including the Roman Empire, the Greek polytheistic system, Orphic religious doctrine, pagan religious systems, and more.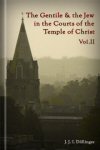 Volume 2 examines the religious systems of the West, the philosophy of Rome, the social and moral state of the Greek and Roman Empires, and the historical development of Judaism.
Product Details
Title: The Gentile and the Jew in the Courts of the Temple of Christ
Author: J. J. I. Döllinger
Publisher: London, Gibbings & Company
Volumes: 2
Pages: 1,012
About J. J. I. Döllinger
J. J. I. Döllinger(1799–1890) was a Catholic priest in Germany. A theologian, author, and church historian, Döllinger is known for his rejection of papal infallibility and his contribution to the development of the Old Catholic Church.