Baptism in the Holy Spirit Collection (2 vols.)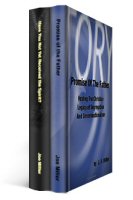 Baptism in the Holy Spirit Collection (2 vols.)
•
Runs on Windows, Mac and mobile.
Overview
In the Baptism of the Holy Spirit Collection, J. R. Miller seeks to heal the division in the body of Christ caused by ambiguity, bitterness, and denominational rivalry in understanding the baptism of the Holy Spirit. Miller explores Scripture and church history, seeking to unify Christians through understanding of the promise of Christ's baptism in the Holy Spirit.
The Logos Bible Software edition of the Baptism in the Holy Spirit Collection enhances your study with innovative research tools. Scripture passages link directly to your preferred English translations and original-language texts, and important theological concepts link to dictionaries, encyclopedias, and a wealth of other resources in your digital library. Powerful topical searches help you find what other authors, scholars, and theologians bring to this conversation.
Key Features
A scriptural understanding of what the baptism of the Holy Spirit means
A review of divisions among different denominations on the subject
Guidance for healing and unity in the church
Product Details
Title: Baptism in the Holy Spirit Collection
Author: J. R. Miller
Publisher: J. R. Miller
Volumes: 2
Pages: 354
Individual Titles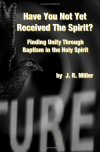 There is much debate on the topic of baptism in the Holy Spirit, and author J. R. Miller contends that all sides are quick to dismiss each other as evil or apostate. With Have You Not Yet Received the Spirit?, Miller hopes to take this debate out of divisive territory and bring it back within the context of the whole body of Christ, where faith and the power of the Spirit produce a desire for unity and a bond of peace.
Over the past hundred years, ambiguous teaching regarding baptism in the Holy Spirit has contributed to problems in the church today. Born out of his own experience in the Pentecostal and charismatic movements of the church, Miller's Promise of the Father takes a critical look at the history of denominationalism, separates fact from fiction, and paves the way for healing the division in the church.
About J. R. Miller
J. R. Miller earned his MDiv from Oral Roberts University and his DMin from Biola University. Miller is a pastor and church plant coach, and has written multiple books on church history, biblical theology, and team building. He is also an adjunct professor of practical theology and leadership.
More details about these resources