Jack Taylor Collection (9 vols.)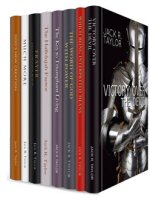 Overview
Jack Taylor's experience of the Spirit-filled life, particularly through a powerful movement of God in the early 1970s, has led him to teach principles that transform lives and prove their value both in the heat of Spirit revival and in the practicalities of daily life. Filled with inspired messages that have withstood the test of time, including Taylor's most popular sermon, "The Rod of God," these volumes usher the reader toward a more complete joy in the Christian life.
The Logos Bible Software edition of The Jack Taylor Collection enhances your study of the Spirit-filled life. Scripture passages link directly to your preferred English translations and original-language texts, and important theological concepts link to dictionaries, encyclopedias, and a wealth of other resources in your digital library. Powerful topical searches help you find what other authors, scholars, and theologians bring to this conversation.
Key Features
Messages that provide guidance for a Spirit-filled life
Powerful biblical truths and practical application
Taylor's most popular sermon, "The Rod of God"
Product Details
Title: Jack Taylor Collection
Author: Jack Taylor
Volumes: 9
Pages: 1,341
About Jack Taylor
Jack Taylor spent 17 years as pastor of the Castle Hills First Baptist Church in San Antonio, Texas, and has pursued an itinerant ministry for nearly 40 years. He is a graduate of Hardin-Simmons University and Southwestern Baptist Theological Seminary, and he received an honorary doctorate in 2011 from St. Thomas Christian College of Jacksonville, Florida.