The IVP Bible Dictionary Series (8 vols.)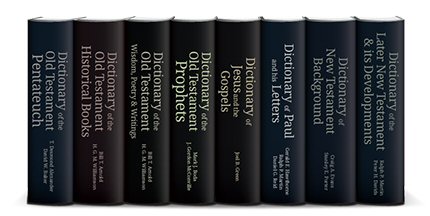 Overview
Unique among reference books on the Bible, the volumes of the IVP Bible Dictionary Series bridge the gap between scholars and those pastors, teachers, students and lay people desiring in-depth treatment of select topics in an accessible and summary format.
Articles cover traditional and contemporary biblical topics, including cross-sectional themes, methods of interpretation, significant historical or cultural background, and each Old and New Testament book as a whole.
In part and in whole, the IVP Bible Dictionary Series presents the fruit of evangelical biblical scholarship at the intersection of the twentieth and twenty-first centuries—committed to the authority of Scripture, utilizing the best of critical methods, and maintaining dialog with contemporary biblical research and challenges facing the church.
The Logos Bible Software edition of these volumes is designed to encourage and stimulate your study and understanding of the Old Testament prophetic, wisdom, and poetic books, as well as the letters of Paul and other New Testament topics. Scripture passages link directly to your English translations and original-language texts, and important theological and exegetical concepts link to dictionaries, encyclopedias, and a wealth of other resources in your digital library. In addition, you can perform powerful searches by topic and find what other authors, scholars, and theologians have to say about subjects like higher criticism of Isaiah, intertextuality, authorship of Lamentations, and other important topics.
Key Features
Provides material from the apostolic fathers and second-century church leaders
Offers full coverage of the literary dimensions through each topic
Includes Bible-encyclopedia-length articles on various subjects
Addresses the full scope of Greco-Roman culture
Covers Jewish, Hellenistic, and Roman background
Scripture passages link directly to your English translations and original-language texts
Important theological and exegetical concepts link to dictionaries, encyclopedias, and a wealth of other resources in your digital library
Product Details
Title: The IVP Bible Dictionary Series
Publisher: IVP
Volumes: 8
Pages: 8,797
More details about these resources