Eerdmans Catholic Studies Collection (6 vols.)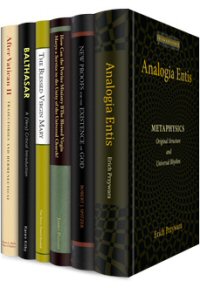 Eerdmans Catholic Studies Collection (6 vols.)
•
Overview
This collection offers substantial orientation to and discussion of key issues at the heart of the Roman Catholic tradition, from the legacies of major theologians to the role of the papacy in the Church. In After Vatican II, James L. Heft analyzes the impact of Vatican II on the trajectory of the Church and introduces readers to the hermeneutical controversies that it has sparked. Karen Kilby's Balthasar offers an intriguing and notably critical examination of this significant Roman Catholic theologian praised so highly by John Paul II and Benedict XVI. In The Blessed Virgin Mary, Anglican priest Tim Perry and Jesuit priest Daniel Kendall team up to present a readable and informative introduction to the way the Church has viewed the Lord's mother throughout history. In How Can the Petrine Ministry Be a Service to the Unity of the Universal Church?, editor James Puglisi assembles a transdenominational team of scholars to explore ways that the papacy—the historically dividing feature of the Roman Church—can be used for ecumenical advancement. Erich Przywara's Analogia Entis presents the doctrine of the analogy between God and creation that is so foundational for theological and philosophical discussion of how finite man can know the transcendent God. And in New Proofs for the Existence of God, philosopher and Catholic Priest Robert J. Spitzer presents exciting discoveries from quantum physics and the philosophy of time with significant theistic implications.
The Logos editions enhance the depth and efficiency of your study with amazing functionality. Scripture citations link directly to preferred translations and original-language texts. Citations to other works in your library link to the exact page for quick reference. Powerful searches allow you to find exactly what you're looking for. Tablet and mobile apps let you study on the go. With Logos Bible Software, the most efficient and comprehensive tools are in one place, so you get the most out of your study.
Key Features
Offers the best new research and discussion on key doctrines, figures, and ecclesiastic issues in the Roman Catholic Church
Presents essays on the papacy from Catholic, Orthodox, Anglican, Lutheran, and Reformed scholars
Provides a survey of the Church's perspective on Mary from Anglican and Catholic theologians
Includes Erich Pryzwara's groundbreaking Analogia Entis
Individual Titles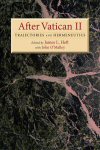 Since the closing of Vatican II (1962–1965) nearly 50 years ago, several multi-volume studies have detailed how the bishops at the council debated successive drafts and finally approved the 16 documents published as the proceedings of the council. However, the meaning of those documents, their proper interpretations, and the ongoing developments they set in motion have been hotly debated.
In a word, Vatican II continues to be very much a topic of discussion and debate in the Roman Catholic Church and beyond. The council was an extraordinarily complex reality. It is no wonder, therefore, that opinions vary, sometimes sharply, as to its significance. This volume explores these major flashpoints.
These essays recognize that the historical and cultural context of the Second Vatican Council should shape the interpretation of the resultant texts. After Vatican II shows that the hackneyed focus on the vexed issue of the 'spirit' vs. the 'letter' of the text is a blunder: the 'letter' cannot be interpreted apart from the acts issuing those 'letters,' and the 'spirit' cannot be discerned without understanding the trajectories leading into and resulting from the inspired conciliar actions. After Vatican II makes a sterling contribution to the ongoing reception of the act and acts of Vatican II.
—Terrence W. Tilley, professor of Catholic theology, Fordham University
An historic event resists adequate comprehension because of its ongoing effects, just as it provokes endless interpretation on the part of those influenced, one way or another, by what happened—and who are now committed to contributing to its unfolding. Given the profusion of emerging responses, both historical and theological, to the conciliar documents of Vatican II, this volume is a valuable guide. The 'trajectories and hermeneutics' expressed in After Vatican II will keep inquiry alive in admirable continuation of the conciliar 'style'—generous, courageous, pastoral, and deeply ecclesial.
—Anthony J. Kelly, professor, Australian Catholic University
James L. Heft is Alton Brooks Professor of Religion and president of the Institute for Advanced Catholic Studies at the University of Southern California, Los Angeles.
John O'Malley is professor in the Theology Department of Georgetown University, Washington, DC.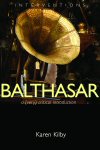 The enormously prolific Swiss Roman Catholic theologian Hans Urs von Balthasar (1905–1988) was marginalized during much of his life, but his reputation over time has only continued to grow. He was said to be the favorite theologian of John Paul II and is held in high esteem by Benedict XVI. It is not uncommon to hear him referred to as the great Catholic theologian of the twentieth century.
In Balthasar: A (Very) Critical Introduction Karen Kilby argues that although the low regard in which Balthasar was held from the 1950s to 1960s was not justified, neither is the current tendency to lionize him. Instead, she advocates a more balanced approach, particularly in light of a fundamental problem in his writing, namely, his characteristic authorial voice—an over-reaching "God's eye" point of view that contradicts the content of his theology.
With an exceptional knowledge both of Balthasar's vast corpus and of the burgeoning secondary literature on him, Karen Kilby has given us a highly perceptive and accessible analysis of the influential Swiss theologian's work and legacy. Her book is always fair-minded, but it is also unerringly incisive and tenacious in its argument that Balthasar's project has a 'performative contradiction' at its heart. She is as attentive to his method and habits of mind (where so many of his vulnerabilities lie) as to the explicit content of what he says. By denying Balthasar the status of sacred cow, Kilby ensures that he will remain a much more useful and productive source of nourishment for the next generation of theologians.
—Ben Quash, professor of Christianity and the arts, King's College London
Karen Kilby exposes the plotline of Balthasar's formidable opus and proceeds to offer circumspect criticism of the supremely confident modes of expression his speculation can take. With grammar as a critical tool, she inquires trenchantly what might allow this 'theological novelist' to know his divine characters so well as to spin the story he does.
—David Burrell, Theodore Hesburgh C. S. C. Professor Emeritus in Philosophy and Theology, University of Notre Dame
This book should be essential reading for anybody interested in contemporary Catholicism and its most flamboyant theologian. Kilby approaches her subject with a lucidity and balance that are rare in studies of Hans Urs von Balthasar. While meticulously careful to avoid gratuitous criticism, she offers a timely caution against the uncritical acceptance of Balthasar's work and its influence on much recent theology and doctrine.
—Tina Beattie, professor of Catholic studies, University of Roehampton
Karen Kilby is associate professor of systematic theology at the University of Nottingham, England.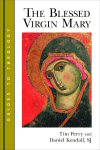 This volume provides a concise, nontechnical historical introduction to the church's thinking about Mary, the mother of Jesus. The first part of the book sketches the development of Marian thought from the second century to the twentieth century. The second part contains an annotated bibliography of the most important and accessible English-language works on Mary.
Tim Perry, an evangelical Anglican priest, and Daniel Kendall, a Roman Catholic Jesuit priest, have joined across the Reformation divide to provide an irenic, balanced volume for students and general readers interested in this most remarkable woman and the ways in which she has shaped Christian thought.
A delightfully well-written account of Marian theology, unique in the extent to which it addresses the concerns of Protestants while also refusing to minimize Mary's importance in God's work of salvation. This book will be of great value to students, pastors, and general inquirers. It should appear on every undergraduate theology reading list.
—Sarah Jane Boss, director, Centre for Marian Studies, University of Roehampton
Before we begin arguing theologically about Mary, we should hear what Scripture and Christians in past ages have had to say on the subject. Now we can do just that, thanks to this splendid book by Tim Perry and Daniel Kendall. The writing is balanced and thoughtful, and the annotated bibliography is a gold mine of information. A must-read for anyone concerned about Christian unity.
—Joseph Mangina, professor of systematic theology, Wycliffe College, University of Toronto
This accessible book on Marian doctrine and devotion should be warmly welcomed. It reflects the growing and constructive ecumenical convergence on the significance of the Blessed Virgin Mary for the lives of Christians and their churches.
—Gerald O'Collins, adjunct professor, Australian Catholic University
Tim Perry is rector at the Church of the Epiphany in Sudbury, Ontario. He also teaches theology at Thorneloe University College of Theology and religious studies at Laurentian University, both in Sudbury.
Daniel Kendall, SJ, is professor of theology at the University of San Francisco and book review editor for Theological Studies.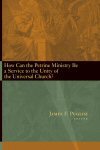 The primacy and infallibility of the Pope have long stood as roadblocks to fellowship between the Roman Catholic Church and other church bodies. Now, however, as many churches strive for greater ecumenical rapprochement and ecclesial unity, scholars from a variety of Christian traditions have been exploring together the possibility that church unity may indeed be well served by the ministry of St. Peter.
How Can the Petrine Ministry Be a Service to the Unity of the Universal Church? assembles 21 forward-looking essays on the papal office by an assortment of theologians, canonists, ecumenists, ecclesiologists, sociologists, and Scripture experts from diverse backgrounds, including Catholic, Orthodox, Anglican, Lutheran, Methodist, and Reformed. They examine the conditions under which the papacy might one day be re-received by Christian church bodies worldwide—not as an autocratic monarchy but, rather, as the unifying agency for a diverse yet cohesive universal church.
This book provides a rare glimpse into a high-level discussion that should be appreciated by anyone interested in the future of the "one, holy, catholic, and apostolic church."
Contributors:
André Birmelé
Sven-Erik Brodd
Johannes Brosseder
Günther Gassmann
Eero Huovinen
Hervé Legrand
Peter Lüning
Harding Meyer
Archbishop Roland Minnerath
Peder Nørgaard-Højen
Hermann J. Pottmeyer
James F. Puglisi
Michael Root
Geoffrey Wainwright
Jared Wicks
Metropolitan John (Zizioulas) of Pergamon
James F. Puglisi is fellow and Francis Joseph Cardinal Spellman Professor of Catholic Theology at Graduate Theological Foundation in Mishawaka, Indiana and director of the Centro Pro Unione in Rome.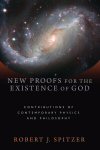 Responding to contemporary popular atheism, Robert J. Spitzer's New Proofs for the Existence of God examines the considerable evidence for God and creation that has come to light from physics and philosophy during the last 40 years. An expert in diverse areas, including theology, physics, metaphysics, and ethics, Spitzer offers in this text the most contemporary, complete, and integrated approach to rational theism currently available.
Skepticism about the possibility of proving the existence of God often relies on data from modern science. In this splendid new book Father Robert Spitzer explores the implications of the latest discoveries in big bang cosmology, string theory, quantum physics, and the ontology of time to craft a series of convincing philosophical arguments. To paraphrase a popular commercial, this is not your father's old 'natural theology' textbook—this is a gripping and compelling account of the best current arguments for theism.
—Joseph W. Koterski, associate professor of philosophy, Fordham University
A most original and insightful case for the existence of God . . . Fr. Spitzer's new proofs pose a serious and compelling challenge to the unconscious hegemony of naturalism in the worlds of both philosophy and the sciences.
—Francis J. Beckwith, associate professor of Church-State studies, Baylor University
Rare is the theologian who keeps abreast of the latest developments in fundamental physics, and even rarer the one who can discuss them with the theological and philosophical sophistication that Fr. Spitzer displays in this book. A challenging and original work.
—Stephen M. Barr, professor, University of Delaware
Robert J. Spitzer, SJ, former president of Gonzaga University, is founder and president of the Magis Center of Reason and Faith, Irvine, California. His books include Healing the Culture, The Spirit of Leadership, and Five Pillars of the Spiritual Life.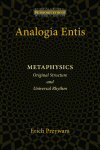 Analogia Entis: Metaphysics: Original Structure and Universal Rhythm
Author: Erich Przywara
Series: Ressourcement: Retrieval and Renewal in Catholic Thought
Publisher: Eerdmans
Publication Date: 2013
Pages: 512
This volume includes Erich Pryzwara's groundbreaking Analogia Entis, originally published in 1932, and his subsequent essays on the concept analogia entis—the analogy between God and creation—which has certain currency in philosophical and theological circles today.
Erich Przywara (1889–1972) was a German theologian who was highly influential in Europe. A Jesuit, he was strongly influenced by Augustine, Thomas Aquinas, Newman, and phenomenological philosophy of Edmund Husserl and Max Scheler.
Product Details
Title: Eerdmans Catholic Studies Collection
Publisher: Eerdmans
Volumes: 6
Pages: 1,757