Eerdmans Orthodox Studies Collection (3 vols.)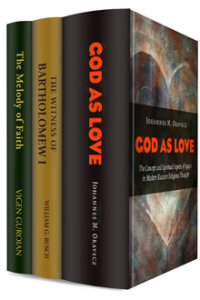 Eerdmans Orthodox Studies Collection (3 vols.)
•
Runs on Windows, Mac and mobile.
Overview
The Eerdmans Orthodox Studies Collection presents three works capturing the spirit of Orthodox Christianity. These volumes offer a survey of the Orthodox Church, its impacts, and its perspectives. The Melody of Faith: Theology in an Orthodox Key explores the fundamental beliefs of Orthodox Christianity through the metaphor of music. In The Witness of Bartholomew I, Ecumenical Patriarch, leading theologians examine Bartholomew I's influence on the modern ecumenical movement. Johannes M. Oravecz's God as Love: The Concept and Spiritual Aspects of Agape in Modern Russian Thought studies prominent Russian thinkers' perspectives on the concept of agape. These volumes provide an accessible overview of the practices of one of the largest Christian denominations. Anyone interested in the traditions and perspectives of the Orthodox Church will appreciate this collection.
The Logos Bible Software edition of the Eerdmans Gospel Studies Collection is designed to encourage and stimulate your study and understanding of Orthodox Christianity. Scripture passages link directly to your English translations and to the original language texts, and important theological concepts link to dictionaries, encyclopedias, and a wealth of other resources in your digital library. In addition, you can perform powerful searches by topic to find what other authors, scholars, and theologians have to say about Orthodox theology, the modern ecumenical movement, and agape.
Key Features
Exploration of Orthodox Christianity's fundamental beliefs
Study of Ecumenical Patriarch, Bartholomew I's influence
Survey of prominent Russian thinkers' perspectives on agape
Individual Titles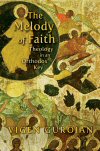 In the Orthodox Christian faith the elements of liturgy, scripture, hymnody, and iconography are the instruments or "voices" of a melody of faith. In this text, Vigen Guroian presents the fundamental beliefs of Orthodox Christianity through the metaphor of music. Often drawing on his personal religious experience, Guroian weaves together the themes of creation and new creation, beginning and end, sin and holiness, incarnation and deification, sacrifice and salvation.
Guroian explores the dogmatic foundation of this rich faith in six chapters, or "movements." Through discussing Syrian, Armenian, Byzantine, and Russian iconography and gospel illuminations—illustrated by icons and Armenian miniatures—he further reveals how Orthodox Christianity expresses theology as much in art as through language. As a whole, Guroian's Melody of Faith beautifully captures the spirit of Orthodox Christianity and takes readers to the theological heart of the Orthodox faith.
No one should presume that The Melody of Faith simply provides a better understanding of Orthodox theology, because it does much more. In this book Vigen Guroian helps the reader understand, see, and sing the Christian mysteries, for creation is a trinitarian love song that envelops us all.
—Stanley Hauerwas, Gilbert T. Rowe Professor of Theological Ethics, Duke Divinity School, Duke University
In this lovely book Vigen Guroian sets forth the compelling beauty of Orthodox faith in its own right, on its own terms, as someone who loves the faith and lives it. At the end, the reader will have not just an idea of what Orthodoxy is but also a sense of what it is to participate in it. In the words of the Apostle John, come and see. Come and listen.
—Frederica Mathewes-Green, author, Facing East: A Pilgrim's Journey into the Mysteries of Orthodoxy
Vigen Guroian is professor of religious studies in Orthodox Christianity at the University of Virginia in Charlottesville. His books include Inheriting Paradise: Meditations on Gardening, Life's Living toward Dying, and Tending the Heart of Virtue: How Classic Stories Awaken a Child's Moral Imagination.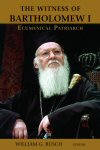 In this volume, several theologians from different Christian traditions examine how Bartholomew I as Ecumenical Patriarch has influenced the contemporary European scene, the dialogues between Orthodox churches and non-Orthodox churches, the ongoing work of the World Council of Churches, and the modern ecumenical movement. These essays paint a portrait of the Ecumenical Patriarch that has been often overlooked in Western circles—as a deeply Orthodox leader who wishes to relate Orthodoxy to the modern world and for Orthodoxy to contribute to Christian unity.
Contributors
Anna Marie Aagaard
Günther Gassmann
Dale T. Irvin
Ronald G. Roberson
William G. Rusch
Joseph D. Small
Mary Tanner
A fitting tribute to one of the most independent and creative church leaders in our age, who has done so much to renew our vision of the human calling in the context of the material creation.
—Rowan Williams, master, Magdalene College, Cambridge University
This volume of essays from different perspectives across the ecclesiastical spectrum admirably captures the remarkable significance and accomplishments, as well as the breadth, wisdom, and even spirituality of the present Ecumenical Patriarch. The vision and profundity of thought depicted in these seven chapters offer a model for leaders of other churches that is sorely needed in many quarters today.
—J. Robert Wright, St. Mark's in the Bowery Professor of Ecclesiastical History, General Theological Seminary
This book provides fascinating insights into the mind and priorities of this Ecumenical Patriarch, one of the leading churchmen of our times. . . . A pleasure to read.
—John A. Radano, adjunct professor of systematic theology, Seton Hall University
William G. Rusch is professor of Lutheran studies at Yale Divinity School and professor of church history at New York Theological Seminary.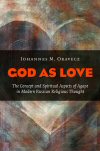 God as Love: The Concept and Spiritual Aspects of Agape in Modern Russian Thought
Author: Johannes M. Oravecz
Publisher: Eerdmans
Publication Date: 2013
Pages: 528
Nineteenth-century Russian religious intellectuals devoted a great deal of attention to the concept of agape, or divine love, arguing that the Christian church is a reflection of the triune, self-sacrificing God and his love for all of creation. In God as Love, Johannes Oravecz presents a comprehensive summation of 25 prominent Russian thinkers and their thought on the concept of agape, showing in detail how they broke new ground in their various affirmations of the truth that God is love.
Johannes M. Oravecz serves in the Diocese of Pittsburgh as a parochial vicar at St. Thomas More Church in Bethel Park.
Product Details
Title: Eerdmans Orthodox Studies Collection
Publisher: Eerdmans
Volumes: 3
Pages: 862
More details about these resources