Herramientas del griego para el pastor (15 videos descargables)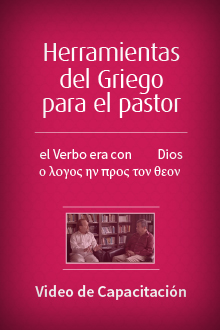 Herramientas del griego para el pastor (15 videos descargables)
•
Runs on Windows, Mac and mobile.
Your Custom Discount
Reg. Price $40.00
Price of Products You Own -$12.00
Your Price $28.00
You Save $12.00 30%
Your Price
What's Pre-Pub?
$28.00
Reseña
Dos demandas frecuentes de parte de los usuarios son clases de capacitación ministerial y más tutoriales sobre Logos. Esta primer serie de videos educativos satisface ambas necesidades. Rob Haskel, experimentado entrenador en exégesis e interpretación bíblica, enseña que cualquier pastor puede sumergirse en el texto Griego gracias a las sencillas e intuitivas herramientas que Logos ha diseñado. En 15 videos que conjuntamente suman una hora de instrucción dinámica, muestra cómo reconocer las palabras griegas y su significado con el Interlineal Inverso - lo que permite llegar al Griego desde el texto en Español -, cómo observar la estructura de un pasaje usando las biblias morfológicas, y hasta cómo aprender a leer Griego con las gramáticas incluídas. Es un recurso ideal para aquellos pastores, líderes, o maestros que deseen creer como intérpretes de la Biblia y a la vez sacar mayor rendimiento de su biblioteca Logos.
Recomendamos adquirir la serie de videos junto con Interpretación eficaz hoy. Ambos recursos son del mismo autor y se complementan.
Conoce al instructor
Contenidos
Parte I

Introducción a las biblias morfológicas
Identificar verbos con los filtros visuales
Identificar estructura con los filtros visuales
Identificar participios con los filtros visuales

Parte II

La ventana de información
Morfología: usos y significado
Uso de los Interlineales Inversos
Búsqueda de lemas griegas
Búsquedas de formas de manuscrito
Búsquedas morfológicas
Búsquedas de frases
Uso de comentarios para la interpretación
Parte III

Uso de los léxicos griegos
Ejecución de un estudio de Palabra
Manejo de gramáticas para leer Griego
Detalles del producto
Título: Herramientas del griego para el pastor
Instructor: Rob Haskell
Cantidad de videos: 15
Duración total de instrucción: 1 hora
Formato: Descargable
Editorial: Logos Bible Software
Fecha de Publicación: 2013
Acerca del instructor
Crecido en Argentina y radicado ahora en Estados Unidos, Roberto comprende plenamente la urgente necesidad de capacitar a pastores latinos. Su pasión es enseñarles a estudiar la Biblia por sí mismos. Esto lo llevó a viajar por América Latina ofreciendo seminarios sobre interpretación bíblica. Dado el sorprendente éxito de éstas clases, las mismas se convirtieron en la base de su libro Interpretación Edicaz Hoy, publicado por editorial Clie. Roberto además realizó un aporte importante en los comienzos de Logos Español, fue editor adjunto de editorial CLIE, y fundador del ministerio Senderis. Actualmente está involucrado en el liderazgo de su iglesia local y trabaja como desarrollador de sitios de internet.