B&H Pastoral Ministry Collection (13 vols.)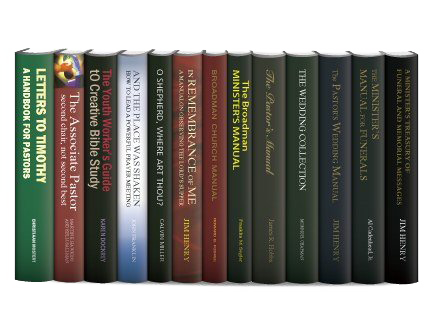 B&H Pastoral Ministry Collection (13 vols.)
•
B&H 1962–2006
Runs on Windows, Mac and mobile.
Overview
The B&H Pastoral Ministry Collection contains excellent resources for the new and veteran pastor, the associate pastor and the youth minister. One book is written by a retired pastor who felt pressed by the Spirit to write a handbook for pastors. Another book covers the importance of prayer meetings, and there's one on working with youth groups that no youth minister should be without. The collection includes eight manuals that specifically address the function and practice of many of the important aspects of the pastor's ministerial life: the Lord's Supper, weddings, church organization, and funerals.
Key Features
Thirteen resources ideal for all pastors and ministers
Variety of topics discussed including prayer meetings, youth groups, the Lord's supper, and much more
Eight manuals that address the function and practice of important aspects of the pastor's ministerial life
Product Details
Title: B&H Pastoral Ministry Collection (13 vols.)
Publisher: Broadman & Holman
Volumes: 13
Pages: 2,752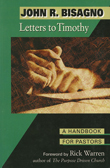 Letters to Timothy: A Handbook for Pastors
Author: John R. Bisagno
Publisher: Broadman & Holman Publishers
Publication Date: 2001
Pages: 395
Letters to Timothy is John Bisagno's retirement gift to younger and older pastors alike. A practical manual, filled with useful advice, it covers all aspects of pastoral life for churches of all sizes, locations, and denominations, addressing the "things that might have fallen through the cracks in seminary."
My prayer is that an entire new generation of pastors and church planters will use this book to develop the necessary perspective, convictions, character, and skills needed for ministry in the 21st century from this giant of the 20th century.
—Rick Warren, Author, The Purpose Driven Church
John Bisagno spent nearly fifty years in ministry and retired in 2000 from the First Baptist Church in Houston, Texas. He started out in ministry as a trumpet-playing music evangelist and soon felt called into the preaching ministry as an evangelist, only later becoming a pastor. After retirement, he continued to occasionally preach both in the United States and abroad.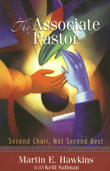 The Associate Pastor: Second Chair, Not Second Best
Author: Martin E. Hawkins and Kelli Sallman
Publisher: Broadman & Holman Publishers
Publication Date: 2005
Pages: 208
Like the second-chair position in an orchestra, a well-prepared associate pastor complements and harmonizes with the senior pastor's ministry to create an exquisite symphony. Yet more often than not, we consider the position of "second fiddle" second rate. Martin Hawkins feels he is fulfilling his calling by faithfully serving in the role of associate pastor, and this book affirms the role of the assistant pastor as a God-honoring ministry worthy of a calling and lifetime of service.
Never before has there been a blend of academic treatment in a very pragmatic manner that talks about the role of the assistant/associate pastor. This book is a must-read for pastors, associates and seminary students.
—Dr. Tony Evans
Martin Hawkins, now retired, served as associate pastor for twenty-five years alongside Dr. Tony Evans at Oak Cliff Bible Fellowship in Dallas, Texas. He earned master's degrees in counseling and theology and a doctorate in ministry.
Kelli Sallman earned a master's degree in biblical studies from Dallas Theological Seminary and has written and edited for ministries such as Charles Swindoll's Insight for Living.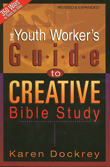 The Youth Worker's Guide to Creative Bible Study
Author: Karen Dockrey
Publisher: Broadman & Holman Publishers
Publication Date: 1999
Pages: 240
Dockrey's twenty-five years of youth ministry experience enables her to disclose tried and true methods for guiding youth to read their Bibles, discover Bible facts, understand Bible meaning and then live Bible truth. She offers hundreds of great tips on what works, what doesn't, and why. The Youth Worker's Guide to Creative Bible Study is packed with more than 350 suggestions for turning the youth minister into a "tour guide," leading youth on a journey of discovery through the Bible and helping them discover for themselves God's revelation. Some of the key features in the book include: Thirty ways Jesus taught; Bible learning games; creative questioning, activities, talk starters; art, drama, music projects; and Bible memory.
If boredom is the enemy of learning, Karen Dockrey's book drives boredom out the door and invites learning to pervade your class. You'll catch youth by surprise with the wake-'em-up methods on these pages. As a Christian educator and curriculum writer I regularly turn to it for fresh ideas and methods.
—Walter Norvell, Curriculum writer, Christian Education
For the past fifteen years, I have led seminars and conferences across the country to equip adults who work with teenagers. Wherever I go, I say, If you can only afford one book, this is it….I use Karen's ideas in my conference leading, in curriculum writing, and in teaching my own Sunday Bible study classes. Karen's book has saved me many hours by providing instructions, an index of methods, and invaluable tips at the beginning of each chapter.
—Brenda Harris, LifeWay curriculum writer and conference leader
The warmth and insight with which Karen writes gives evidence of her authentic love for young people. If you want to improve as a Bible teacher, this book will help you succeed. It is a teacher-friendly resource that constantly urges me to become a better teacher. To teach youth effectively, workers must understand teenagers and encourage not only Bible knowledge but also a growing faith in Jesus Christ. This book shows you how. Its innumerable suggestions are practical, and each suggestion is undergirded by sound educational principles.
—Gary Gramling, Associate Professor, Howard Payne University
Karen Dockrey is a popular speaker and conference presenter, and contributes to numerous Christian publications. She is the author of over 27 books for and about youth, including Jr. High Retreats and Lock-ins and Growing a Family Where People Really Like Each Other.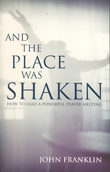 And the Place was Shaken: How to Lead a Powerful Prayer Meeting
Author: John Franklin
Publisher: Broadman & Holman Publishers
Publication Date: 2005
Pages: 207
Franklin's thesis is that praying together as a church is crucial because it is communion between Christ and His body and should never be minimized as formality. Prayer is a vital element of corporate worship, as important as any sermon or musical presentation. However, having an effective corporate experience of prayer—whether in a large congregational setting or a small group—depends on many factors. Franklin highlights not only the theology behind powerful corporate prayer but also the effective habits and practices of a praying church. And the Place was Shaken makes an impassioned plea for churches to grow in passion for Jesus through praying together. It identifies for leaders of prayer the four responsibilities they must execute in guiding God's people, and it gives practical suggestions for how to fulfill them.
It has well been said that prayer can do anything that God can do. I am grateful for John Franklin's wonderful book…. As a pastor for many years, I have struggled with the subject of leading powerful prayer meetings. This book will be an asset to pastors such as I, and Christian leaders everywhere. I am happy to commend it.
—Adrian Rogers, Pastor Emeritus, Bellevue Baptist Church, Cordova, Tennessee
I know of no one better than this author to speak to the subject of prayer. He not only is capable of writing on this ministry, but he has been very effective in leading our prayer ministry here at Woodstock's First Baptist Church. You will be challenged and instructed in this excellent book.
—Johnny Hunt, Pastor, First Baptist Church, Woodstock, Georgia
I cannot imagine a more timely and urgently needed resource. This tool has a wonderful balance of biblical principle and practical application. Best of all, it is God-focused and brings churches to the Savior, not just a program format. I wholeheartedly recommend this book to every leader with any responsibility for guiding prayer!
—Gregory Frizzell, Prayer and Spiritual Awakening Specialist, Baptist General Convention of Oklahoma
John Franklin is a co-pastor at Woodmont Bible Church in Nashville, Tennessee, and has served as a prayer specialist for LifeWay Christian Resources. He travels to other churches to help with their prayer ministries.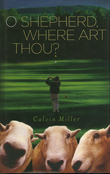 O Shepherd, Where Art Thou?
Author: Calvin Miller
Publisher: Broadman & Holman Publishers
Publication Date: 2006
Pages: 128
In this profound, hilariously humbling novel, Miller introduces fairway-weather Sam, a misguided minister who is free to hit the golf course more often now that he's read and mastered the megachurch manifesto, Physician, Heal Thyself: How to Kiss Pastoral Care Good-bye Forever. Sam has learned how to rely on church committees to "zone" himself out of tending to the sick and needy. In satirizing today's big-box professionalizing of ministry, Miller clearly demonstrates that no matter how large or complex a church might become, a shepherd's top priority is always to keep close watch over his flock.
Calvin Miller retired in 2007 as professor of preaching and pastoral ministry at Beeson Divinity School, Samford University. He received his D.Min. from Midwestern Baptist Theological Seminary and previously served as pastor of Westside Baptist Church in Omaha, Nebraska. Miller is a poet, artist, novelist, and evangelist and has written more than 40 books and numerous articles on religion and preaching.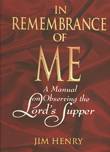 In Remembrance of Me: A Manual on Observing the Lord's Supper
Author: Jim Henry
Publisher: Broadman & Holman Publishers
Publication Date: 1998
Pages: 207
Henry helps clear up much of the confusion surrounding the proper practices of the Supper and elevates communion to its rightful place of importance. This valuable guide encourages both the solemnity and the celebration of communion. He answers many questions that arise regarding the Supper, including how often it is to be offered and who is eligible to receive it. Citing Scripture, he explains why all believers are commanded to partake of Christ's body and blood, offering practical suggestions for congregations seeking to conform their worship service to the will of God.
Jim Henry is pastor of a 10,000-member church in Orlando. He has been a pastor for over thirty years and served as president of the Southern Baptist Convention.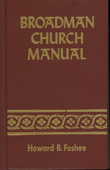 Broadman Church Manual
Author: Howard B. Foshee
Publisher: Broadman & Holman Publishers
Publication Date: 1973
Pages: 155
Foshee offers a comprehensive guide to every phase of the nature and work of the church, including pastor and staff members, church polity and government, ordinances, deacons, church council and relationships.
Howard B. Foshee has written many books on practical church functions, including such roles as the usher, deacons, and officers.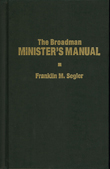 The Broadman Minister's Manual
Author: Franklin M. Segler
Publisher: Broadman & Holman Publishers
Publication Date: 1968
Pages: 161
This manual is an indispensable interdenominational tool for planning and conducting religious services. It is outlined by sections and the beginnings of most chapters contain guiding principles for a particular area of ministry. Topics covered include: the order of worship, baptism, the Lord's Supper, weddings, funerals, ordination, and visitation and counseling.
Franklin M. Segler spent over twenty years of ministry in local churches and sixteen years of teaching young ministers in the seminary. He is the author of Christian Worship, its Theology and Practice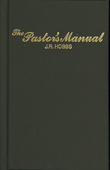 The Pastor's Manual
Author: James R. Hobbs
Publisher: Broadman & Holman Publishers
Publication Date: 1962
Pages: 251
Hobbs covers many of the important tasks the pastor performs, including funeral services and marriage ceremonies. He addresses how to organize a church, articles of faith, officers of the church, and the administration of baptism and the Lord's Supper.
James R. Hobbs has over twenty years' experience in the pastorate.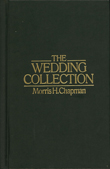 The Wedding Collection
Author: Morris H. Chapman
Publisher: Broadman & Holman Publishers
Publication Date: 1991
Pages: 223
Chapman has compiled 25 basic wedding ceremonies contributed by well-known ministers including W.A. Criswell, Charles G. Fuller, Jim Henry, Charles Stanley and H. Edwin Young. Chapman hopes that the officiate will find in these pages a ceremony that is just right for him or her, but is quite content if others "choose to put together an "original," combining parts of several ceremonies with their own ideas."
Morris H. Chapman has been president and chief executive officer of the Southern Baptist Convention Executive Committee, Nashville, Tennessee since October 1, 1992. Prior to that he was pastor of the historic 7,700-member First Baptist Church of Wichita Falls, Texas. He holds an M.Div. and a D.Min. from the Southwestern Baptist Theological Seminary in Forth Worth.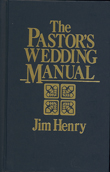 The Pastor's Wedding Manual
Author: Jim Henry
Publisher: Broadman & Holman Publishers
Publication Date: 1984
Pages: 190
The Pastor's Wedding Manual is a collection of creative wedding ceremonies to help guide the pastor in making the wedding service a worshipful experience. Henry divides the manual into three sections: one reflects on what to do before the couple says, "I do;" one discusses the planning of the wedding ceremony; and the third section provides numerous samples for the wedding ceremony itself.
Jim Henry is pastor of a 10,000-member church in Orlando. He has been a pastor for over thirty years and served as president of the Southern Baptist Convention.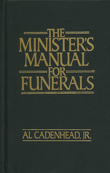 The Minister's Manual for Funerals
Author: Al Cadenhead, Jr.
Publisher: Broadman & Holman Publishers
Publication Date: 1988
Pages: 203
Cadenhead had a personal quest for quality resources for his work with grieving families. He discovered an abundance of homiletical materials in general, but there seemed to be very little in the offering of guidance for the funeral setting. The purpose of this manual is to provide resource material for a setting that has so much potential for ministry.
Al Cadenhead, Jr. is the senior pastor at Providence Baptist Church in Charlotte, NC.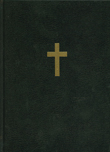 A Minister's Treasury of Funeral and Memorial Messages
Author: Jim Henry
Publisher: Broadman & Holman Publishers
Publication Date: 2003
Pages: 184
This is a much-needed manual for pastors, ministers, and laypersons alike who are called to minister in funeral and memorial services. In Part 1, Henry has compiled guidelines in seven vital areas of grief ministry: Receiving notification of a death; When visiting in the home; Scheduling; During the funeral home visit; During the service; When concluding the service; At the gravesite. Part 2 includes twenty-three full-length funeral messages for different situations, including the following: sudden unexpected death; one who battled a long illness; a military person of faith; a child; a student; a godly wife, mother, or woman.
Jim Henry is pastor of a 10,000-member church in Orlando. He has been a pastor for over thirty years and served as president of the Southern Baptist Convention.
More details about these resources
Show More