Septuaginta: Morphologically tagged edition, Alfred Rahlfs (LXX)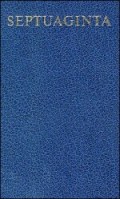 Septuaginta: Morphologically tagged edition, Alfred Rahlfs (LXX)
•
Overview
The Septuagint (LXX) is the Greek translation of the Hebrew Scriptures, which according to tradition was done by seventy Jewish scholars (hence the name) sometime in the 3rd century BC. It is the Bible which the Greek-speaking world read during the time of the apostles, to which Paul would have referred in his dealings with his churches. The Rahlfs' edition is the most modern critical edition of this text. The morphology, prepared by the University of Pennsylvania, gives the user the ability to draw parsing and glossary information directly from the text, which is especially important because the Greek of the LXX is significantly different from that of the NT.
More Information About This Resource
Click here for additional resources and information regarding Septuagint studies.
Product Details
Title: Septuaginta: Morphologically tagged edition
Authors: Alfred Rahlfs
Publisher: Deutsche Bibelgesellschaft
Publication Date: 1979, 1996
More details about this resource