Stewardship Ministries Collection (14 vols.)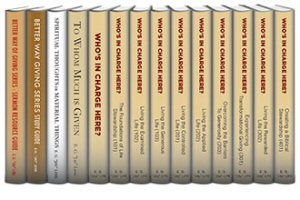 Overview
In this collection, pastor, author, and financial counselor Jay Link addresses the often neglected concept of stewardship. In many churches, stewardship is used as a synonym for giving, or inaccurately stripped down to signifying tithes and offerings. Throughout these comprehensive texts, Link invites Christians to see giving and stewardship in a new light. He explores what giving is and what it looks like in the New Testament, revealing an understanding of stewardship not as synonymous with giving, but rather, as contrary to it. Stewardship is not about what we give, but what we keep.
Link explores how to enact this life-transforming view of stewardship in practical, intentional ways. He provides experienced insights, biblical counsel, and thought-provoking questions which help you assess your relationship to possessions, view everything as God's possession, and determine how to use possessions in the best way. While his focus is primarily directed towards financial resources, Link also shows how these principles can extend to time, energies, and talents.This collection is a great resource for both individuals and pastors, supplying ample material for individual or small group study, while also providing tools to lead congregations in a new understanding and practice of biblical stewardship.
The Logos edition of the Stewardship Ministries Collection is designed to encourage and stimulate your study. These fully indexed texts enable near-instant search results for words, people, places, and ideas, while Scripture references appear on mouseover in your preferred translation. Find what other authors, scholars, and theologians have to say about generosity, money, stewardship, intentionality, and much more. Keep connected and take the discussion with you through Faithlife with tablet and mobile apps. With Logos Bible Software, the most efficient and comprehensive research tools are in one place, so you get the most out of your study.
Key Features
Provides comprehensive resources for learning and teaching biblical stewardship
Includes outlines for sermons and guidance for church leadership
Addresses difficult financial questions with practical, Scriptural counsel
Individual Titles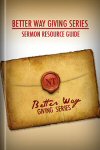 The six mini-sermons contained in this book provide solid sermon outlines, clear scripture references, relevant quotes, and helpful illustrations for preaching on the foundations of what giving should look like. This useful volume gives practical guidance to pastors desiring cultivate givers who are motivated, joyful, reliable, extravagant, selfless, and expectant. The Better Way Sermon Resource Guide provides comprehensive theology of giving that is liberating, grace-filled, and life-transforming in a highly relevant and useful format.
This volume is a helpful study guide for individuals or small groups. It includes six lessons covering different characteristics of biblical giving. Each lesson is packed with scripture that instructs or illustrates a specific giving characteristic which helps to re-fashion our perspective on giving. The engaging texts by Jay Link instruct with a warm and knowledgeable tone, while a series of questions encourage self-assessment and challenge you towards practical application. These insightful lessons will help you think about how you give, and motivate you to view giving in a biblical way.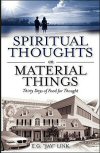 In this text, Jay Link speaks plainly about material things and challenges you to think spiritually about them. This book is designed not only to provoke change in the way you think, but also the way you live—encouraging a fresh perspective on handling the material things in your world. Formatted as a 30 day devotional, each day's material includes an engaging reading and "food for thought" questions designed to inspire honest introspection and practical change. This book provides an abundance of new spiritual thoughts on old material things, speaking insightfully about a crucial and often neglected topic in Christian schools and churches.
This book is scripturally based, filled with excellent stories, practical advice, and wise guidance. Jay has a very conversational and thought-provoking style of writing that caused me to ask the hard questions and wrestle with the answers. It is extremely comprehensive, covering both the challenges and opportunities of being entrusted with much. I thought I might read it in 30 days. I'll probably be referencing it for 30 years.
—Bill Williams, president of Generous Giving
This book combines Jay's gifts as a pastor, teacher, and planner with his passion for serving families and mobilizing resources to further God's Kingdom. All those who read this book will be challenged in their thinking, encouraged in their heart, and motivated to follow and apply God's principles of biblical stewardship. So, pull up a chair and for 30 days go on a journey with Jay as your guide, the Scriptures as your road map, and a biblical worldview as your context. You will be changed and His Kingdom furthered.
—David Wills, president of the National Christian Foundation
Jay link has devoted his life to helping the very affluent understand God's perspective on wealth and what He says about how to live a prosperous life. This book will be enormously valuable in challenging the thinking and broadening the horizons of everyone who is sincerely seeking to use all their resources in ways that will please God, increase their Kingdom impact, and promote healthy family relationships.
—Howard Dayton, co-founder of Crown Financial Ministries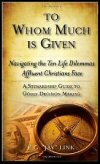 What do you do when you have more than enough? As Jay Link explains in this text, how you use your fortune can build or destroy, benefit or corrupt. It can provide a sense of security or a sense of entitlement. Link reveals that it is especially important for wealthy Christians to realize that what is done with their money has eternal consequences. In this text he provides scripturally based, practical, and insightful teaching for those called to steward large amounts of resources. Link addresses ten major issues in this book, and gives sound direction, including the chapters: "Blessing (and Not Cursing) the Next Generation," "Having a Master Giving Strategy," "Surrendering All to Christ," and "How Much Should I Be Giving and When?"
If you are struggling to know how to most wisely steward the wealth that God has entrusted to you, this book will help you clear away the fog of uncertainty and indecision. Jay has provided an invaluable road map to point the way on what to do with and about your wealth. It was practical, informative and helpful for me.
—Hugh Maclellan, Jr., president of Maclellan Foundation, Inc.
Jay has composed one of those rare books that combines simplicity, wisdom, and practicality. His insights and unique experience will open up the minds, and plenty of options, for the reader with substantial finances and a heart to leverage that blessing for the Kingdom. Jay truly understands the social, material, spiritual, and technical dilemmas the wealthy face on the way toward a life of fulfillment and generosity.
—Bob Buford, founder of Leadership Network
There are few individuals as passionate, knowledgeable and articulate about the biblical principles on generosity and effective stewardship as Jay Link. The life dilemmas described so clearly by Jay in this book are real but seldom addressed. The generous and effective distribution of wealth entrusted to Christians has been stifled by their lack of understanding what dilemmas they face and then not knowing what to do about them. Jay offers clarity on this subject and challenges all of us to be more intentional about our stewardship. This book can result in a spiritual breakthrough for those wealthy Christian families desiring to be wise and responsible stewards.
—Paul Schultheis, senior managing partner of Strategic Resource Group
To Whom Much is Given takes the whole discussion of generous living to a deeper level. Jay puts forward the hard questions we all ask ourselves and provides the context for God-given answers. The last dilemma, 'Surrendering All to Christ', captures the essence of Christian living and should be read often by us all.
—Ken Johns, Tijeras Foundation, Generous Community Initiative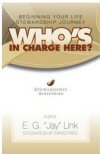 In this text, Jay Link introduces the concept of stewardship. He lays the groundwork for this critical concept, desiring not that readers simply know more at the end of it, but that after reading, they will be inspired to start living differently. The content of this short book has the power to totally transform every area of your life when you apply its simple, yet powerful, principles of life stewardship.

The Foundations of Life Stewardship (101): Study Guide
Series: Who's in Charge Here?
Publisher: Stewardship Ministries
Publication Date: 2012
The Who's in Charge Here? stewardship study guide series contains a series of modules which move from imparting basic truths to drastically expanding your thinking about stewardship. Each lesson includes engaging teaching and several thought-provoking questions. The 100 series modules lay the foundation for understanding the concept of stewardship and begin applying these life stewardship concepts to various areas of a believer's everyday life. The 200 series modules expand the application of the life stewardship principles to additional areas of life and address barriers that prevent believers from being good stewards and open-handed givers. The 300 series modules address the most far-reaching and the most challenging levels of giving as well as living the life of a good and faithful steward. These modules are designed to be studied in sequential order and each new module builds upon the teaching and application of the previous modules.
This volume is the introduction to the series, laying foundational principles of stewardship.

Are you living your life on purpose or by accident? In this text, Link challenges you to plan your life and live your plan, instead of simply letting life events and circumstances sweep you down the river of time. This study guide, which includes six practical, thought-provoking, and scripturally-based lessons, is designed to help you begin to live the way God created you to live—on purpose. Sharing insights from his years of experience as a pastor and as a financial counselor, Link guides you on your way to developing a thoughtful and effective master stewardship plan.

In this volume, Link specifically addresses generosity. He reveals that we may often see generosity in others and simply credit them with having been given the gift of generosity, thinking of such verses as Romans 12:6, 8: "[w]e have different gifts, according to the grace given us. …if it is contributing to the needs of others, let him give generously…" He examines how in so acknowledging their gift of generosity we may also be excusing ourselves from being generous. Link demonstrates how generosity is not the exclusive domain of those gifted to be generous, but rather a part of the hard-wiring of every one of us. He encourages us to begin a life that embraces this generosity, and gives practical instruction in these six lessons. He also addresses being generous in the way we live, being generous with more than just money, giving privately or publicly, and much more.

This study focuses on learning to grow in our consciousness and stewardship of our: consumption, exposure, time, perspective, greed, and choices. Its series of teachings and questions addresses issues such as: How can we learn to live on less? How can we live with a correct perspective about the present moment? And how much is enough?

The overwhelming majority of people on this planet never really discover the life purpose for which God created them. It seems that the materialism and the pursuit of all things good in this life have overshadowed the deeper meaning of our life's purpose. How can we discover what God has really created us to do? In this text, Link examines three areas that must be considered in order to live a more purposeful life that stewards all resources well. He also discusses how to apply this purposefulness to a variety of areas in our lives and giving habits.

In this study, Link asks this question: has God's abundant provision in your life become a bridge or a barrier to your ability to trust him more fully in your life? He provokes us to think about our assumption that abundant material provision allows us to confidently trust God for the future, based on what we have experienced in the past. These lessons guide you to think holistically about wealth, and acknowledge that when provisions start exceeding your most basic needs, they most often end up becoming a barrier which prevents you from trusting God more, not a bridge enabling you to trust him more. Link provides counsel on how to deal with this phenomenon as well as addressing other barriers that can prevent generosity.

This study examines situations involving giving in the Bible, highlighting specific principles we can learn and how these principles can be applied to our view and practice of giving today. It also provides further scripturally-based teaching on transformational giving, as well as provoking questions designed to help you assess your attitudes and habits towards your possessions and resources.

In this study, Link focuses on this principle: you cannot become poor by giving—it is an eternal impossibility. This text addresses one of the most compelling disincentives to giving: a nagging sense of loss from what is given away. He dispels the idea that we need to evaluate how much "poorer" we are willing to become in order to determine how much we are willing to give. With warmth and insight, Link shares perspective on this distorted idea, asserting that Bible teaches us that giving is never a personal loss, but rather always a gain. He also addresses issues of rewards associated with giving as well.

A church will never be able to develop a church-wide life stewardship culture if the leadership of the church does not understand, personally practice, and effectively teach these principles. Good life stewardship practices do not trickle up, rather they must trickle down. So, what exactly does the word stewardship mean? In this study guide, Link provides solid teaching for church leaders desiring to lead congregations in biblical stewardship, addressing critical areas of church life that may hinder it from developing a healthy life stewardship culture
Product Details
Title: Stewardship Ministries Collection
Author: Jay Link
Publisher: Stewardship Ministries
Volumes: 14
About the Author
Jay Link (E. G. Link) is the president of Stewardship Ministries, a teaching, training, mentoring, and content ministry. In his role as founder and president, he works to equip church and non-profit leaders with biblical knowledge and training on stewardship. His goal with Stewardship Ministries is to provide resources that empower all ages and economic levels of believers to live as faithful stewards of all that God has entrusted to them. He has also written Family Wealth Counseling: Getting to the Heart of the Matter.