Select Works of Raymond E. Brown (4 vols.)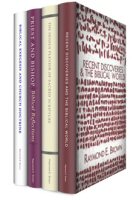 Overview
Prominent Bible scholar, member of the Sulpician Fathers, and respected professor of biblical studies, Raymond Edward Brown was one of the first Roman Catholic scholars to analyze the Bible using historical-critical methodology. Controversial in some Catholic circles and celebrated in others, Brown remains an important figure in the Catholic Church and in the landscape of twentieth-century biblical scholarship. This collection brings together four volumes of his best work. Read his thoughts on biblical exegesis and Church doctrine, learn from his reflections on the roles of priests and bishops, dive into his guide to important archaeological finds, and much more.
The Logos edition of Select Works of Raymond E. Brown is designed to enrich and accelerate your study. These fully indexed texts enable near-instant search results for words, people, places, and ideas, while Scripture references appear on mouseover in your preferred translation. Find what other authors, scholars, and theologians have to say about biblical exegesis, Catholic doctrines, sensus plenior, priesthood, and much more. With the most efficient and comprehensive research tools all in one place, you can expand your study with just a few clicks. And with Logos tablet and mobile apps, you can take your study wherever you go.
Key Features
Offers a sampling of Raymond Brown's varied scholarship
Provides a handy guidebook on archeological finds of the twentieth century significant in biblical studies
Examines the hermeneutical classification of sensus plenior
Includes biblical reflections on priesthood, the role of bishops, and the authority structure of the Church
Product Details
Title: Select Works of Raymond E. Brown
Author: Raymond E. Brown
Volumes: 4
Pages: 533
Individual Titles

In this book, Raymond Brown reflects on the interplay between biblical criticism employed by a majority of Roman Catholic scholars and the doctrinal proclamations of the Catholic Church. He also presents his argument for how liberals and ultraconservatives both misinterpret the effects of biblical criticism on doctrine. He gives special attention to the positive results of contemporary biblical studies for the understanding of Mary, the Holy Spirit, and the Church.

Priest and Bishop: Biblical Reflections
Author: Raymond E. Brown
Publisher: Wipf & Stock
Publication Date: 1999
Pages: 86
This booklet presents Brown's thoughts on the biblical basis of priesthood, as well as some reflections on the role of bishop. Not setting out to give a "complete, scientific treatment of the biblical background of priesthood," he presents his intentions for compiling these reflections this way: "I have culled the Scriptures to offer material for thought at a crucial moment in the history of the Roman Catholic priesthood. With the whole Christian world looking on, we Catholics have entered a sometimes acrimonious debate with ourselves as to what should be expected of those who are in the special ministry of the Church . . . What manner of life should our priests live and work should they do?"
One of the most fascinating aspects of biblical research today involves Near East discoveries and how they cast light on the Bible. This text by Brown is a handy guide which discusses twenty-five of the most significant archaeological and documentary finds of our times, and explains how they broaden our knowledge of the biblical world. This book provides helpful photographs and illustrations to enhance your study, as well as an insightful introduction by the author in which Brown recounts how for himself, reading of such discoveries sparked him to commit his life to formal Bible study and helped him develop his cardinal principle of biblical interpretation: viewing the Bible as the "word of God" involves a combination of divine inspiration and human time-conditioned perception.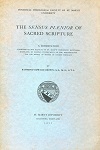 This work, published in 1955, is a dissertation Brown wrote at St. Mary's University in Baltimore. It deals with the notion of sensus plenior or "fuller sense," a term in biblical exegesis first used by Andres Fernandez, S.J. in the late 1920s. This new hermeneutic classification sparked a complicated dispute in Catholic circles in the years following, to which Brown adds his voice in this text. Brown defines sensus plenior as "that additional, deeper meaning, intended by God but not clearly intended by the human author, which is seen to exist in the words of a biblical text (or group of texts, or even a whole book) when they are studied in the light of further revelation or development in the understanding of revelation." Brown explores the use of Scripture in its various senses through the ages, explains the divisions of sensus plenior and its relations to other senses of Scripture, examines the objections raised against it, and much more.
About Raymond E. Brown
Raymond E. Brown was a Sulpician priest and bible scholar. He taught for many years at Saint Mary's Seminary in Baltimore and was professor emeritus of biblical studies at the Union Theological Seminary in New York. Over his lifetime he was awarded more than dozen honorary doctorates from American and European universities and was commended by Pope Paul VI for his "learning, prudence, and Catholic regard for the Magisterium of the Church." Brown was the author of three books in the Anchor Yale Bible series on the Gospels and Epistles of John. He died in 1998.
More details about these resources