Select Works of August Hermann Francke (3 vols.)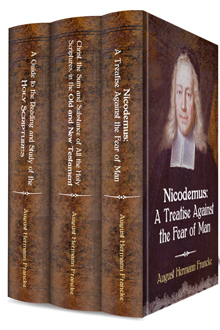 Select Works of August Hermann Francke (3 vols.)
•
Runs on Windows, Mac and mobile.
Overview
August Hermann Francke was a Lutheran-Pietist theologian, a pedagogue, a pastor, and a social reformer. His work spans from missionary coordination to preaching and from building low-income schools to teaching higher-education theology, Hebrew, and exegesis. This collection of his translated works contains a variety of his writings, from his exegetical instruction to his behavioral control ethics. His zeal and intellect shine through these writings, demonstrating his political and ecumenical leadership, his vision for foreign missions, and his heart for the poor. This collection is a must for those interested in historical Lutheran theology, pedagogy, and Christology.
In the Logos edition, these texts are enhanced by amazing functionality. Scripture citations link directly to English translations, and important terms link to dictionaries, encyclopedias, and a wealth of other resources in your digital library. Perform powerful searches to find exactly what you're looking for. Use the Cited By tool to discover just how far his influence spread. Take the discussion with you using tablet and mobile apps. With Logos Bible Software, the most efficient and comprehensive research tools are in one place, so you get the most out of your study.
Key Features
Late seventeenth-century Christology and Johannine studies
Hermeneutic methods with devotional purposes
Psycho-spiritual analysis of fear and bravery in faith
Individual Titles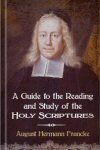 This early eighteenth-century survey of exegetical methods analyzes seven different branches of scriptural study: grammatical, historical, logical, expository, doctrinal, inferential, and practical study of the Word. As a proponent of devotional Bible study and of furthering education, Francke founded the Collegium Philobiblicum, a school focused on reading and interpreting biblical pericopes from the original languages—many of his scholarly teachings found their way into this book.
This nineteenth-century edition contains a 50-page biography of August Hermann Francke and end notes from this edition's translator.
Francke's [Guide to the Reading and Study of the Holy Scriptures] deserves to be often read. It contains the best rules for studying the Scriptures that I ever remember to have seen.
—Philip Doddridge, author, Lectures on Preaching
This book, though small in size, nevertheless contains nearly everything which an exemplary man—with long meditation and use, and most of all relying on experience—can teach with clarity [in lucem emisit] for the good of students of the Summa Theologica.
—From the Latin preface to the 1709 edition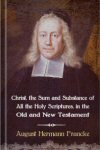 Through a series of daily or regular meditations, Francke leads readers through the evidence of Christ throughout the entire Bible—stopping and dwelling at length in the Gospel of John. The original Hebrew and Greek words are compared when studying words ascribed to Christ, helping readers connect the Gospel of John with the rest of the Bible at large.
This edition also includes an Easter sermon preached by August Hermann Francke on the topic of the resurrection, preached from the Gospel of John.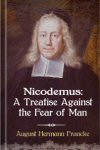 The fear of man, Francke contends, is a difficult vice that stands between the heart and the love of God. In this treatise, Francke explores the sources of human fear—going as far as to call it an effect of idolatry—and suggests methods for overcoming such fear. In the end, it's not the judgment of fellow man we should be afraid of, but the judgment of a God who will ask us where we've shown our boldness of faith.
Contents
Chapter I: What the Fear of Man Is, and the Several Kinds of It
Chapter II: Of the Sources and Causes of the Fear of Man
Chapter III: Of the Signs and Effects which Discover the Fear of Man
Chapter IV: Of the Manifold Mischiefs caused by the Fear of Man
Chapter V: Of the Excuses that Are usually Made to Palliate the Fear of Man
Chapter VI: Of the Means whereby we may be Delivered from the Fear of Man
Chapter VII: Of Christian Discretion, Wisdom, and Prudence, to be Observed in the Exercise of a True Boldness of Faith
Chapter VIII: Of the Inestimable Good which Ariseth from the Boldness of Faith, Conquering all Fear of Man
A Prayer against the Fear of Man
Product Details
Title: Select Works of August Hermann Francke
Author: August Hermann Francke
Volumes: 3
Pages: 696
About August Hermann Francke
August Hermann Francke (1663–1721) was a German Lutheran theologian, preacher, and a leader of the Pietist movement. He studied philosophy, theology, and biblical languages at Erfurt, Kiel, and Leipzig, and founded, with Paul Anton, the Collegium Philobiblicum in 1686. His sermons and lectures aroused a stir in his community, generating influence and engagement in his students and oppression from his theological opponents, who dismissed him from his teaching position in 1691. Through Philipp Jakob Spener, he became pastor at a church near Halle, the university at which he became professor a year later. It was at Halle where he built most of his legacy, writing many of his books, founding numerous charitable institutions for the poor and underprivileged children, and organizing missions to India.
His legacy and influence was long-lasting. Inspired by Francke's pedagogy and charity work, King Frederick William I of Prussia announced compulsory education in 1717. Francke's writings remained oblivious to the Enlightenment, but his work is seen as a beginning for Christian social welfare and education, and his impact on missionary life and devotional styles influenced the next several generations in their efforts.