Virginia Fugate Collection (2 vols.)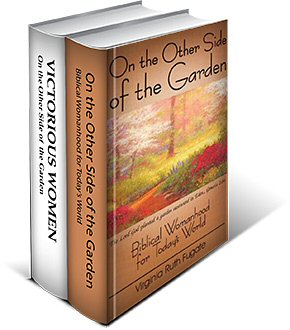 Overview
Magazines, television programs, billboards, movies and newspapers all contain information that often debases the Biblical role of women as they promote a humanistic, secular model instead. The two volumes in the Virginia Fugate Collection help to unseat these secular influences, which have even become dominant in Christian women's attitudes and opinions. Virginia discovered this influence in many of the Christian books on marriage that she had read. She decided to write On the Other Side of the Garden with its message centered solely on what God's Word teaches about marriage. Her goal was to provide biblical insight to Christian women about the importance of biblical womanhood. This endeavor was to specifically counter prevailing ideologies coming from secular feminism.
As the leading digital publisher of biblical resources, Logos Bible Software is the best choice for building a digital library that is comprehensive, yet affordable; powerful, yet easy to use. Whether you are a new Christian, seasoned pastor, or advanced scholar, Logos has thousands of high quality digital resources perfectly suited to meet your needs. Logos Bible Software dramatically enhances the value of any resource by enabling you to find what you are looking for with lightning speed and incredible precision. Your investment is safe when you choose Logos. Your books and licenses are backed up on our server and are easily restorable, and your resources are updateable to be compatible with future versions of Logos.
Product Details
Title: Virginia Fugate Collection (2 vols.)
Author: Virginia R. Fugate
Publisher: Foundation for Biblical Research
Volumes: 2
Pages: 457
Individual Titles

On the Other Side of the Garden
Author: Virginia R. Fugate
Publisher: Foundation for Biblical Research
Publication Date: 2004
Pages: 272
On the Other Side of the Garden was first printed in 1992 after fifteen years of Bible study and prayer. It quickly became a women's Bible study favorite and has encouraged thousands of women to look to God for their purpose in life. This book is for women who want to live their lives to the glory of God, even if their husbands never do what they are supposed to with their lives. This newly revised second edition reveals how to understand God's purpose for womanhood; distinguish submission from blind obedience; communicate Biblically with a husband; deal with a passive, overbearing, or unspiritual man; handle disappointments and irritations in marriage; and turn the frustrations of marriage into joy.
Every Christian wife and wife-to-be should read this book! The challenges of living a Christ-centered life in today's feminist society are addressed truthfully in an atmosphere of experience and humor. But this book is for the woman who truly desires to live her life in obedience to her Savior. If you are searching for a closer walk with your Lord and are willing to soften your heart before Him, you will not believe the blessings you will receive! This is a message that is sorely lacking in today's church and one that is greatly needed. See what God can do with your marriage, and enjoy the unparalleled blessings of growing old with your husband.
—online reviewer
I found this book challenging. Many times, as I considered the author's thoughts and experiences, I realized that much of my view of myself as a woman needed to be challenged. My perception of marriage has been shaped and molded by outside influences, not by the Bible. As a Christian, I needed to be shaken up. Virginia Fugate presents this in a way that helps you take a hard look at where you stand and why you're here. I appreciate her presentation and that she has spent much of her adult life working to develop her walk as a woman who truly wants to live as God created her to.
—online reviewer

Victorious Women
Author: Virginia R. Fugate
Publisher: Foundation for Biblical Research
Publication Date: 2001
Pages: 185
Victorious Women is the long-awaited sequel to Virginia's popular women's book, On the Other Side of the Garden. Most of its chapters are based on letters she has received since the release of her first book. Women wrote to share how God had changed their lives through Biblical womanhood. Virginia soon realized that the victories, struggles, and questions expressed must be shared with others. She believes the joy over what God has accomplished in these women's lives will inspire others to look to Him for the victory in their own lives. Virginia addresses such topics as: the secret to Biblical womanhood; how not to be affected by your husband's moods; how one's words can be uplifting or undermining; how to find victory over financial worries; and dealing with unfaithfulness and the victory of forgiveness.
About Virginia R. Fugate
Virginia Ruth Fugate, who worked for Child Evangelism Fellowship, is the wife of J. Richard Fugate, founder and director of the Foundation for Biblical Research. They have been married for more than 46 years and have three married children. She has studied the Bible for many years and felt compelled to write these books to offer to Christian women what she has learned about a God-centered marriage.
More details about these resources