Thomas Keating Collection (7 vols.)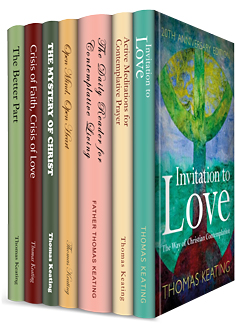 Overview
Father Thomas Keating, founder of the Centering Prayer movement and internationally renowned theologian, is known as a public speaker and teacher of Centering Prayer—a revival of contemplative meditation intended to grow the Christian's personal relationship with God. Influenced by Christian mystics and spiritual traditions from the East, Keating has written a number of books on the practice of Centering Prayer and the contemplative prayer experience. This collection contains the core trilogy of his works, Open Mind, Open Heart, Mystery of Christ, and Invitation to Love, as well as a number of his other works and daily devotionals compiled from his writings, designed to actualize the main ideas he conveys.
In the Logos edition, this resource is enhanced by amazing functionality. Important terms, figures, and dates link to dictionaries, encyclopedias, the Logos Timeline, and a wealth of other resources in your digital library. Citations from the Catechism or the Bible appear on mouseover, allowing you to see the bigger picture on a click. Tablet and mobile apps let you take your reading with you. With Logos Bible Software, the most efficient and comprehensive research tools are in one place so you get the most out of your study. Create reading plans that remind you to pick up where you left off in your day-to-day devotionals—and see how Logos Bible Software increases the value of the text by enabling you to bring it to practice.
Key Features
Contains both modern and ancient insights to contemplative prayer
Provides instructional guidebooks, workbooks, and daily devotionals to ease you into silent worship
Combines contemporary psychological wisdom with time-tested spiritual strategies
Individual Titles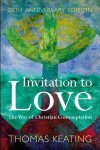 Invitation to Love provides a road map for the journey that begins when Centering Prayer is seriously undertaken. Pointing to some of the recognizable landmarks on this journey, as well as to its ultimate destination, Father Keating addresses common questions regarding contemplative practice: How will it affect my life? Where does it lead us spiritually? What obstacles will I encounter along the way? How does it work? Following on from Open Mind, Open Heart, this book establishes a dialogue between the insights of contemporary psychology and the classic Christian spiritual masters, providing a solid conceptual background for the practice of Centering Prayer. This is a practical book, articulating the stages of the process of spiritual growth, and outlining how we might develop a deeper relationship with God and move from contemplation to action.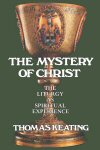 Following upon Open Mind, Open Heart, which presents a profound formation in Christian prayer, this book demonstrates the contemplative dimension of Christian worship. Here Father Keating recovers the deeper sense of the liturgical year and shares a theological and mystical perspective on the major feasts of the annual cycle. The reader is immersed in the wonder of faith in the mystery of Christ and of the unique nature of God's action and presence in and through the liturgy of our lives.
The book would be an ideal resource for a liturgy committee or parish Scripture study group that might come together to reflect on the liturgical season. What Keating does in this book, ideally, is what every homilist should do also. He weaves together the Scripture proclaimed, the mystery that the liturgy celebrates, and the everyday life of the people assembled. When that weaving is done with a contemplative, sacramental imagination, the mutual presence of Christ and those gathered has the power to transform the world.
—Kathleen Hope Brown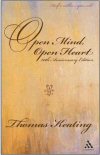 This book is designed to initiate the reader into a deep, living relationship with God. Written by an acknowledged spiritual master, the book moves beyond "discursive meditation and particular acts to the intuitive level of contemplation." Keating gives an overview of the history of contemplative prayer in the Christian tradition, and step-by-step guidance in the method of centering prayer. Special attention is paid to the role of the Sacred Word, Christian growth and transformation, and active prayer. The book ends with an explicit treatment of the contemplative dimension of the gospel. Open Mind, Open Heart will take readers into a world where God can do anything, into a realm of the greatest adventure—"Where one is open to the infinite and hence to infinite possibilities."
Thomas Keating, Cistercian monk, former abbot and spiritual advisor, is the father of the Centering Prayer Movement, which during the past thirty years has attempted to recover Christian contemplative prayer from its long exile. Mysticism has been regarded with suspicion in the churches since the end of the Middle Ages, when its proponents St. John of the Cross, Teresa of Avila, Julian of Norwich, among others, described in detail the pathways of contemplative prayer. . . . I wish this book had been around when I set out on my own spiritual path. It would have saved me many alarums and excursions.
—Maggie Helass, commontheology.com
I had been intrigued by Christian meditation all of my adult life. Reading Thomas Merton got me interested in the practice of silence, but I didn't know how to do it. When I was in seminary, meditation was occasionally encouraged, but those offering the encouragement seemed to imply that I would know how. I didn't. It would be awhile before someone showed me how to be silent in the presence of God. That person was Thomas Keating. I was introduced to him almost twenty years ago at the end of the last Servant Leadership class I attended in DC. Gordon Cosby pointed to a stack of books and with a twinkle in his eye said, 'If you'll take one of those books and work with it, you will save thousands of dollars in therapy.' The book was Open Mind, Open Heart and it changed my life.
—Sammy Williams, pastor, Northminster Church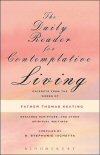 This work brings together for each day of the year three prayer practices for contemplative living: first, a brief "active prayer"; second, spiritual reading; and, third, Lectio Divina. The brief introductory prayer sentences are from various sources—the Bible and traditional prayers of the church or of well-known spiritual writers. The spiritual readings come from 11 of Father Keating's books and one audiotape, with a month's worth of readings derived from each work. Each day's entry concludes with a brief selection from the Bible, for Lectio Divina.
The author has many inspiring things to say about repentance, fighting the false self, faith, silence, reverence, and the fundamental goodness of human nature.
—Spirituality & Health Magazine
The writings of Thomas Keating are one of the most profound, popular, and appropriate introductions to Christian contemplative prayer and practice today. . . . this book is a beautiful introduction to both Keating's thinking and his methodologies. I would recommend it either to a person wanting to begin a prayer practice of to a person who wants to spend a year reflecting upon the works of Keating.
—Bulletin of Monastic Interreligious Dialogues, October 2004
Some books, like some people, can be pronounced 'wonderful' after only a brief encounter; more meetings simply reinforce our initial judgment. This is that sort of book, an ideal vade mecum for those who desire to retrieve the wonderfulness so often obscured by the distracting demands of our ordinary routines, the sheer dailiness of our daily lives that dulls our spiritual sensitivities. Here then is a wake-up call we need to 'seize the day' once again by attending to the promptings within our hearts and allowing the most gentle of companions to accompany us through it.
—George W. Hunt, SJ, former editor-in-chief, America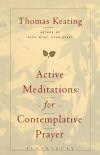 Active Meditations for Contemplative Prayer
Author: Thomas Keating
Publisher: Continuum
Publication Date: 2007
Pages: 144
This beautiful gift book contains over 200 selections from the wisdom of several of Father Keating's most popular and significant works, including the best selling Open Mind, Open Heart.

The Better Part: Stages of Contemplative Living
Author: Thomas Keating
Publisher: Continuum
Publication Date: 2007
Pages: 128
The talks on which this book was based were given at the John Main Seminar in 1998, the annual international event of the World Community for Christian Meditation. Previous presenters have included the Dalai Lama, Jean Vanier, Bede Griffiths, and William Johnston. Father Keating's enlightening commentary on the contemplative meaning of the gospel, particularly the story of the siblings from Bethany, Martha, Mary, and Lazarus, fits into the great monastic tradition of Christian teaching. A monk reflects on Scripture in the light of experience. He or she utters a word that startles his listeners into realizing that tradition is not a matter of secondhand experience but the living and human self-transmission of Christ to his disciples.
This book is easy and enjoyable to read. Those who are interested in 'the better part' will be pleased and encouraged to find ways to help themselves along the path.
—Catholic Library World
The Better Part is a modest volume in size but capacious in its wisdom and common (spiritual) sense. . . . It would be wonderful for someone to interview Keating at length and publish the results as a book. His capacity to say profound things in a relatively brief space is pure gift. The final 27 pages of Q&A are worth the price of the book. I wished only for more.
—Lawrence S. Cunningham
Any meditator using any method of wordless, imageless prayer will find this book a rich source of wisdom and very practical advice.
—Betty Fricke
The 'better part,' of course, is that chosen by the introspective Mary of Bethany in the New Testament story, whose experience has long been taken by the contemplative religious. Father Keating, leader of the Centering Prayer movement, understands the contemplative and prayerful life as a form of participation in the suffering, death, and resurrection of Jesus, and his book is both a graceful description of that life and a how-to. For most collections.
—Library Journal
Crisis of Faith, Crisis of Love
Author: Thomas Keating
Publisher: Continuum
Publication Date: 1995
Pages: 132
The Christian contemplative tradition has its roots in the gospel, and it is here that the spiritual journey common to man is first elaborated by Jesus himself. The richness of this tradition comes from the insights and example of those who through the centuries have lived in accordance with the guidance first presented in the gospels.
The process of Christian transformation presented here as the crisis of faith and the crisis of love is based on later mystical writers, especially St. John of the Cross, as the dark nights of soul and spirit.
The interpretation of scriptural texts is inexhaustible, and the spiritual sense of Scripture elaborated by the Fathers and Mothers of the Church has been used again and again to illustrate insights useful to the various stages of spiritual development. This rich storytelling tradition can be used to trace a gospel map of the spiritual journey, showing the progress of transformation that is outlined there, once our capacity to listen to the Word of God has been sharpened by the habit of contemplative prayer.
Under the influence of Christian mystics such as St. John of the Cross, Keating weaves a narrative account of spiritual development that will be of . . . interest to spiritual directors and seekers.
—Booklist
Product Details
Title: Thomas Keating Collection
Author: Thomas Keating
Publisher: Bloomsbury / Continuum
Volumes: 7
Pages: 1,284
About Thomas Keating
Thomas Keating is known throughout the world as an exponent, teacher, and writer on contemplative prayer. A Cistercian (Trappist) monk of St. Benedict's Monastery, Snowmass, Colorado, he is a founder of the Centering Prayer Movement and of Contemplative Outreach. He is the author of numerous books, particularly of the trilogy Open Mind, Open Heart; Invitation to Love; and The Mystery of Christ. Among his most recent books is The Daily Reader for Contemplative Living, compiled by S. Stephanie Iachetta. He served as abbot at St. Joseph's Abbey in Massachusetts for 20 years before retiring to Snowmass, where he now resides.