Armchair Theologians Series (13 vols.)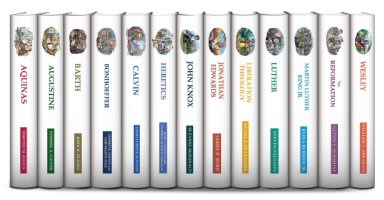 Overview
Written by experts but designed for the novice, the Armchair series provides accurate, concise, and witty overviews of some of the most profound moments and theologians in Christian history. From early figures like Aquinas to modern-day greats like Martin Luther King Jr., and The Reformation to Liberation Theology, these books offer an engaging taste of a complex array of events, doctrines, and movements. The Armchair series is an essential supplement for first-time encounters with primary texts, lucid refresher for scholars and clergy, and an enjoyable read for the theologically curious.
The Logos editions allow you to easily connect the Armchair series text with key primary sources from Augustine, Calvin, Luther, and many others. Scripture references appear on mouseover, and important theological concepts link to dictionaries, encyclopedias, and a wealth of other resources in your library. You can perform powerful searches by topic, and take the conversation with you on your tablet or phone.
Key Features
Provides succinct but intelligent overviews of major theological figures and movements
Offers knowledge from field experts in a simple and playful presentation
Features witty illustrations by Ron Hill
Product Details
Title: Armchair Theologians
Series: W. J. K. Armchair
Publisher: Westminster John Knox
Volumes: 13
Pages: 2,587
Thomas Aquinas was one of the most influential thinkers in the history of Christianity and in western civilization. Yet his theological views are complex and presume acquaintance with technical philosophical language. Now Timothy Renick has produced an attractive and accessible account of Aquinas's life and thought that will make his views clear to nonspecialists. The topics dealt with include God, angels, evil, metaphysics, morality, sex, war, abortion, and politics. Illustrations are interspersed throughout the text and humorously illuminate key points providing an engaging introduction to an all-important theologian.
Timothy M. Renick is associate professor and associate provost for academic programs in religious studies at Georgia State University in Atlanta, Georgia.
In this concise introduction to Calvin's life and thought, Christopher Elwood offers an insightful and accessible overview of Calvin's key teachings within his historical context. The trials and travails Calvin encountered as he ministered and taught in Geneva are discussed, with special attention given to theological controversies associated with the Trinity and predestination. Elwood indicates the ways that Calvinism developed and its influence in today's world. Illustrations are interspersed throughout the text and humorously illuminate key points providing an engaging introduction to this important theologian.
Christopher Elwood is professor of historical theology at Louisville Presbyterian Theological Seminary in Louisville, Kentucky.
In this book, Stephen Cooper provides an overview of the greatest theologian of the early church: Augustine of Hippo. Augustine has had a towering influence in the history of Christianity and his Confessions has long been regarded as one of Christianity's classic texts. Cooper introduces the life and thought of Augustine through discussing the Confessions and shows how many of Augustine's human struggles are still with us today. He also examines the theological views of Augustine that emerged through the important controversies of his times.
Stephen A. Cooper is associate professor of religious studies at Franklin and Marshall College in Lancaster, Pennsylvania.
Martin Luther started a reformation movement that revolutionized Europe in the sixteenth century. His far-reaching reforms of theological understanding and church practices radically modified both church and society in Europe and beyond. Steven Paulson's discussion of Luther's thought, coupled with Ron Hill's illustrations, provides an engaging introduction to Luther's multifaceted self and the ideas that catapulted him to fame.
Steven Paulson is professor of systematic theology at Luther Seminary in St. Paul, Minnesota. He is an ordained pastor of the Evangelical Lutheran Church in America.
This accessible narrative story of the Reformation is written for lay audiences. It is part of the popular Westminster John Knox Press Armchair series and is illustrated with memorable cartoons by Ron Hill. The chapters of the book are suitable for use in church adult education settings to provide a solid grounding in the history of the Reformation and its leading ideas. Questions for discussion and suggestions for further reading provided for each chapter make this book great for group study. Since the Reformation is such a formative event in the lives of churches, it is important to have an accessible resource to tell its story available for laypersons in all denominations.
Glenn S. Sunshine is professor and chair of the history department at Central Connecticut University in New Britain, Connecticut. He is the author of a number of articles and books, including Reforming French Protestantism: The Development of Huguenot Ecclesiastical Institutions.
Wesley for Armchair Theologians engagingly presents the life and theology of John Wesley, the founder of Methodism. Written by prominent Wesley scholar William Abraham, who aimed to "make Wesley come alive for those who would truly love to become armchair theologians," the book is an excellent, entertaining, and expert guide to the work of this important Christian figure.
William J. Abraham is Albert Cook Outler Professor of Wesley Studies and University Distinguished Teaching Professor at Perkins School of Theology, Southern Methodist University, in Dallas, Texas.
This volume introduces readers to the life and thought of Karl Barth (1886-1968), one of the most important theologians since the Reformation. Featuring the Armchair series' characteristic whimsical illustrations, Barth for Armchair Theologians surveys Barth's theology as it emerges and culminates in his monumental Church Dogmatics as well as how his theology continues to be interpreted in the present day.
John R. Franke is Lester and Kay Clemens Professor of Missional Theology at Biblical Theological Seminary in Hatfield, Pennsylvania.
This witty and illuminating volume introduces the life and writings of the great American theologian and preacher Jonathan Edwards (1703-1758). The most widely studied figure in American religious history and an iconic figure of the American colonial period, Edwards is well known and highly regarded as a stalwart defender of Calvinist theology and his Puritan heritage. As Byrd deftly reveals, however, Edwards was also a brilliant thinker and passionate pastor who wrestled continuously with the most important issue of his time: the relationship between faith and reason.
James P. Byrd is assistant dean for the graduate department of religion and assistant professor of American religious history at Vanderbilt University in Nashville, Tennessee. He is the author of The Challenges of Roger Williams: Religious Liberty, Violent Persecution, and the Bible.
In this unique Armchair volume, noted church historians Justo and Catherine Gonzalez introduce readers to important early church figures whose teachings were denounced by the church as heresies. Instructional for what they taught and for revealing what the church wished to safeguard and uphold, these "heretics," including Marcion, Arius, Nestorius, and Pelagius, are engagingly presented in their contexts through a clear and accessible text that is highlighted by the humorous illustrations of Ron Hill. Heretics for Armchair Theologians is an enjoyable way to learn about the church's early life and beliefs.
Catherine Gunsalus Gonzalez is professor emerita of church history at Columbia Theological Seminary in Decatur, Georgia.
Justo L. Gonzalez is a noted and prolific historian of Christian thought and the author of many books, including Essential Theological Terms, and The Apostles' Creed for Today. He is also editor of The Westminster Dictionary of Theologians, published by W. J. K..
In this interesting and important introduction to the life and thought of Martin Luther King Jr., theologian Rufus Burrow explores King's life as well as his thinking and activism. Burrow addresses those who see King as only a social activist by showing how his studies, particularly his theological studies, influenced, shaped, and transformed the activist path he pursued during his public life. This book, with dozens of illustrations by artist Ron Hill, is written for a broad audience. It explores King's legacy, the continuing importance of his work, and it will serve as an excellent introduction to King's life and thinking.
Rufus Burrow Jr.is Indiana Professor of Christian Thought and Professor of Theological Social Ethics at Christian Theological Seminary in Indianapolis, Indiana. He is the author of many books, including God and Human Dignity: The Personalism, Theology, and Ethics of Martin Luther King, Jr..
This volume in the ever-popular W. J. K. Armchair series turns its sights on contemporary theologian Dietrich Bonhoeffer (1906-1945). Born in Breslau, Germany, Bonhoeffer led quite an intriguing life. This book, with dozens of illustrations by artist Ron Hill, highlights Bonhoeffer's background and theological education; his time at Union Seminary in New York City; his involvement in the resistance movement against Adolf Hitler; and his participation in the plot to assassinate Hitler.
Stephen R. Haynes is professor of religious studies at Rhodes College in Memphis, Tennessee. He is the author of The Bonhoeffer Phenomenon: Portraits of a Protestant Saint and The Bonhoeffer Legacy: Post-Holocaust Perspectives.
Lori Brandt Hale is associate professor of religion and director of general education at Augsburg College in St. Paul, Minnesota.
This volume in the popular Armchair series presents a short and reader-friendly introduction to the tumultuous life and theology of the fiery reformer John Knox. As leader of the Scottish Reformation, Knox notably came into conflict with the Roman Catholic Church, particularly Queen Mary. He was also an outspoken advocate for education and care for the poor, and is widely regarded as the founder of the Church of Scotland. Each chapter includes a description of Knox's activities as well as a discussion of key texts that introduce Knox's theological convictions. Expertly written by Suzanne McDonald, this book offers an intriguing introduction to the life and work of this major theological figure.
Suzanne McDonald is assistant professor of religion at Calvin College. She is the author of Re-Imaging Election: Divine Election as Representing God to Others and Others to God.
In this helpful addition to the Armchair Theologians series, Miguel A. De La Torre provides a concise overview of the global religious movement known as liberation theology that focuses on defining the major themes of this movement, as well as dispelling some common misconceptions. Liberation theology attempts to reflect upon the divine as understood from the poor, the marginalized, and the disenfranchised. The key figures, historical developments, and interfaith manifestations are all explored in this thorough introduction. Deftly crafted by De La Torre and accompanied by Ron Hill's illustrations, this book will serve as a primary text for those who may have little or no knowledge of liberation theology.
Miguel De La Torre is professor of social ethics and Latino/a studies at Iliff School of Theology in Denver, Colorado, and the author or editor of more than twenty-five books. He is the 2012 president of the Society of Christian Ethics.
More details about these resources
Show More