Wipf & Stock Studies in Pentecostalism (6 vols.)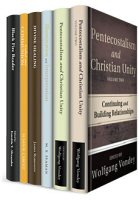 Wipf & Stock Studies in Pentecostalism (6 vols.)
•
Runs on Windows, Mac and mobile.
Overview
The Wipf & Stock Studies in Pentecostalism Collection gives readers a taste of scholarship touching on several nuanced aspects of Pentecostalism. It offers an overview of the Pentecostal movement, its prominent figures, and associated historical and contemporary issues. Perspectives offered include Estrelda Y. Alexander's Black Fire which discusses African American voices of Pentecostalism, to James Robinson's insightful book on the transition between the holiness movement and Pentecostalism leading into the twentieth century. You will also find texts on the Holy Spirit's role in hermenutics, as well as the experiential and theocentric dimension of holiness theology.
And the Logos editions of these texts allow you to easily access your library's wealth of modern and historical encyclopedias, dictionaries, and other resources, while Scripture references appear on mouseover. You can perform near-instant searches for words, people, places, and ideas across these texts and your entire library. With the most efficient and comprehensive research tools all in one place, you can deepen your study with just a few clicks; and Logos tablet and mobile apps let you take your study wherever you go.
Key Features
Provides access to on Pentecostal scholarship from a variety of perspectives
Includes volume one and two of Wolfgang Vondey's extensive collection of ecumenical documents, key texts, and critical essays on Pentecostalism and Christian unity
Offers a wide array of current and historical insights on the Pentecostalism movement
Individual Titles

This compendium of primary resources reflects the important but often overshadowed contribution of African American believers to the dynamic growth of the modern Pentecostal movement—the fastest-growing segment of global Christianity. The doctrinal statements, sermons, songs, testimonies, news articles, as well as scholarly treatises included here allow black leaders, scholars, and laypeople to speak in their own voices and use their own language to tell us their stories and articulate the issues that have been important to them throughout the one-hundred-year history of this movement. Among the constant themes that continue to emerge is their appreciation of an empowering encounter with the Holy Spirit as the resource for engaging the dehumanizing racial realities that have plagued contemporary America.
Black Fire Reader is a groundbreaking, historically contextualized collection of rare and engaging primary resources by African American Holiness-Pentecostals from the late 1800s to 1900s. Replete with autobiographical accounts, sermons, hymns, and other rich documents, Black Fire Reader is an outstanding compendium of African American Pentecostal thought and practice. Students and scholars of black religion in general and African American Holiness-Pentecostalism will appreciate its remarkable breadth and scope.
—Karen Kossie-Chernyshev, professor of history, Texas Southern University
This remarkable collection is an indispensable resource for students of Pentecostalism and American religious history. We now have in one volume judiciously selected writings not only of African American Pentecostals in all their diversity, but also their Holiness antecedents and charismatic offspring. By providing this reader, Alexander enables us to move beyond preconceptions and engage their actual beliefs and practices, both enriching historical study and providing insight for future ministry.
—Henry H. Knight III, professor of Wesleyan studies, Saint Paul School of Theology
Estrelda Y. Alexander is associate professor of divinity at Regent University School of Theology. She is the author of two books including The Women of Azusa Street.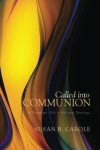 This book illuminates the experiential and theocentric dimensions of holiness theology. It acknowledges two strands of thought in current holiness theology—Wesley's Christian perfection and entire sanctification as propagated in the early days of the American holiness movement. It honors the contribution of both these strands by identifying the deep harmony in the holiness message of John Wesley and Phineas Bresee. Using insights from Wesley and Bresee, Carole develops a paradigm for holiness theology from the standpoint of its transcendent goal. Called into Communion explicates entire sanctification as revelatory and salvific, a necessary threshold experience for complete openness to God. This approach illuminates the rootedness of holiness theology in the triune fellowship of holy love. The communion perspective affirms holiness theology as the underlying theological principle for a missional ecclesiology since participation with God characterizes the church as a doxological fellowship of holy love and determines the church's redemptive action. Seminarians and pastors will find in this book a new perspective on the holiness message. It extends the horizon of reflection to the grace that seeks out and enables human partners for a transformative fellowship of genuine reciprocity with God.
With a clear prophetic voice, knowledgeable of the nineteenth-century holiness distortions of Wesley's sophisticated theology, as well as its twenty-first-century correctives that plop down on a gradualism that caricatures Wesley's balanced and conjunctive theology, Susan Carole rightly raises several pointed questions that some of the most popular readings of Wesley's theology flatly ignore. This is a bold and badly needed courageous work. I highly recommend it.
—Kenneth J. Collins, professor of Wesley studies and historical theology, Asbury Theological Seminary
Engaging recent interest in Trinitarian theology and ecclesiology, Susan Carole proposes fullness of communion with God as the ultimate goal of holiness theology. She addresses the problem of subjectivity that has characterized most expressions of holiness theology in the past century and points us toward a doctrine of entire sanctification that is theocentric and experiential. Her careful theological reflection on holiness theology is a valuable contribution to both academic and pastoral theologians.
Susan B. Carole is adjunct professor of theology at Nazarene Theological Seminary and instructor in the Nazarene Clergy Development Program. An ordained minister in the Church of the Nazarene, she has been in ministry for over two decades in the Caribbean, West Africa, and the United States. She earned a PhD in theology in 2011 at Calvin Theological Seminary.

In this volume, James Robinson shows how the holiness movement contributed to the rise of Pentecostalism, with emphasis on those sectors that practiced divine healing. Although other scholars have undertaken to explore this story, Robinson's treatment is by far the most thorough examination to date. He draws productively on the burgeoning secondary literatures on Pentecostalism and healing, and brings to light frequently overlooked, yet revealing primary sources. The events are fascinating in their own right, and are important to the histories of Pentecostalism and healing for how they clarify the processes by which divine healing was pursued, debated, and often disparaged. The text also contributes to larger medical and social histories, offering tantalizing glimpses of the roots of some of today's most popular and contested medical and religious responses to sickness and health.
This is another fine volume from James Robinson . . . . Here he sheds new light on how developments within evangelicalism in the area of divine healing . . . helped shape Pentecostalism. Robinson has produced an exciting book on an important topic—one of continuing relevance. His work combines careful historical scholarship and a high degree of accessibility.
—Ian Randall, senior research fellow, International Baptist Theological Seminary
"The holiness movement of the later nineteenth century generated a ferment surrounding the doctrine of healing by faith in the atonement. By the helpful technique of a series of detailed vignettes, James Robinson traces the course of opinion on the subject. The result is an illuminating study on the powerful influence of this body of thought on the emergent Pentecostal Movement at the opening of the twentieth century.
—David Bebbington, professor of history, University of Stirling
James Robinson was awarded his doctorate from Queen's University Belfast. He is the author of Pentecostalism in Ireland in the Context of the British Isles and Divine Healing: The Formative Years, 1830-1890.

The Holy Spirit's ministry of illuminating the Bible is a commonly misunderstood doctrine, both pragmatically and theologically. As a result, this divine activity is often neglected, but it is indispensable for the hermeneutical endeavor. This distinctive work seeks to take an abstract concept and make it concrete by establishing proper categories and definitions for the doctrine of illumination while reemphasizing the cooperation of Word and Spirit. In doing so, this book treats issues such as the relationship between illumination and other hermeneutical doctrines, the accessibility of the Spirit's illumination when interpreting the Scriptures, and the question of unregenerate biblical interpretation. Accordingly, Illumination and Interpretation presents a biblical-theological evaluation of the Spirit's work of illumination for the transformative purpose of understanding how to appropriate this vital hermeneutical doctrine into one's faith and practice.
M. X. Seaman (PhD in Biblical Theology) is a pastor-theologian who, a church planter, and an adjunct professor. Along with his wife and two daughters, he resides in Toronto, Ontario.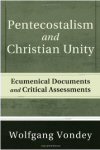 This volume of ecumenical documents, key texts, and critical essays from Wolfgang Vondey is the first collection of its kind exclusively dedicated to Pentecostalism and its contributions to Christian unity. In part one, a cadre of internationally renowned scholars addresses the ecumenical heritage and perspectives of the Pentecostal movement since the early twentieth century. Part two offers a collection of final reports from international dialogues with Pentecostal participation. The final part contains programmatic essays in response to The Nature and Mission of the Church, a major study on the doctrine of the church published by the World Council of Churches. Most of these essays were first presented by the ecumenical-studies group of the Society for Pentecostal Studies, currently the only organized ecumenical think tank among Pentecostals in North America. Since its formation in 2001, the group has encouraged Pentecostal participation in ecumenical concerns, has hosted Roman Catholic-Pentecostal conversations at the annual meeting of the Society, has invited international scholarly debates on ecumenical matters, and has engaged in the study of ecumenical consensus statements. The essays and documents in this collection model the dedication and commitment among Pentecostals today that engage the challenges and opportunities of Christian unity from the perspective of a tradition that has often been falsely accused of being anti-ecumenical. This collection presents an invaluable resource for teachers, scholars, and pastors interested in engaging the global Christian arena from the worldwide and ecumenical image of Pentecostalism.
Of all of the dialogues with whom the Roman Catholics have been involved in the evangelical community, the Pentecostal may be the most interesting and influential. The Pentecostal and Catholic communities have experienced serious tension in certain parts of the world, especially in Latin America. Therefore these dialogues, and the reflections brought together in this book, should be a rich source for the task of making the results of the dialogues a common heritage in Catholic and Pentecostal seminaries, colleges and universities, and congregations around the world. Dr. Vondey has assembled a line-up of Pentecostal scholars known for their depth, scope, and fairness, a set of essays that should be of interest well beyond the Catholic and Pentecostal communities.
—Jeffrey Gros, former president of the Society for Pentecostal Studies
In the field of ecumenism the common perception is that the youngest and fastest growing movement in global Christianity has been absent. Pentecostalism and Christian Unity will not only expose this misunderstanding, but also prove to be an invaluable resource. Along with official bilateral documents, a series of essays documents the nature of Pentecostal ecumenical engagement and provides mature theological reflection on how to proceed. The ecumenical movement will be both enriched and challenged by this contribution.
—Ralph Del Colle, former representative to the Catholic-Pentecostal Dialogue for the Pontifical Council on Christian Unity
Wolfgang Vondey is associate professor of systematic theology at the School of Divinity of Regent University. He is the author of Beyond Pentecostalism: The Crisis of Global Christianity and the Renewal of the Theological Agenda and People of Bread: Rediscovering Ecclesiology.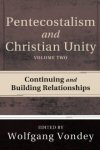 This book is the follow-up volume to Pentecostalism and Christian Unity: Ecumenical Documents and Critical Assessments. This new collection traces the ecumenical developments, narratives, and conversations during the first decade of the twenty-first century. The ecumenical community and Pentecostals have consistently lamented the absence of a comprehensive gathering of resources for both groups. This particular volume provides two significant assets in this regard: documentation of new and emerging conversations that have not yet produced official reports, and official reports from continuing conversations. The book begins with an overview of a century of Pentecostal participation in Christian unity. Part one contains ecumenical narratives on the Joint Consultative Group of Pentecostals and the World Council of Churches, Lutherans and Pentecostals, the Global Christian Forum, and Christian Churches Together in the USA. Part two contains the extensive reports from the official dialogue of Pentecostals with the Roman Catholic Church, the World Alliance of Reformed Churches, and the Oneness-Trinitarian Pentecostal dialogue. This collection presents an invaluable resource for teachers, scholars, and pastors interested in engaging the global Christian arena from the worldwide and ecumenical perspectives of Pentecostalism.
Wolfgang Vondey's latest collection of twenty-first-century reports, the fruit of a variety of ecumenical dialogues with pentecostal participation, should go far toward informing Pentecostals of the facts. They should also alleviate pentecostal fears concerning the theological agenda of the ecumenical movement and those Pentecostals who have been called to work in it.
—Cecil M. Robeck, Jr., professor of church History and ecumenics, Fuller Theological Seminary
The second volume of Pentecostalism and Christian Unity, like the first, is a gift to the whole church. Here again Wolfgang Vondey gathers documents from ecumenical dialogues involving Pentecostals. . . . These two volumes are a vital resource for understanding not only Pentecostalism, but also the church itself. These volumes document and herald the much-sought entry of Pentecostalism into the ecumenical movement. May they have the impact—within Pentecostalism and beyond it—they so richly deserve.
—Barry Ensign-George, associate for theology, Presbyterian Church, USA
Wolfgang Vondey is associate professor of systematic theology at the School of Divinity of Regent University. He is the author of Beyond Pentecostalism: The Crisis of Global Christianity and the Renewal of the Theological Agenda and People of Bread: Rediscovering Ecclesiology.
Product Details
Title: Wipf & Stock Studies in Pentecostalism
Publisher: Wipf & Stock
Volumes: 6
Pages: 1,448