Wipf & Stock Jesus Studies Collection (5 vols.)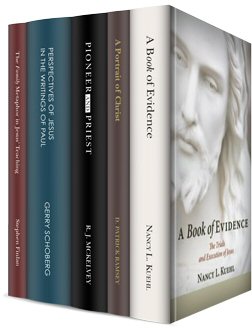 Wipf & Stock Jesus Studies Collection (5 vols.)
•
Runs on Windows, Mac and mobile.
Overview
The Wipf & Stock Jesus Studies Collection provides a comprehensive picture of the character and context of Jesus as presented in the Gospels, Paul's letters, and other historical sources. Stephen Finlan reviews Jesus' teachings in the Gospels and how his language emphasizing family changes the way we think about parenting, marriage, and spiritual identity. D. Patrick Ramsey looks at the Gospel's account of the Jesus' personality. Gerry Schoberg's volume reveals how Pauline theology is dependent on Jesus' teachings. R. J. McKelvey talks about the dual nature of Jesus presented in Hebrews, which shows him as both a priest for his people and a pioneer who leaves the camp. Finally, Nancy L. Kuehl examines Jesus' final days on earth from a historical-legal perspective.
Logos Bible Software enhances this wide array of recent works on Jesus. The fully indexed texts will seamlessly integrate into your library, allowing you to cross-reference them with one another, as well as works from other Jesus studies collections. Scripture references appear on mouseover. Dictionaries, encyclopedias, and a wealth of other resources are just a few clicks away. Tablet and mobile apps allow you take the discussion with you. With Logos Bible Software, the most efficient and comprehensive research tools are in one place, so you get the most out of your study.
Key Features
Provides a comprehensive picture of the character and context of Jesus
Focuses on Jesus' teachings and personality as presented in the Bible
Includes a unique Jewish-legal perspective on Jesus' trial and execution
Product Details
Title: Wipf & Stock Jesus Studies Collection
Publisher: Wipf & Stock
Volumes: 5
Pages: 1,250