Ancient Faith Orthodox Theology Collection (10 vols.)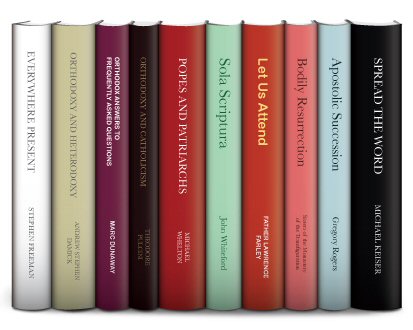 Ancient Faith Orthodox Theology Collection (10 vols.)
•
Runs on Windows, Mac and mobile.
Overview
The Ancient Faith Orthodox Theology Collection provides a diverse selection of Eastern Orthodox texts. These volumes offer concise explanations of major theological differences between the Orthodox Church, Catholicism, and Protestantism through direct comparisons, answers to frequently asked questions, and specific examinations of Scripture and theological topics. Some of the texts in the Ancient Faith Orthodox Theology Collection are no longer in print and can only be found in this special Logos collection. Whether you're an Orthodox Christian looking for simple ways to define and differentiate your faith, or you're curious what the Orthodox Church believes and practices, this collection is full of easily accessible information—some of which is only available here.
With the Logos edition of the Ancient Faith Orthodox Theology Collection, these powerful reference tools automatically integrate with your Logos library, allowing you to cross-reference them and study Orthodoxy like never before. Pull these accessible texts up side-by-side with other theological texts in your library to see what other denominations have to say. Important terms, figures, and dates link to dictionaries, encyclopedias, the Timeline, and a wealth of other resources in your digital library. Logos mobile apps let you bring the discussion with you. With Logos Bible Software, the most efficient and comprehensive research tools are in one place so you get the most out of your study.
Key Features
Concise explanations of the distinctions of the Orthodox Church
Comparisons between Orthodox, Catholic, and Protestant churches
Answers to frequently asked questions about Orthodoxy
Insight into living a life of intimacy with God
Product Details
Individual Titles

Have you ever referred to God as "the man upstairs"? Many Christians living in secular society have unwittingly relegated God and all things spiritual to the "second storey" of the universe: a realm we cannot reach except through death. Popular blogger and podcaster Father Stephen Freeman argues that this effectively banishes God from our everyday lives.
In Everywhere Present, Freeman makes a compelling case for becoming aware of God's living and active presence in every moment of our lives. Learning to practice your Christian faith in a one-storey universe will change your life—and make possible the living, intimate relationship with God you've always dreamed of.
Stephen Freeman is an Orthodox priest who serves as the rector of St. Anne Orthodox Church in Tennessee. He has published a number of articles, gives a regular podcast on Ancient Faith Radio, and writes and maintains the blog, Glory2GodForAllThings.com.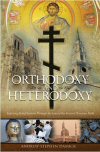 Are you an Orthodox Christian who wonders how to explain to your Baptist grandmother, your Buddhist neighbor, or the Jehovah's Witness at your door how your faith differs from theirs? Or are you a member of another faith, curious what Orthodoxy is all about? In Orthodoxy and Heterodoxy, Fr. Andrew Stephen Damick covers the gamut of ancient heresies, modern Christian denominations, fringe groups, and major world religions, highlighting the main points of each faith. This book is an invaluable reference for anyone who wants to understand the faiths of those they come in contact with—as well as their own.
Reverend Father Andrew Stephen Damick is pastor of St. Paul Orthodox Church in Emmaus, Pennsylvania. He lectures widely on Orthodox evangelism, history, ecology, comparative theology, and localism. He is a founding member and associate director of the Society for Orthodox Christian History in the Americas. Father Andrew hosts the Orthodoxy and Heterodoxy and Roads from Emmaus podcasts, and writes the Roads from Emmaus blog.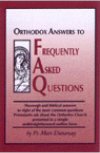 Orthodox Answers to Frequently Asked Questions
Author: Marc Dunaway
Publisher: Ancient Faith Publishing
Publication Date: 2003
Pages: 42
This convenient text provides thorough, biblical answers to eight of the most common questions that Protestants ask about the Orthodox Church, presented in simple, straightforward outlines. This text is no longer available in print, but can now become a valuable part of your Logos library.
Very Reverend Marc Dunaway is the dean of St. John Cathedral in Alaska and author of Orthodox Answers to Frequently Asked Questions.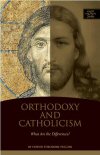 Orthodoxy and Catholicism: What Are the Differences?
Author: Theodore Pulcini
Publisher: Ancient Faith Publishing
Publication Date: 1995
Pages: 24
In this concise volume, a former Roman Catholic chronicles his own journey into Orthodoxy and examines the critical issues that influenced his decision—including papal authority, the filioque controversy, works salvation, and the "new" dogmas of the Roman Church.
Father Theodore Pulcini studied at Holy Cross Greek Orthodox Seminary and has taught as visiting faculty at St. Valdimir's Orthodox Theological Seminary. He is the priest at St. Mary Orthodox Church and teaches in the Department of Religion at Dickinson College in Carlisle, Pennsylvania.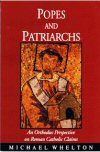 Popes and Patriarchs: An Orthodox Perspective on Roman Catholic Claims
Author: Michael Whelton
Publisher: Ancient Faith Publishing
Publication Date: 2006
Pages: 180
Popes and Patriarchs presents the Orthodox position on the role of the papacy in an intelligent, easy-to-understand style that will appeal to laypeople, priests, seminary students, and discussion groups. For any dialogue between the Orthodox and Roman Catholic churches to be fruitful, we must first understand our differences. Popes and Patriarchs covers some of the distinctions in theology and worldview that separate the churches of the East from those of the West, focusing primarily on the claims of papal supremacy.
Michael Whelton, a convert from Catholicism to Orthodoxy, discusses some of the theological and historical issues that led him to explore the teachings of the Orthodox Church, including the doctrine of original sin, the influence of medieval scholastic thought on the Western Church, and the modern trend toward evolutionary Christianity. He also examines in depth the true attitude of the early Eastern saints of the Church toward the papacy, an attitude radically different from that frequently attributed to them by Roman Catholic apologists. A final chapter is devoted to typical questions Roman Catholics raise about the Orthodox Church, including a comprehensive discussion of divorce and remarriage.
Michael Whelton is a British-born Orthodox writer who lives in southwest British Columbia. He is the author of Two Paths: Papal Monarchy-Collegial Tradition, The Pearl: A Handbook for Orthodox Converts, and False Gods: Counterfeit Spirituality in an Age of Anxiety.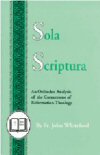 Sola Scriptura: An Orthodox Analysis of the Cornerstone of Reformation Theology
Author: John Whiteford
Publisher: Ancient Faith Publishing
Publication Date: 1997
Pages: 47
Sola Scriptura offers an Orthodox analysis of a pillar of Protestantism: private interpretation of Scripture. Father John Whiteford argues that this doctrine is based on fallacies and explains the Orthodox approach to Holy Scripture. This text is no longer available in print, but can now become a valuable part of your Logos library.
Father John Whiteford serves as parish rector of St. Jonah Orthodox Church in Texas and is the author of Sola Scriptura.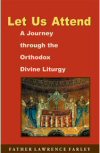 Let Us Attend: A Journey through the Orthodox Divine Liturgy
Author: Lawrence R. Farley
Publisher: Ancient Faith Publishing
Publication Date: 2007
Pages: 104
Let Us Attend is a guide to understanding the Divine Liturgy and a vibrant reminder of the centrality of the Eucharist in living the Christian life. Father Lawrence leads everyday believers in a devotional and historical walk through the Orthodox liturgy. Examining the liturgy section by section, he provides historical explanations of how the liturgy evolved and devotional insights aimed at helping believers pray the liturgy in the way the fathers intended. In better understanding the depth of the liturgy's meaning and purpose, people can pray it properly. If you would like a deeper understanding of Sunday morning experience so that you can draw closer to God, this book is for you.
Archpriest Lawrence Farley currently pastors St. Herman of Alaska Orthodox Church (OCA) in Langley, Canada. He received his BA from Trinity College, Toronto, and his MDiv from Wycliffe College, Toronto. A former Anglican priest, he converted to Orthodoxy in 1985 and studied for two years at St. Tikhon's Orthodox Seminary in Pennsylvania. He has also published the Orthodox Bible Study Companion Series and A Daily Calendar of Saints, and gives a regular podcast called Coffee Cup Commentaries.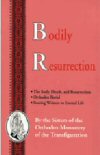 Bodily Resurrection
Author: Sisters of the Monastery of the Transfiguration
Publisher: Ancient Faith Publishing
Publication Date: 1997
Pages: 42
Bodily Resurrection explains the Orthodox understanding of the body, death, and resurrection, and presents a compelling apologetic for burial (as opposed to cremation) as an affirmation of our expectation of eternal life. This text is no longer available in print, but can now become a valuable part of your Logos library.
The Sisters of the Monastery of the Transfiguration reside at the Orthodox Monastery of the Transfiguration in Pennsylvania.

Apostolic Succession
Author: Gregory Rogers
Publisher: Ancient Faith Publishing
Publication Date: 1989
Pages: 40
Apostolic Sucession examines the unbroken apostolic chain linking past to present in the historic Church. It was written by a former evangelical pastor whose study of the biblical and historical evidence led him to the two-thousand-year-old Orthodox Church.
Very Reverend Father Gregory Rogers grew up in a Protestant Evangelical church, and eventually became a youth pastor at another church in the denomination before converting to Orthodoxy. He now serves as pastor at Saint Barnabas Orthodox Church in South Carolina.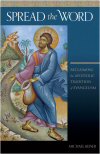 Spread the Word: Reclaiming the Apostolic Tradition of Evangelism
Author: Michael Keiser
Publisher: Ancient Faith Publishing
Publication Date: 2011
Pages: 216
The Orthodox Church has an unbroken tradition of evangelism that goes back to the Apostles. But Orthodox evangelism looks different from the Protestant variety. With his characteristic straight­forward and humorous style, Father Michael Keiser covers the history of Orthodox evangelism, the rationale, and the methods for continuing this tradition in a contemporary Western post-Christian society.
Very Reverend Michael Keiser is a convert to the Orthodox faith who was raised in the Western Christian tradition. He has studied in both the Western and Eastern traditions of Christianity, and has been actively involved in evangelism and outreach on behalf of the Orthodox Christian Church. An Orthodox priest for thirty years, he currently works as the head of the Department of Missions and Evangelism of the Antiochian Archdiocese. Fr. Keiser has written five books dealing with worship, spirituality, and an Orthodox comprehension of suffering.