St. Joseph Collection (3 vols.)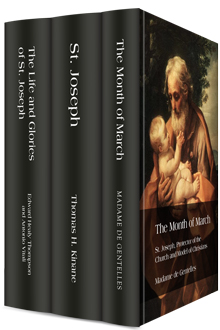 Overview
St. Joseph is an important figure in the Catholic Church, best known as Mary's husband and Jesus' earthly father. This collection provides an in-depth look at Joseph's life, starting with his birth and studying his iconic role in the Church as the head of the Holy Family. In The Life and Glories of St. Joseph, Edward Thompson analyzes Joseph's interior life, deepening the conceptions of his dignity and sanctity. In St. Joseph: His Life, His Virtues, His Privileges, His Power, Thomas Kinane writes about the journeys St. Joseph took along with Mary and Jesus. Madame de Gentelles dedicates each day to thoughtful prayer and spiritual teachings in The Month of March: St. Joseph, Protector of the Church and Model of Christians.
Access these devotional and thoughtful writings like never before. In Logos, you can develop reading lists and read your way through the day-by-day devotional of St. Joseph. Discover how St. Joseph came to be recognized in the Catholic Church, and connect your research to the resources in your library with thorough and precise searches.
Key Features
Links to other books and texts in your library
Provides daily devotions for Saint Joseph's holy month
Immerses you in Joseph's history and narrative
Individual Titles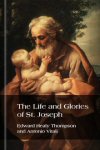 No words of St. Joseph are recorded in Scripture. In fact, little mention is made of him. Yet, despite these seeming limitations, the Church nonetheless possesses an incredibly rich knowledge of St. Joseph and his religious culture. This book will astound readers both with its scope and with its profundity. Based mainly on Scripture, but supported also by tradition and the depositions of saints, it is a carefully reasoned analysis of the entirety of that great saint's role in the history of salvation and the life of the Church. The volume includes details about his spiritual life and noble lineage, how he was prefigured in the Old Testament, his relationship to Mary and Jesus, and why Pope Pius IX named him thus the Patron of the Universal Church.
Mr. Healy Thompson has rendered many conspicuous services in the domain of literature to English-speaking Catholics, but never, to our mind, has he earned so powerful a title to our gratitude as when he published his great work, entitled: The Life and Glories of St. Joseph . . . a work on our beloved Founder and Patriarch which is without its equal.
—Herbert Vaughan, bishop of Salford
No literature contains a more splendid tribute to St. Joseph; for his volume gathers together all that has been said in his honor in other languages.
—Irish Monthly
This is a volume which can be met by one response only; that of a sincere and grateful welcome. Mr. Healy Thompson has already laid English-speaking Catholic under obligation by his previous volumes, especially in the way of hagiology; but in The Life [and Glories] of St Joseph he has outdone them, whether we consider the importance of the subject or the fullness of its treatment.
—Weekly Register
The Life [and Glories] of St Joseph will assuredly take rank as one of the most learned and exhaustive as well as one of the most spiritual Lives of the Saint.
—Catholic Times
Edward H. Thompson (1813–1891) served for a time in Anglican ministry as a curate before becoming Catholic in 1846. He devoted his life to providing religious knowledge, writing up until his death. Much of his published writing is made up of older works that he recomposed for contemporary audiences.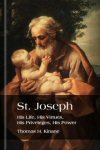 The Holy Gospels tell us very little about the great patron of the Church, St. Joseph. There are many questions left unanswered by the Bible—for instance, when he was born; how old he was when he espoused the Blessed Virgin; when and where he died and was buried; what became of his remains (of which absolutely no trace has been found). All these points, and many more, are clearly stated in Life of St. Joseph. Included in the volume are daily meditations for Joseph's holy month in a short form of prayer for personal reflection.
[Saint Joseph's] life, if well studied, will bring charity, and joy, and peace, and patience, into the cabins of thousands of our poor people who read your exquisite and solidly pious little book.
—Edward MacCabe, cardinal archbishop of Dublin
You have therefore given to us and to the faithful in your excellent book, a store of motives to ask and to confide in his prayers, in the power of which I have both faith, trust, and experience.
—Henry Edward, cardinal archbishop of Westminster
From what I have already been able to read of it, I have formed a high option of the book, and can state that I am satisfied that it is a most valuable manual of devotion to Saint Joseph . . . and a most useful compendium of instructions, meditations, and prayers, suited for all seasons and especially for the month of March.
—Charles Eyre, archbishop of Glasgow
Thomas H. Kinane (1834–1913) was a dean of the Cathedral at Cashel, Ireland, and a professor at Irish College in Paris, France. He wrote a handful of spiritual books, including The Dove of the Tabernacle, The Angel of the Altar, The Lamb of God, and Mary Immaculate.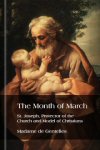 This devotional contains daily meditations on the life and virtues of St. Joseph. Each day presents a unique prayer to St. Joseph, a relevant Scripture verse, and a brief consideration for reflection. The verses for each day are intended to help the reader in acquiring habits of daily prayer in the presence of God. The Month of March: St. Joseph, Protector of the Church and Model of Christians reveals St. Joseph's love of God and encourages humility, quiet action, and the spirit of sacrifice. While the Bible tells so little about St. Joseph's life, in this devotional we discover many of his virtues and are challenged to imitate them.
I have found in it that which is so often wanting in books of this kind: I mean, a spirit of true and earnest piety. I hope it may do all the good which you hoped it would do when you proposed to write it.
—Flavien Hugonin, bishop of Bayeux and Lisieux
Product Details
Title: St. Joseph Collection
Publishers: Burns & Oats and M. H. Gill and Son
Volumes: 3
Pages: 1,248
More details about these resources