Early Judaism Collection (4 vols.)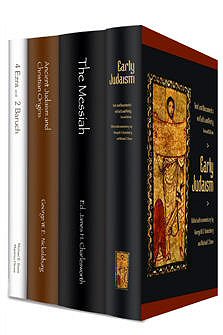 Overview
This collection from an all-star team of scholars presents the latest research on Judaism. In Ancient Judaism and Christian Origins: Diversity, Continuity, and Transformation, senior scholar George W. E. Nickelsburg assembles leading experts to present an accessible synthesis of the last half century of research born out of the New Perspective view of Second Temple Judaism. 4 Ezra and 2 Baruch: Translations, Introductions, and Notes presents fresh translations of primary texts for a firsthand look at the life and literature of early Judaism at one of its most turbulent times—the end of the Judean War and the destruction of the Temple. Explore these important issues in early Judaism and more with these academic works.
In the Logos editions, these valuable volumes are enhanced by amazing functionality. Scripture and ancient-text citations link directly to English translations and original-language texts, and important terms link to dictionaries, encyclopedias, and a wealth of other resources in your digital library. Perform powerful searches with the Topic Guide to instantly gather relevant biblical texts and resources, enabling you to jump into the conversation with the foremost scholars on issues within early Judaism. Tablet and mobile apps let you take the discussion with you. With Logos Bible Software, the most efficient and comprehensive research tools are in one place, so you get the most out of your study.
Key Features
Provides cutting-edge research on early Judaism
Offers synthesis of the past 50 years of research on Second Temple Judaism
Includes fresh translations of primary early-Jewish texts
Individual Titles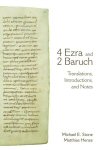 4 Ezra and 2 Baruch: Translations, Introductions, and Notes
Authors: Matthias Henze and Michael Edward Stone
Publisher: Fortress Press
Publication Date: 2013
Pages: 160
Matthias Henze and Michael Edward Stone present fresh translations of the important early Jewish texts 4 Ezra and 2 Baruch written in the decades after the Judean War, which saw Jerusalem conquered, the temple destroyed, and Judaism changed forever. This handy volume makes these two important texts accessible to students, provides expert introductions, and illuminates the interrelationship of the texts through parallel columns. Peer through the window of these texts into one of the most turbulent and significant times in Jewish history.
Matthias Henze holds the Watt J. and Lilly G. Jackson Chair in Biblical Studies at Rice University. He has written numerous books and scholarly articles on early Jewish and biblical studies. He edited Biblical Interpretation at Qumran and authored The Syriac Apocalypse of Daniel. He also wrote Jewish Apocalypticism in Late First-Century Israel, and is preparing the Hermeneia on 2 Baruch.
Michael Edward Stone is professor of Armenian studies and Gail Levin de Nur Professor of Religious Studies at The Hebrew University of Jerusalem. He is the author of numerous books and scholarly articles in biblical, early Jewish, and Armenian studies. He is the author of Ancient Judaism: New Visions and Views and 4 Ezra in the Hermeneia and Continental Commentaries.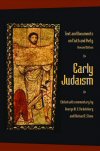 Jewish writings from the period of Second Temple present a rich and potentially overwhelming variety of first-hand materials. George W.E. Nickelsburg and Michael E. Stone, experts on this formative period, have updated their classic sourcebook on Jewish beliefs and practices to take into account current thinking about the sources and to include new documents—including texts from Qumran not available in the first edition—in a brilliantly organized synthesis. This new edition also includes chapters on Jewish sects and parties, the Temple and worship, ideals of piety and conduct, expectations concerning deliverance, judgment, and vindication, different conceptions of the agents of God's activity, and the figure of Lady Wisdom in relationship to Israel.
In the nineteenth and the early twentieth century, Christian scholars portrayed Judaism as the dark religious backdrop to the liberating events of Jesus' life and the rise of the early church. Since the 1950s, however, a dramatic shift has occurred in the study of Judaism, driven by new manuscript and archaeological discoveries and new methods and tools for analyzing sources. George Nickelsburg here provides a broad and synthesizing picture of the results of the past 50 years of scholarship on early Judaism and Christianity. He organizes his discussion around a number of traditional topics: scripture and tradition, Torah and the righteous life, God's activity on humanity's behalf, agents of God's activity, eschatology, historical circumstances, and social settings. Each of the chapters discusses the findings of contemporary research on early Judaism, and then sketches the implications of this research for a possible reinterpretation of Christianity. Still, in the author's view, there remains a major Jewish-Christian agenda yet to be developed and implemented.
It is a great thing when a meticulous scholar, who has come to master all the intricacies of his field, designs to tell a wider public what difference it all makes—in this case to the very understanding of Christianity. This book is a most welcome case in point.
Krister Stendahl, Anderew W. Mellon Professor of Divinity, Emeritus, Harvard University Divinity School
Theologically sensitive and historically precise, Nickelsburg's lucid study situates Jesus and his earliest followers within the vibrancy of formative Judaism. His insightful presentations of Judaism's compelling consciousness of grace, inspirational stories of martyrs, exuberant delight in following the Torah, and profound teachings on justice and mercy not only explicitly correct earlier scholarship's tendentious descriptions of Jewish practice and belief, but also provide the groundwork for Jewish-Christian dialogue today.
—Amy-Jill Levine, Carpenter Professor of New Testament Studies, Vanderbilt Divinity School
One of the innovative leaders in this revolutionary rethinking of esoteric apocalypses, testaments, and legends, Nickelsburg presents in concise form a broad synthetic picture of the results of the last generation of burgeoning scholarship on the way we read and understand the wide variety of ancient Jewish literature. As one of the few scholars who commands a thorough knowledge of these important Jewish texts, he pulls together a rich range of references relevant to the main traditional topics of investigation and explores their implications for serious reinterpretation of the variety of movements that developed into early Christianity.
—Richard A. Horsley, distinguished professor of liberal arts and the study of religion, University of Massachusetts, Boston

The Messiah: Developments in Earliest Judaism and Christianity
Editor: James H. Charlesworth
Publisher: Fortress Press
Publication Date: 2009
Pages: 632
How did the Jews from 250 BC to AD 200 conceive and express their beliefs in the coming of God's Messiah? Why did the Jews closely associated with Jesus of Nazareth claim within 10 years of his crucifixion in AD 30 that he indeed was the promised Messiah? An international team of prominent Jewish and Christian scholars discuss these and related questions in this volume that stems from the First Princeton Symposium on Judaism and Christian Origins.
The book focuses on the historical and theological importance of the presence or absence of the term "Messiah" and messianic ideas in the Hebrew Scriptures, the New Testament, Philo, the Apocrypha, the Pseudepigrapha, Josephus, and the Dead Sea Scrolls. It clarifies the key issues to be discussed, illustrates the appropriate methodology shared by international experts, and concentrates on the perplexing questions regarding messianic beliefs in Judaism and Christianity before the close of the New Testament and the editing of the Mishnah.
More details about these resources