The Glories of the Catholic Church (3 vols.)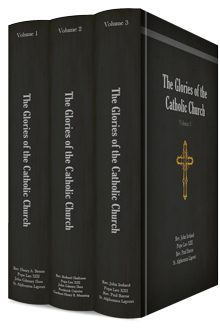 The Glories of the Catholic Church (3 vols.)
•
Runs on Windows, Mac and mobile.
$18.00
Reg.: $32.95
Print: $59.95
* Projected price. Future bids may change this price.
Place Your Bid!
Click on the highest price you'd pay. If the final price is lower, that's what you'll pay.
Overview
The Glories of the Catholic Church is a three-volume work, with each volume focusing on different aspects of the Church's historical doctrine—starting with the creation of humankind and ending with the modern practice of faith. These texts also focus on the Catholic teachings of blessed prayers, original sins, and the practice of the Christian virtues. Containing excerpts from the writings of Pope Leo XIII, St. Alphonsus Ligouri, Archbishop John Ireland, and many others, The Glories of the Catholic Church is a key window to the nineteenth-century Catholic Church's understanding of herself across the ages, the Mass and public liturgies, and the Gospel.
In Logos, these volumes interconnect with the other resources in your library, bringing you instant access to cross-references, linguistic and theological dictionaries, and articles on related topics. These volumes are instantly searchable and easy to navigate, allowing you to quickly find the article or topic you're looking for.
Key Features
A historical look at ecclesiology and liturgy
Key writings from Catholic saints and theologians
Explanations of the mysteries of our salvation
Individual Titles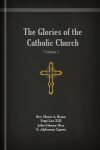 The Glories of the Catholic Church, vol. 1
Authors: John Gilmary Shea, Henry A. Brann, John Ireland, Richard Challoner, and Pope Leo XIII
Publisher: John Duffy
Publication Date: 1895
Pages: 417
The first volume covers various historical events in the Catholic Church. Notable essays include:
Columbus Discovers America
The Spread of the Gospel
The Triumphs of the Church
Catholic Belief
Rule of Life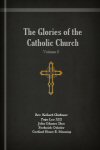 The Glories of the Catholic Church, vol. 2
Authors: John Gilmary Shea, Henry A. Brann, John Ireland, Richard Challoner, and Pope Leo XIII
Publisher: John Duffy
Publication Date: 1895
Pages: 379
The second volume focuses on the different parts of Mass, from individual prayers to Holy Communion. Notable essays include:
Pope Leo XIII on the Holy Scriptures
The Catholic Christian Instructed
The Sacrifice of the Mass
The Grounds of Faith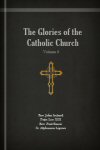 The Glories of the Catholic Church, vol. 3
Authors: John Gilmary Shea, Henry A. Brann, John Ireland, Richard Challoner, and Pope Leo XIII
Publisher: John Duffy
Publication Date: 1895
Pages: 387
The third volume focuses on devotional practices, the work of faith, and prayers. Notable essays include:
Patriotism: Its Duty and Value
Pope Leo XIII: To the Rulers of the World
The Glories of Jesus
The Glories of Mary
The Glories of St. Joseph
The Glories of the Angels
Product Details
Title: Glories of the Catholic Church
Authors: John Gilmary Shea, Henry A. Brann, John Ireland, Richard Challoner, and Pope Leo XIII
Publisher: John Duffy
Volumes: 3
Pages: 1,183
Sample Pages from the Print Edition