Zondervan Biblical Languages Video Lectures (2 vols.)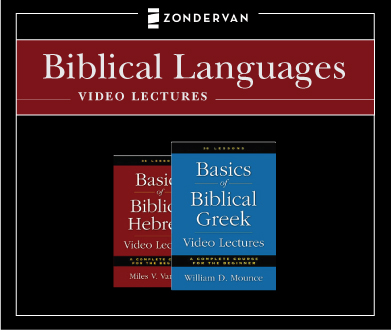 Zondervan Biblical Languages Video Lectures (2 vols.)
•
Runs on Windows, Mac and mobile.
Overview
Integrated for use with today's bestselling biblical Greek and Hebrew textbooks by Zondervan, these 72 easy-to-follow lessons make learning the original languages of the Bible both doable and enjoyable. Whether learning on your own or with a class, these video lectures complete the curricula for a balanced approach to introductory and intermediate biblical Greek and Hebrew. Join the fastest-growing comprehensive approach to biblical language study and dive right in to the Zondervan Biblical Languages Video Lectures, led by acclaimed language teachers William D. Mounce and Miles V. Van Pelt.
Key Features
Video lectures that accompany each chapter in Basics of Biblical Greek and Basics of Biblical Hebrew
Ideal for students, self-learners, and those trying to relearn biblical languages
Over 28 hours of lesson-by-lesson instruction
Individual Titles
Basics of Biblical Greek Video Lectures
Author: William D. Mounce
Publisher: Zondervan
Publication Date: 2013
Video Length: Over 16 hours
Basics of Biblical Greek Video Lectures features an integrated approach to learning New Testament Greek, turning it into a natural process and showing from the start how an understanding of the language helps in better comprehending the New Testament. This downloadable video series features 36 lessons, each 20–35 minutes, for each chapter in Basics of Biblical Greek Grammar. Useful as a complement to the book or as a standalone resource, the lectures are perfect for formal Greek language students who miss a classroom lecture or want additional help in their learning; instructors wanting to devote classroom time to drills and exercises, providing a lecture tool students can watch on their own time; homeschool parents and students; and self-taught students of biblical Greek alike.
William D. Mounce (PhD, Aberdeen University) lives as a writer in Spokane, Washington. He is the president of Biblical Training, a non-profit organization offering the finest in evangelical teaching to the world for free. Formerly he was the preaching pastor at a church in Spokane, and prior to that a professor of New Testament and director of the Greek program at Gordon-Conwell Theological Seminary. He is the author of the bestselling New Testament Greek resource, Basics of Biblical Greek, and served as the New Testament chair of the English Standard Version translation of the Bible.
Basics of Biblical Hebrew Video Lectures
Author: Miles V. Van Pelt
Publisher: Zondervan
Publication Date: 2012
Video Length: Over 12 hours
Basics of Biblical Hebrew Video Lectures provides 36 easy-to-follow lessons introducing the grammar and language of the Hebrew Bible. Integrated for use with today's bestselling Hebrew text, it is an ideal resource for traditional students in need of additional instruction; for professors, who can now utilize precious classroom time for discussion and exercises—and have students watch lectures at home; and for self-learners and homeschoolers with an interest in learning Hebrew on their own.
Each lesson is approximately 30 minutes and is taught by experienced teacher Miles V. Van Pelt using a logical and simple method of learning biblical Hebrew, an approach he's refined over more than 20 years of studying and instructing students in biblical languages. Focused on the structural pattern of biblical Hebrew instead of tedious memorization, each video session will give students in formal language classes and self-learners alike the basic understanding they need to begin studying the Hebrew Scriptures.
Miles Van Pelt (PhD, Southern Baptist Theological Seminary) is the Alan Belcher Professor of Old Testament and Biblical Languages at Reformed Theological Seminary in Jackson, Mississippi, where he also serves as the Director of the Summer Institute for Biblical Languages and Academic Dean.
Product Details
Title: Zondervan Biblical Languages Video Lectures
Authors: William D. Mounce and Miles V. Van Pelt
Publisher: Zondervan
Volumes: 2
Video Length: Over 28 hours
More details about these resources