Bible Study Magazine—July–August 2013 Issue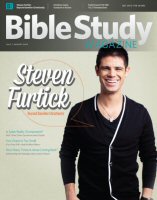 Bible Study Magazine—July–August 2013 Issue
Overview
Get Bible Study Magazine now by purchasing the July–August 2013 back issue for $3.95. That's 20% off the newsstand price of $4.95!
Bible Study Magazine is a print magazine (not an emagazine) published by Lexham Press. Six times a year, Bible Study Magazine delivers tools and methods for Bible study as well as insights from respected teachers, professors, historians, and archeologists.
Read pastor profiles, author interviews, and stories of individuals whose thoughtful engagement with Scripture has shaped their thinking and defined their ministries. Bible Study Magazine reveals the impact of God's Word in their lives—and the power of Scripture in yours.
Each Issue of Bible Study Magazine Includes:
Feature Stories
Discover new ways to connect the Bible with your ministry and life through in-depth interviews and articles from the biggest names in the church and biblical scholarship.
Bible Study Tips
Explore the Word—thoughtful and engaging authors tackle the tough passages in Scripture, explain difficult concepts, and confront complex interpretations in a way that helps the Gospel make sense in your life.
On the Cutting Edge
Keep up to date on the latest news in biblical research, including archaeological and historical findings.
A New Kind of Bible Study
Encounter God by yourself or with other believers with an ongoing Bible study in each issue.
On Teaching
Get advice on how to preach or teach the Bible in any setting from well-known pastors and teachers who use the Bible every day.
Tool Box
Learn how to effectively use the latest Bible study tools with our how-to guides.
In the News
Keep informed about the latest news in biblically related topics, discoveries, and events.
Thoughts from the Ancients
Read the Bible together with those who have come before you, and learn from the wisdom of the early church—in its own words.
Word Studies
Get a close-up view of the Bible! Each issue contains insights about specific words found in the Bible and tutorials on how to do word studies.
If Only Someone Would Explain It to Me
Enrich your understanding of the Bible with explanations of biblical and theological concepts by top scholars.
Did You Know?
Discover interesting facts about the place of the Bible in the contemporary and the ancient world.
What They Don't Tell You in Church
See things you never noticed in biblical passages you have read dozens of times.
Biblical Humor
The funniest stories and the best comics related to the Bible, useful for any setting.
Book Reviews
Stay on top of the latest books about Bible study. Each issue contains reviews of books and commentaries to equip you in your study of God's Word.
Excerpts from the July–August 2013 Issue!
Steven Furtick: Beyond Baseline Christianity
"Power comes in the application—in submission and obedience to God's Word," remarks Steven Furtick, lead pastor of Elevation Church. "I challenge those who have a depth of knowledge and insight to find something so simple, so painfully clear that kicks against their nature, and obey that. The Spirit wants to move in your life more than He wants to arrange facts. . . . Knowing God's Word becomes a disadvantage when that knowledge becomes an obstacle to believing in Him in childlike faith. It's important that we stay in that posture."—Joe Bunting
Christine Caine: Scripture in Action
The lives of Christ's followers should mirror God's work of redemption, emphasizes Christine Caine, author, speaker, and human rights activist. "In John 17, Jesus prayed, 'Father, I do not ask that you take them out of the world.' Our purpose is to be in the world and have a different value system, a different set of priorities and a different way of thinking. The Bible is a redemption story from beginning to end. Genesis to Revelation shows God coming and dwelling among men and redeeming us. . . . Now he's working in these last days through the Holy Spirit in us, and every spiritual gift in Christ is made available so that we can reach the world."—Jessi Strong
Ongoing Bible Study: Unity in a Fragmented World
The modern church seems fragmented and divided. By some estimates, there are around 41,000 different Christian denominations and organizations. The numbers seem to clash with Paul's description of the church as Christ's body (Eph 1:22–23) and God's temple (2:19–22) as he stresses that believers should be united in Christ. Can the modern church—with its thousands of separate denominations—really display the type of unity Paul writes about in Ephesians?—Miles Custis
We have a limited supply of back issues of the July–August 2013 Bible Study Magazine. Get your copy while you still can!
Key Features
Steven Furtick: Beyond Baseline Christianity
Christine Caine: Scripture in Action
Special Section on 1–2 Thessalonians
Product Details
Title: Bible Study Magazine—July–August 2013 Issue
Editor-in-Chief: John D. Barry
Academic Editor: Michael S. Heiser
Art Director: Sean Fields
Graphic Designer: Kayla Soper
Managing Editor: Rebecca Kruyswijk
Advertising Sales: Santiago Galeano
Marketing: Dan Pritchett, Phil Gons, Scott Lindsey, Jonny Heemstra, and Jeffrey Kranz
Publisher: Lexham Press