Building Healthy Churches Series (3 vols.)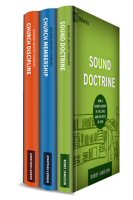 Overview
Whether you're a church member or leader, the Building Healthy Churches Series aims to help you play your part in actively building a church that displays God's glory. Church discipline, membership, and doctrine are all integral to a healthy church. This collection includes accessible titles on all three subjects. Each concise volume includes both biblical information about its subject and practical applications for your church.
In the Logos editions, these valuable volumes are enhanced by amazing functionality. Scripture citations link directly to your preferred translation, and important terms link to dictionaries, encyclopedias, and a wealth of other resources in your digital library. Perform powerful searches with the Topic Guide to instantly gather relevant biblical texts and resources. Tablet and mobile apps let you take the discussion with you. With Logos Bible Software, the most efficient and comprehensive research tools are in one place so you get the most out of your study.
Add the Building Healthy Churches Series to your Logos library today to learn more about your call to build a healthy church.
Key Features
Three accessible books about church discipline, membership, and doctrine
Advice on how to play your part in building a healthy church
Practical applications of biblical concepts
Individual Titles

Church discipline is essential to building a healthy church. Yet, how does a church practice discipline? How should church leaders handle the endless variety of circumstances and sins for which no scriptural case study exists? Church Discipline: How the Church Protects the Name of Jesus is a contemporary and concise how-to guide that provides a theological framework for understanding and implementing disciplinary measures in the local church. Jonathan Leeman, author and elder, also provides several examples of real situations and responses.
Leeman airs the dirty laundry of our lives and talks about how to clean it up. He ventures into the tough area of pastoral application, which is sure to rouse good discussions, but again and again I found myself convinced. You will not fail to be helped by this book. Brief and biblical, wise and practical—this is the book on church discipline we've been looking for.
—Mark Dever, president, 9Marks
Far too few biblically grounded, pastorally sensitive books on church discipline remain in print today. I know of none that is as exegetically accurate, practically relevant, and filled with real-life case studies of how churches should deal with a wide variety of common situations. On top of all this, Leeman is helpfully succinct and remarkably clear. Highly recommended!
—Craig L. Blomberg, distinguished professor of New Testament, Denver Seminary
One of the most neglected activities in the church today is the ministry of loving, courageous, and redemptive church discipline. This book provides a clear vision and practical guidelines for this vital aspect of life together in the body of Christ. I have seen many people freed from entangling sin by churches that lived out these principles, and I pray that more and more churches will recommit themselves to this restorative ministry.
—Ken Sande, president, Peacemaker Ministries
Until such a time as the church of the Lord Jesus Christ becomes, by definition, a disciplined church, it will remain largely the undisciplined church. Leeman, of 9Marks, has provided another perceptive and important guide to establishing a healthy church through the exercise of unique Christian responsibilities, love, and discipline. The pastor with a desire to see a healthy church will profit immensely from this read.
—Thabiti M. Anyabwile, senior pastor, First Baptist Church of Grand Cayman
Many different ideas enter the minds of Christians when they hear the words 'church discipline'—punishment, judgment, critical, unloving, excommunication. Jonathan Leeman sets the record straight by explaining what Jesus meant when he first introduced this concept of spiritual accountability. Leeman explains the purpose of church discipline and why it is necessary. The case studies illustrating situations requiring church discipline are worth the price of the book!
—J. Carl Laney, author, A Guide to Church Discipline

Becoming a member of a church is an important part of the Christian life. Yet, the trend these days is one of shunning the practice of organized religion and showing a distaste or fear of commitment, especially of institutions. In Church Membership: How the World Knows Who Represents Jesus, Jonathan Leeman addresses these issues with a straightforward explanation of what church membership is and why it's important. Giving the local church its proper due, Leeman has built a compelling case for committing to the local body.
Church leaders across many denominations will find this little book filled with practical ideas and good arguments that will help us cure Christians in our culture today of their allergy to church membership, pastoral authority, life accountability, and any limits to their personal freedom.
—Timothy Keller, senior pastor, Redeemer Presbyterian Church, New York City
Brief, fresh, entertaining, and, above all, biblical. This is the explanation and defense of church membership you've been looking for.
—Mark Dever, president, 9Marks
Practical. Convicting. Biblically faithful. Leeman reminds us that church membership is not a choice but a demand. The book is punchy and provocative, but at the same time it is permeated with the gospel of grace.
—Thomas R. Schreiner, professor of New Testament interpretation, Southern Baptist Theological Seminary
We live in an age where people relate to and make decisions about church much like they do with a restaurant. We desperately need to be awakened from our consumeristic slumber. This book is the wake-up call that is needed to turn church consumers into gospel participants.
—Darrin Patrick, pastor, The Journey, St. Louis, Missouri

How do you feel about doctrine? In Sound Doctrine: How a Church Grows in the Love and Holiness of God, author Bobby Jamieson writes that sound doctrine is vital for living a godly life, and also explains the essential role of theology in the life of a healthy church. This short, readable book shows how good theology leads to transformation, life, and joy.
Scripture is for sound doctrine, sound doctrine is for real life, and real life is for real church growth. So says Jamieson, and he hits the nail on the head brilliantly every time.
—J. I. Packer, professor of theology, Regent College
'Pay heed to your doctrine.' That imperative for faithful Christianity sounds to many Christians altogether abstract and remote from the life of the church. Bobby Jamieson believes otherwise, and Sound Doctrine is a masterful argument for doctrine that is not only deeply rooted in the church, but also produces a church that demonstrates both the grace and glory of God.
—R. Albert Mohler Jr., president and professor of Christian theology, Southern Baptist Theological Seminary
A true Christian experience involves more than sound doctrine, but it is nothing without it. Bobby helps us see how sound doctrine not only shapes but also empowers all ministries in the local church, from effective outreach to authentic small groups. This book could serve as a starting point for thinking through a philosophy of ministry.
—J. D. Greear, lead pastor, The Summit Church, Durham, North Carolina
Truth is for life. Teaching is for living. Sound doctrine is for love, unity, worship, witness, and joy. That is what this book is all about. Christians need to understand how sound biblical teaching—doctrine that is based on and drawn from the Holy Scriptures—informs every aspect of Christian life and experience. Bobby Jamieson makes that case in Sound Doctrine. The argument is brief, biblical, interesting, and compelling. The book won't take you long to read, but its contents will pay dividends to Christians and churches for a long time to come.
—J. Ligon Duncan, chancellor and professor of systematic and historical theology, Reformed Theological Seminary
Think doctrine is at least impractical—at worst, loveless? Give this author a few minutes to help you reconsider this. Well-written, precise, provocative, and practical—Jamieson has produced a jewel.
—Mark Dever, president, 9Marks
Product Details
Title: Building Healthy Churches
Authors: Jonathan Leeman and Bobby Jamieson
Series: 9Marks: Building Healthy Churches
Publisher: Crossway
Volumes: 3
Pages: 416
About Jonathan Leeman
Jonathan Leeman received his MDiv at Southern Baptist Theological Seminary. He is an elder at Capitol Hill Baptist in Washington, DC. He also serves as director of communications for 9Marks and is the editor of its ejournal. Leeman is the author of The Church and the Surprising Offense of God's Love and has been published in several major newspapers and Christian periodicals.
About Bobby Jamieson
Bobby Jamieson is the assistant editor for 9Marks and managing editor of the 9Marks ejournal. Jamieson is a member of Third Avenue Baptist Church and lives with his wife and two daughters in Louisville, Kentucky. He is also the author of the 9Marks Healthy Church Study Guides.
More details about these resources