Biblical Approaches to Suffering (2 vols.)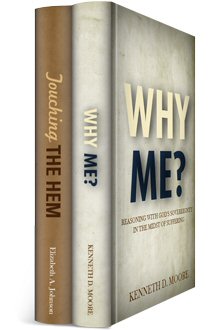 Overview
There are a lot of questions concerning pain and suffering. Do we just accept them? How do we seek God's help for healing? Why am I the one in pain? This pair of books explores how suffering and isolation should be dealt with from biblical perspectives. They identify the obstacles that need to be conquered, ways to deal with physical pain, how to respond to suffering, and what God promises for our future. These are excellent books for those seeking hope, encouragement, and advice on how to deal with the hurt in their lives.
In the Logos editions, these volumes are enhanced by valuable functionality and features. Scripture links directly to English translations, and important terms link to dictionaries, encyclopedias, and a wealth of other resources in your digital library. Perform powerful searches with the Topic Guide to instantly gather relevant biblical texts and resources, enabling you to jump into the conversation on suffering with the foremost scholars. Tablet and mobile apps let you take the discussion with you. With Logos Bible Software, the most efficient and comprehensive research tools are in one place, so you get the most out of your study.
Key Features
Looks into the Biblical perspectives on how to deal with suffering
Answers questions that arise from physical suffering
Acts as a guide for those who need hope and encouragement
Product Details
Title: Biblical Approaches to Suffering
Authors: Elizabeth A. Johnson and Kenneth D. Moore
Publisher: Ambassador
Volumes: 2
Pages: 368
Christian Group: Baptist
Resource Type: Counseling
Topic: Grief Recovery
Individual Titles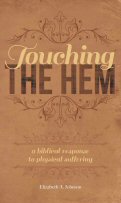 How should you respond to suffering? What does God say about healing? As humans, we are bound to suffer physical affliction on this earth. However, as Christians, what should our response be to that affliction? Should we simply accept it and stoically go on with our lives? Seek help through prayer, but reject medicine? Does God still heal sickness today? If so, how do we access His healing? Touching the Hem considers these questions and more. It starts with a thorough look upward at God—who he claims to be, what he has done for us in the past, and what he promises to do in the future. It then looks at our circumstances, observing physical affliction through the lens of God's word. Only then does it turn the gaze inward, considering our response to physical suffering, and how to live according to biblical principles.
Elizabeth A. Johnson is an author and blog writer who started a blog ministry called "DogFur and Dandelions" after being diagnosed with Wegener's Granulomatosis in 2007. Through her illness she has empowered others to strive toward Christ-centered living.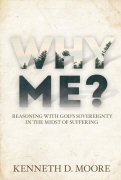 The purpose of Why Me? is to encourage readers to worship and thank God passionately even in the midst of trouble. It helps identify obstacles that need to be conquered, discusses how convictions triumph over temptations, and how to embrace truths and enjoy peace. Through the study of Joseph's life, the author seeks to understand his own circumstances out of his control. Moore uses Joseph's story to teach the reader how he fights through feelings of isolation, learns to trust God, and works through his own battle with cerebral palsy. Why Me? shares Moore's journey from anger to gratefulness, the struggles and blessings along the way, and provides inspiration that life does not need to be perfect in order to have peace.
Kenneth D. Moore earned his MDiv specializing in Biblical Languages from New Orleans Baptist Theological Seminary and a doctor of ministry with an emphasis in expository preaching from Luther Rice.
More details about these resources