James R. White Collection (12 vols.)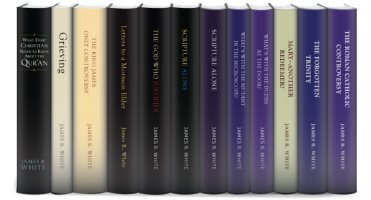 Overview
This 12-volume collection includes engaging, relevant works by seasoned apologist and acclaimed author James R. White. The works included here cover a variety of topics Christians today are often faced with. White examines the text of the Qur'an, the beliefs of Mormons and Jehovah's Witnesses, the differences between Catholicism and evangelical Christianity, and the doctrines of the Trinity and justification. Other included works deal with maintaining hope throughout the grieving process and the issue of homosexuality and marriage today. Both followers of White's organization—Alpha and Omega Ministries—and first-time readers will appreciate what he brings to these important conversations.
With Logos Bible Software, this collection is completely searchable, making the text easier to access for scholarly work and personal study. Scripture appears on mouseover in your preferred translation, and the Logos version integrates seamlessly into your digital library, so your dictionaries and other reference tools are only ever a click away.
Key Features
Examines relevant issues such as homosexuality, cults, intelligent design, and the Islamic faith
Discusses the infallibility of the Bible, the doctrine of justification, and issues of Bible translation
Presents organized arguments with the skill of a seasoned apologist
Product Details
Title: James R. White Collection
Author: James R. White
Publisher: Baker
Volumes: 12
Pages: 2,914
Relying on the media and politicians to tell us what Muslims believe isn't going to cut it. Christians need to be better informed, whether the goal is to understand global politics or to talk to a Muslim neighbor across the street. Through fair and accurate use of the Qur'an and other documents, scholar and accomplished debater Dr. James White examines what Muslim sacred texts teach about Christ, salvation, the Trinity, the afterlife, and other crucial topics. This book provides the answers you've been looking for to engage in open, honest discussions about Islam with its adherents and others.
This book is magnificent! I believe this is the most thorough and comprehensive book written by an evangelical scholar on the Qur'an.
—Abdul Saleeb, coauthor, Answering Islam and The Dark Side of Islam
Dr. James White has written an immensely informative, carefully documented overview of Islam and the Qur'an—rich with fascinating historical, biblical, and theological analysis.
—John MacArthur, pastor, Grace Community Church, Sun Valley, California
It is absolutely essential that Christians understand that Islam and Christianity represent two contradictory sets of truth claims. James White understands this, and in this important new book he sets out the issues of truth with distinction and clarity. Christians will welcome this book as they seek to understand the challenge of Islam.
—R. Albert Mohler Jr., president, The Southern Baptist Theological Seminary
In this day when Christians face an 'incorrigible plurality' of religious scriptures, Dr. White presents essential knowledge concerning the Qur'an. It comes with the added benefit of its contents having been honed in debate with Muslim scholars and laypeople. I highly recommend this book!
—Keith E. Small, associate research fellow, London School of Theology

When you grieve, it's normal to wonder if you'll ever feel okay again. Loneliness, fear, confusion, and anger make hope hard to come by. And yet, grieving in hope is vital to the healing process. This book gently shows how hope is truly possible during this difficult time. Each person experiences loss in different ways, but with God's help, grieving can be your path back to peace.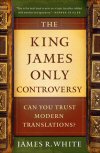 Modern Bible translations still come under attack from some who read only the King James Version. James R. White traces the development of Bible translations old and new, investigating the differences between versions like the NIV, NASB, and NKJV and the Authorized Version of 1611. Written with the layperson in mind, The King James Only Controversy leads the reader through the basic issues of the debate and into the more complex issues of textual criticism. This book is enlightening reading for all Christians.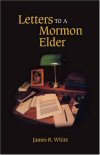 Letters to a Mormon Elder is a series of personal letters written to a fictional Mormon missionary. Examining the teaching and theology of the Church of Jesus Christ of Latter-day Saints, the book brings a relational approach to material usually presented in textbook style. James White draws from his extensive apologetics ministry to thousands of Mormons in presenting the truth of Christianity. With well-defined arguments, James White provides readers with insight and understanding into: the Book of Mormon; the Prophecies, visions, and teachings of Joseph Smith; other major historical issues relevant to the claims of the LDS Church; and the theological implications of the doctrines of Mormonism.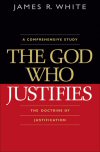 In today's culture where tolerance is the new absolute, James White proclaims with passion the truth and centrality of the doctrine of justification by faith. Once the core of the Reformation, the church today often ignores or misunderstands this foundational doctrine. White calls believers to a fresh appreciation of, understanding of, and dedication to the great doctrine of justification and then provides an exegesis of the key Scripture texts on this theme.
Finally—a contemporary, exegetical, doctrinal, and able defense of the historic Protestant doctrine of justification by God's free grace by faith in Jesus Christ alone. This is the best book on justification since James Buchanan's mid-nineteenth-century classic. We need to teach this material to our congregations.
—Joel R. Beeke, president and professor of systematic theology and homiletics, Puritan Reformed Theological Seminary
I lost sleep over this book! I simply couldn't put it down. James White writes the way an exegetically and theologically oriented pastor appreciates. This is no book for casual reading—there is solid meat throughout. An outstanding contribution in every sense of the words!
—Jay E. Adams, author, Competent to Counsel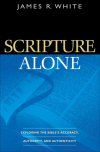 With clear teaching in an engaging, accessible style, this book lays a foundation for all Christians who desire a deeper understanding of biblical sufficiency. White presents Scripture as God-breathed in nature, as unparalleled and absolute in authority, and as the church's infallible rule of faith in straightforward language to help believers apply these doctrines to their lives. In addition, he addresses the timely issues of the canon, including textual and historical evidence. The captivating dialogues used throughout the book help bring into focus the great truths of faith against the backdrop of error. These dialogues assist readers in discovering how to engage in conversation with those of differing beliefs.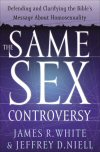 In the guise of tolerance, modern culture grants alternative lifestyle status to homosexuality. Even more disturbing, some within the church attempt to revise and distort Christian teaching on this behavior. The authors write for all who want to better understand the Bible's teaching on the subject, explaining and defending the foundational passages that deal with homosexuality, including Genesis, Leviticus, and Romans. Expanding on these Scriptures, they refute the revisionists' arguments—including the claim that Christians today need not adhere to the Law. In a straightforward and loving manner, they appeal to those living a homosexual lifestyle to repent and return to God's plan for his people.
Jeffrey D. Niell has an MA in theology from Fuller Seminary and is the pastor of Emmanuel Covenant Church, a Presbyterian church in Phoenix, Arizona.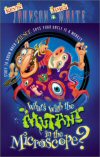 What's with the Mutant in the Microscope?
Authors: Kevin Johnson and James R. White
Publisher: Baker
Publication Date: 1999
Pages: 144
What's with the Mutant in the Microscope is a guide for adolescents navigating the waters of evolution and creation as presented in schools today. According to authors Kevin Johnson and James R. White, most people choose biology over the Bible, science over Sunday school, goo over God. This book offers solid scientific reasons to believe God made your world. Using a youth-oriented voice they discuss natural selection, evolution, where science gets its facts, and how the facts of life demonstrate intelligent design. You can't afford to ignore evolution's best arguments or the counter-argument of God's amazing handiwork.
Kevin Johnson is the bestselling author of 18 books for youth, including Can I Be a Christian without Being Weird? and Catch the Wave. His training includes an MDiv from Fuller Theological Seminary and a BA in English and Print Journalism from the University of Wisconsin–River Falls. He is a full-time author and speaker, he served as senior editor at Bethany House Publishers, and he pastored a group of more than 400 sixth through ninth graders at Elmbrook Church in metro Milwaukee.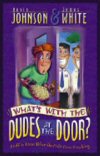 What's with the Dudes at the Door?
Authors: Kevin Johnson and James R. White
Publisher: Baker
Publication Date: 1998
Pages: 144
The word cult conjures up images of shaved heads, funny robes, and glassy-eyed chanting. But what do you do when the guy at the door doesn't look like a cultist and is holding a Bible? How can you tell true Christianity from teachings that only claim to be Christian? What's with the Dudes at the Door? cuts to the heart of the issue by giving teens practical, easy-to-understand tips on how to spot cultic practices and doctrine, no matter how attractive and Christian the package. Renowned cult expert and writer James White has teamed up with bestselling youth author Kevin Johnson to create this revealing, teen-friendly look at Mormonism, Jehovah's Witnesses, and other major cults that target teens.
Kevin Johnson is the bestselling author of 18 books for youth, including Can I Be a Christian Without Being Weird? and Catch the Wave. His training includes an MDiv from Fuller Theological Seminary and a BA in English and Print Journalism from the University of Wisconsin–River Falls. He is a full-time author and speaker, he served as senior editor at Bethany House Publishers, and he pastored a group of more than 400 sixth through ninth graders at Elmbrook Church in metro Milwaukee.

Millions of petitioners from around the world have implored the Vatican to recognize the Virgin Mary as "co-redeemer" with Christ, elevating the topic of Roman Catholic views of Mary to national headlines and widespread discussion. Mary—Another Redeemer? sidesteps hostile rhetoric and cites directly from Roman Catholic sources to explore this volatile topic. It traces how Mary of the Bible—esteemed mother of the Lord, obedient servant, and chosen vessel of God—has become the immaculately conceived, bodily assumed queen of heaven, viewed as co-mediator with Christ and now recognized as co-redeemer by many in the Roman Catholic Church. James R. White offers fresh insight into the woman the Bible calls "blessed among women," and an invitation to single-minded devotion to God's truth.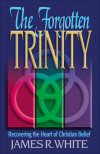 The Trinity is a basic teaching of the Christian faith. It defines God's essence and describes how he relates to us. The Forgotten Trinity is a concise, understandable explanation of what the Trinity is and why it matters. It refutes cultic distortions of God and shows how a grasp of this significant teaching leads to renewed worship and deeper understanding of what it means to be a Christian. Amid today's emphasis on the renewing work of the Holy Spirit, The Forgotten Trinity is a balanced look at all three persons of the Trinity.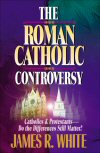 More than at any time in the past, Roman Catholics and evangelicals are working together. They're standing shoulder-to-shoulder against social evils. They're joining across denominational boundaries in renewal movements. And many evangelicals are finding the history, tradition, and grandeur of the Roman Catholic Church appealing. This newfound rapport has caused many evangelical leaders and laypeople to question the age-old disagreements that have divided Protestants and Catholics. The Roman Catholic Controversy is an absorbing look at current views of tradition and Scripture, the papacy, the mass, purgatory, indulgences, and Marian doctrine. James White affirms that evangelicals and Catholics share common ground on some points. Yet crucial differences remain regarding the Christian life—and the heart of the Gospel itself—that can't be ignored.
About James R. White
James R. White is the director of Alpha and Omega Ministries, an evangelical Reformed Christian apologetics organization based in Phoenix, Arizona. He is the author of more than 20 books and has engaged in numerous moderated debates. White serves as an elder of the Phoenix Reformed Baptist Church.