Kenrick's Translation of the Vulgate with Commentary (6 vols.)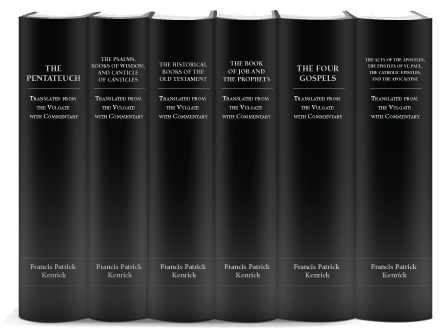 Kenrick's Translation of the Vulgate with Commentary (6 vols.)
•
Runs on Windows, Mac and mobile.
$90.00
* Projected price. Future bids may change this price.
Place Your Bid!
Click on the highest price you'd pay. If the final price is lower, that's what you'll pay.
Overview
Kenrick's Catholic translation is a revision of the Douay version of the Bible, published in six volumes between 1849 and 1862 (the New Testament volumes were later revised and combined into one volume). His extensive commentary consults important Hebrew and Greek textual differences and quotes from the theological thoughts of the Early Church Fathers—especially St. Jerome, St. Chrysostom, and St. Basil. Each book of the Bible is prefaced with extensive introductions and provides an expert look at the textual and interpretive history behind each book. Nineteenth-century Protestant as well as Catholic scholarship is referenced, bridging the theological tensions of the nineteenth century for a unified Christian translation.
In Logos, this commentary and translation integrate into your library, supplementing your research with scholarly notes when you study the daily readings or Scripture passages relevant to you. Perform precise word studies on the English, Greek, Hebrew, and Aramaic text, and share your findings with your community.
Key Features
A complete translation of the Bible, consulting Greek, Latin, and Hebrew texts
Translational and interpretational commentary on every verse
Scholarship from early church fathers, medieval theologians, and classic Protestant and Catholic sources
Praise for the Print Edition
Although [Kenrick] was open to some modern Protestant critical scholarship and called for more Catholics to become engaged in critical biblical studies and to learn oriental languages, his primary purpose in translating the Bible was to provide a more readable English text than the Douay version and to vindicate the Catholic use of the Vulgate.
—Biographical Dictionary of Christian Theologians
[Kenrick] acknowledged the many advances made by Protestant scholarship and cited Protestant as well as Catholic authors in the notes, considering that more unity of thinking could only serve the common cause of Christianity. He took conservative positions on questions of authorship while noting the reasons behind contemporary arguments.
—Presidential Voices: The Society of Biblical Literature in the Twentieth Century
Individual Titles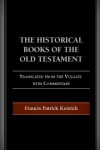 The Historical Books of the Old Testament
Author: Francis Patrick Kenrick
Publisher: Kelly, Hedian, & Piet
Publication Date: 1860
Pages: 897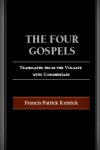 The Four Gospels
Author: Francis Patrick Kenrick
Publisher: Edward Dunigan & Brother
Publication Date: 1849
Pages: 584
The Acts of the Apostles, the Epistles of St. Paul, the Catholic Epistles, and the Apocalypse
Author: Francis Patrick Kenrick
Publisher: Edward Dunigan & Brother
Publication Date: 1851
Pages: 694
Product Details
Title: Kenrick's Translation of the Vulgate with Commentary
Author: Francis Patrick Kenrick
Volumes: 6
Pages: 4,117
About Francis Patrick Kenrick
Francis Patrick Kenrick (1796–1863) was an Irish-American Catholic cleric. He served as the bishop of Philadelphia as well as Archbishop of Baltimore. Among American Catholic bishops of his time, he was the most scholarly and theologically active, having produced a series of books that articulated Catholic Tridentine doctrine on sin and justification, the sacraments, and papal primacy during a time of American Protestant-Catholic quarrels. His major apologetic work, Primacy of the Apostolic See, went into numerous editions, including a German edition. From the beginning of his pastoral career, however, he was devoted to the education of American clergy. He published several multi-volume theological textbooks for doctrinal and moral theology, which drew from patristic and biblical sources more than the modern scholastic tradition. His moral theology took up contemporary issues—such as slavery—and called for a stronger moral code involving the rights and treatment of slaves.