Lectures and Sermons of F. W. Farrar (8 vols.)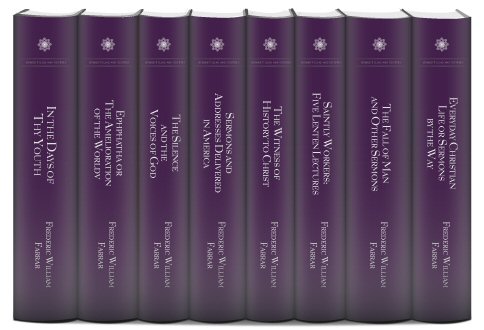 Lectures and Sermons of F. W. Farrar (8 vols.)
•
Runs on Windows, Mac and mobile.
Overview
This collection includes lectures and sermons composed by Frederic William Farrar in the late 1800s. Farrar spent his life preaching and writing, and the sermons in this collection demonstrate his wisdom and knowledge on many important topics. He discussed the fall of man, the kingdom of heaven, prayer, everyday Christian life, sincerity of the heart, and much more. This is an excellent collection for those who want to study or learn more about these topics, or those who just enjoy the wisdom that Farrar offers.
The Logos edition of Lectures and Sermons of F. W. Farrar is designed to enhance and stimulate your study of these timeless sermons. Scripture passages link directly to your English translations and original-language texts, and important theological concepts link to dictionaries, encyclopedias, and a wealth of other resources in your digital library. Perform powerful searches by topic and find what other authors, scholars, and theologians have to say about prayer and the fall of man.
Key Features
Large collection of sermons on important theological topics
Written by an established preacher and author
Applicable teachings for modern life
Praise for Frederic William Farrar
[Farrar] was at that time the most popular preacher and writer in the Church of England . . . but was guilty of one great sin in the eyes of many literary critics—he had the gift of expressing his knowledge in such a way as to appeal to the multitude.
—Sir Henry S. Lunn, humanitarian, missionary, and founder of Lunn Poly
Individual Titles
Product Details
Title: Lectures and Sermons of F. W. Farrar
Author: Frederic William Farrar
Volumes: 8
Pages: 2,420
About Frederic William Farrar
Frederic William Farrar (1831–1903) was born in Bombay, India. He attended King's College, London and Trinity College, Cambridge. During his lifetime, Farrar served as canon of Westminster, rector of St. Margaret's, archdeacon of Westminster Abbey, and dean of Canterbury. Known for his preaching, Farrar was also a prolific author. His works include Eternal Hope, Mercy and Judgment, The Life and Work of St. Paul, The Life of Christ, and Lives of the Fathers, as well as novels and children's books.