F. D. Maurice's Moral and Metaphysical Philosophy (4 vols.)
F. D. Maurice's Moral and Metaphysical Philosophy (4 vols.)
•
Runs on Windows, Mac and mobile.
Overview
In Moral and Metaphysical Philosophy, Frederick Denison Maurice discusses the creation and development of the major philosophies from the first through the eighteenth centuries. Maurice's systematic approach offers unparalleled insight into the philosophy of several teachers, cultures, and time periods. Philosophers ranging from Socrates and Aristotle to John Locke and Immanuel Kant, this is a valuable collection for anyone studying philosophy, history, or the great thinkers of the ages.
The Logos Bible Software edition of Moral and Metaphysical Philosophy is designed to enhance and stimulate your study of philosophy from ancient to modern times. Passages link directly to your English translations and original-language texts, and important theological concepts link to dictionaries, encyclopedias, and a wealth of other resources in your digital library. In addition, you can perform powerful searches by topic and find what other authors, scholars, and theologians have to say about morals and ethics.
The four volumes from this collection will ship as one resource.
Key Features
Describes major philosophical teachers and beliefs
Follows the time-line of history chronologically
Analyzes philosophies from the ancient through the modern times
Individual Titles
Ancient Philosophy covers Hebrew, Egyptian, Hindu, Chinese, Persian, Roman, and Alexandrian philosophies with an extended look into the major Greek philosophers.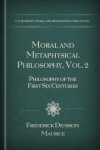 Philosophy of the First Six Centuries breaks down the major philosophies that developed each century all over the world.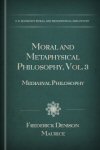 Mediaeval Philosophy presents the philosophical beliefs and changes that occurred throughout the medieval era.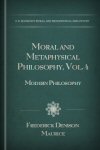 Modern Philosophy gives an extended analysis of major philosophers from the fourteenth century to the beginning of the nineteenth century.
Product Details
Title: Moral and Metaphysical Philosophy
Author: Frederick Denison Maurice
Publishers: Macmillan and Co. & Richard Griffin and company
Volumes: 4
Pages: 1805
About Frederick Denison Maurice
Frederick Denison Maurice (1805–1872) was born in Normanston, Suffolk. After obtaining a civil law degree and pursuing a career in the literary field he decided to seek Anglican ordination. In 1834, he was ordained and was appointed as chaplain of Guy's Hospital. Maurice authored numerous popular books, including The Kingdom of Christ, Moral and Metaphysical Philosophy, The Prophets and Kings of the Old Testament, and The Lord's Prayer, a Manual.
More details about this resource