Shakespeare and Christianity Collection (2 vols.)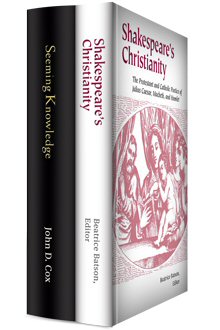 Shakespeare and Christianity Collection (2 vols.)
•
Runs on Windows, Mac and mobile.
Overview
The Shakespeare and Christianity Collection provides modern perspectives on where the Bible meets the Bard. In these two volumes, literary critics analyze Christendom's imprint on the work of Shakespeare as his plays emerge alongside the King James Bible. John D. Cox paints a broad picture of how emerging seventeenth-century skepticism finds itself on stage in the Shakespearean canon, while Beatrice Batson's volume gives several close readings of specific fingerprints the Christian tradition left in three great tragedies.
Logos enhances these texts with seamless access to biblical and historical resources that deepen your study. Scripture references appear on mouseover and a click takes you to the passage in your preferred translation. Fully indexed books enable near-instant search results.
Key Features
Analysis that spans all of Shakespeare as well as close readings of individual plays
Contemporary perspective on where Shakespeare work meets Christianity
Scholarly examination from the literary community
Individual Titles

Seeming Knowledge revisits the question of Shakespeare and religion by focusing on the conjunction of faith and skepticism in his writing. Cox argues that the relationship between faith and skepticism is not an invented conjunction. The recognition of the history of faith and skepticism in the sixteenth century illuminates a tradition that Shakespeare inherited and represented more subtly and effectively than any other writer of his generation.
John Cox offers a compelling account of the Christian premises of Shakespeare's plays, one that seeks neither to revive the complacent politics of the Elizabethan World Picture nor to drum up old factions by treating drama as coded theological polemic. Instead, Seeming Knowledge makes apparent how fully the faith informing Shakespeare's plays registers the duplicities of false consciousness and the opacity of mortal suffering, and also how little it owes to the Reformation. This is an immensely provocative and immensely thoughtful book.
—Debora Shuger, professor of English, University of California, Los Angeles
John D. Cox (PhD, University of Chicago) is the DuMez Professor of English at Hope College.

This volume explores the influences of Catholicism and Protestantism on a trio of Shakespeare's tragedies: Julius Caesar, Macbeth, and Hamlet. Bypassing the discussion of Shakespeare's personal religious beliefs, Batson instead focuses on distinct footprints left by Catholic and Protestant traditions that underlie and inform Shakespeare's artistic genius.
The cultural air of Elizabethan England was thick with theological discourse, yet Shakespeare has often been read as if he hovered above it all in a sublime cocoon of pure art. This stimulating collection of smart essays demonstrates not only that Shakespeare was theologically informed but also that Christian language and concepts were integral to the design of his major tragedies. The formidable contributors enable us to hear lost echoes of Scripture and sermon, polemic and Prayer Book that reverberate in nearly every scene.
—Peter Leithart, New St. Andrews College
Beatrice Batson (PhD, Vanderbilt University) is professor emeritus of English at Wheaton College.
Product Details
Title: Shakespeare and Christianity Collection
Publisher: Baylor University Press
Volumes: 2
Pages: 505
More details about these resources