Dick Eastman Collection (2 vols.)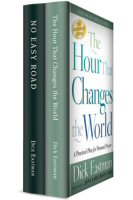 Overview
The Dick Eastman Collection contains two books that will revitalize your personal prayer life. Bestselling author and renowned prayer leader Dick Eastman draws upon Scripture and classic devotionals to outline tools for more effective, consistent prayer. No Easy Road is a guide for praying through some of life's most difficult obstacles. The Hour That Changes the World presents a structured prayer hour divided into 12 five-minute "points of focus," such as praise, waiting, confession, and Scripture praying. This collection is a valuable resource for pastors, prayer leaders, missionaries, and all believers who seek transformed prayer lives or wish to mobilize people to pray.
With Logos Bible Software, Scripture references link directly to the Bibles in your library—both original-language texts and English translations. Clicking any word opens your lexicons to the relevant entry to save you time and add depth to your study. With Logos, you can quickly move from the table of contents to your desired section and search entire collections by topic, title, or reference.
Key Features
Provides tools for more effective prayer
Offers structure for focused daily prayer
Guides you through a progressive prayer journey with modern and biblical illustrations
Praise for the Print Edition
Christians need to master the discipline of prayer, and now you have the opportunity to learn at the feet of a true prayer warrior.
—Bill Bright, founder and chairman, Campus Crusade for Christ
Individual Titles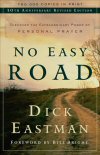 When you pray, you engage in the most remarkable act a human can perform. Prayer unleashes God's sustaining power, but prayer is an art requiring constant cultivation, says Dick Eastman. In No Easy Road, he offers challenge, guidance, and encouragement to help you on the sometimes difficult, though always rewarding, journey of prayer.
This best-selling classic tracks a Pilgrim's Progress-like journey down the road of prayer. Using stories and examples from biblical times and today, you will walk through: the Peak of Unbelief, the Avalanche of Excuses, the Plateau of Intercession, the Mountain of Self-Will, the Cove of Holiness, and more. No Easy Road also includes an appendix entitled "Practical Praying" that provides valuable hints on how and where to pray.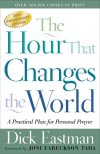 More than two million Christians around the world have revitalized their prayer lives through the step-by-step plan of prayer outlined in this book. You'll be challenged to spend one hour each day in prayer by dividing the hour into 12 five-minute "points of focus," such as praise, waiting, confession, and Scripture praying. In this special 25th anniversary edition of The Hour That Changes the World, Dick Eastman also extends an invitation for believers everywhere to help form continuous walls of prayer in their communities—saturating neighborhoods and nations with nonstop, focused intercession. Whether you join a wall of prayer or simply apply the 12-points plan, this book will transform your prayer life.
Through these pages the Lord Jesus catapulted me into a whole new dimension of joy . . . Dick Eastman's book is arguably the most significant book on prayer written in modern times.
—Joni Eareckson Tada, founder, Joni and Friends
Product Details
Title: Dick Eastman Collection
Author: Dick Eastman
Publisher: Baker
Volumes: 2
Pages: 320
About Dick Eastman
Dick Eastman is the president of Every Home for Christ and author of Celebration of Praise, No Easy Road, Love On Its Knees, and several other books. He lives in Colorado Springs, Colorado, with his wife, Dee, and is a prayer leader respected across denominational boundaries.
More details about these resources