The Resurrection of Jesus in the Hebrew Old Testament (3 vols.)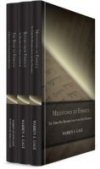 The Resurrection of Jesus in the Hebrew Old Testament (3 vols.)
•
Runs on Windows, Mac and mobile.
Overview
In the New Testament, Jesus and Paul spoke of the "third day" resurrection as an event "in accordance with the Scriptures." But what do the Hebrew Scriptures have to say about the Messiah's resurrection? The Resurrection of Jesus in the Hebrew Old Testament Collection analyzes—and provides fresh insight on—the numerous resurrection references and figures of speech in the Old Testament. Warren Gage guides readers through Hebrew Scripture to shed light on occurences of the "third day" in Milestones to Emmaus and Return from Emmaus, then shares his own views through a fictitous account in The Road to Emmaus.
The Logos Bible Software edition of the Resurrection of Jesus in the Hebrew Old Testament Collection is designed to encourage and stimulate your study and understanding of the resurrection. Scripture passages link directly to your English translations and to the original-language texts, and important theological concepts link to dictionaries, encyclopedias, and a wealth of other resources in your digital library. In addition, you can perform powerful searches by topic and find what other authors, scholars, and theologians have to say about the resurrection.
Key Features
Analyzes resurrection references and figures of speech in the Old Testament
Provides fresh insight on resurrection theology
Includes material well suited for pastors and students
Individual Titles
Does the Old Testament clearly teach the resurrection? Every time Jesus speaks of his coming resurrection, he claims that the Scriptures teach that it must happen on "the third day" (Matt. 16:21; Mark 8:31; Luke 9:22; John 2:19). Paul, likewise, teaches that the Scriptures require Christ's resurrection to be on the third day (1 Cor. 15:4). Milestones to Emmaus explores 40 explicit references to "the third day" or "three days" in the Old Testament. Gage applies the "suffering followed by glory" template that Jesus taught (Luke 24:26) to each reference. Approaching each of these as Gospel texts in the Hebrew Bible, Gage "reverse engineers" his way back to an understanding of Jesus' resurrection hermeneutics.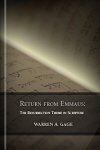 The New Testament figures of speech for resurrection include
Birth from barrenness
Awakening from sleep
Revival from thirst or hunger
Deliverance through baptismal waters of judgment
Release from imprisonment
Return from exile
Death decree and release
The raising up of a fallen tabernacle
Return from Emmaus explores these figures of speech in the Old Testament to see how the evangelists and apostles would have identified the gospel of resurrection in numerous Hebrew passages.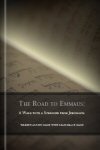 How did Jesus spend the afternoon of the day of his resurrection? This fictional account attempts to recreate the conversation Jesus had with Cleopas and his companion on the walk to Emmaus. The dialogue follows the pattern of third-day passages in the Old Testament that describe a release from death. It begins, as Jesus did, with "Moses and all the prophets." Join us on this walk. See if your heart does not "burn within" you as Christ's suffering and third day glory are opened in the Old Testament, just as Jesus claimed!
Product Details
Title: The Resurrection of Jesus in the Hebrew Old Testament Collection
Authors: Warren A. Gage and Leah Grace Gage
Publisher: St. Andrews House
Volumes: 3
Pages: 321
About the Authors
Warren A. Gage is the president of the Alexandrian Forum, a ministry dedicated to bringing in-depth biblical and classical education back to our churches and communities. Warren holds a ThM from Dallas Theological Seminary, a JD from Southern Methodist University, and a MA and PhD from the University of Dallas. Prior to his work for the Alexandrian Forum, he served as a professor of Old Testament and classical studies at Knox Theological Seminary. He is known for his advocacy of biblical typology and a literary approach to biblical exposition which demonstrates that all of Scripture points toward Christ.
Leah Grace Gage is a graduate student in biblical studies at Harvard. She is a summa cum laude graduate of Dartmouth College.
More details about these resources