Lee Grady Collection (2 vols.)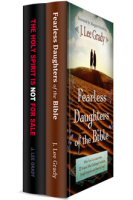 Overview
This two-volume collection includes stirring works by the passionate journalist and author J. Lee Grady. Grady longs for every believer to find or recover a genuine experience with the Holy Spirit, and in The Holy Spirit Is Not for Sale he guides you through this difficult age of compromise we live in. Fearless Daughters describes the lives of 22 of the Bible's strongest females and encourages women today to live out their gifts with boldness and self-assurance. With extraordinary insight, a keen eye for discernment, and a desire to see the church purified and believers empowered, Grady gives a straightforward and affirming message that will expose problems and ignite believers with God's fire.
Logos Bible Software makes this collection easier to study than ever before. Your preferred Scripture translation appears on mouseover, and with Logos' advanced features, you can perform comprehensive searches by topic or Scripture reference—finding, for example, every mention of "faith," or "Acts 1:8."
Key Features
Inspiring works by veteran journalist J. Lee Grady
Tools for recovering a genuine experience with the Holy Spirit
Detailed descriptions of 22 fearless women of the Bible
Practical resources for Christian living in an age of compromise
Individual Titles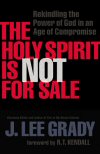 For more than 16 years, veteran journalist J. Lee Grady has kept a finger on the pulse of the charismatic and Pentecostal renewal, which restored the power of the Holy Spirit to the church, but which now suffers from abuse. Since many Spirit-empowered believers have lost their original focus and purity, Grady delves into some of the problems that plague churches and ministries: financial scandal, faulty theology, moral failure, and more.
Yet the message of this fervent journalist, who loves the gifts of the Spirit, isn't one of condemnation and finger-pointing. Instead it is a clarion call to restore the fire of supernatural anointing with biblical boldness, purity, integrity, humility, truth, justice, and compassion. Grady longs for every believer to find or recover a genuine experience with the Holy Spirit. Among the topics he addresses are: the genuine work of the Holy Spirit, strategies for developing healthy leaders, how to set up proper accountability structures, why so many churches and ministries have imploded in recent years.
I know of no more discerning, prophetic voice speaking with clarity and compassion and backed by such integrity of character as Lee Grady's. Today's church needs not only to hear but to heed the wisdom of the warnings set forth in the wisdom of this book.
—Jack Hayford, chancellor, The King's College and Seminary
This book should be in every believer's library! Grady trumpets a clarion call to the body of Christ for a return to godly living and biblical ethics. He speaks with boldness and courage to expose abuse, manipulation, and charlatan practices operating in churches and ministries today. The Holy Spirit Is Not for Sale will cause you to contend for a fresh move of God's Spirit. I highly recommend this powerful and timely book!
—Barbara Wentroble, president, International Breakthrough Ministries
In his book The Holy Spirit Is Not for Sale, Lee Grady provides a voice for sanity and conscience in the exploding and sometimes turbulent world of Pentecostal and charismatic renewal. I recommend it.
—Vinson Synan, dean emeritus, School of Divinity, Regent University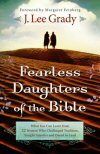 Become one of the gifted, empowered women God is raising up. Christian women are often led to believe they were created inferior to men, destined to play a secondary role. Proverbs 31 gets morphed into a judgment, the sole standard against which many feel like frauds or failures. But the Bible has much more to say about women!
Looking into the lives of 22 mold-breaking women of the Bible, bestselling author and women's advocate J. Lee Grady shows that God enables his daughters for amazing—even impossible—exploits. Lee also reveals the empowering, often-overlooked gifts God gives each of his daughters—gifts like wisdom, fruitfulness, boldness, and leadership. When women accept and use these gifts, they can live the fearless lives of purpose God has ordained for them.
Thank you, Lee Grady, for reminding us that God's fearless daughters line the pages of the Bible. Each of their stories serves as a courageous call to follow God with abandon.
—Margaret Feinberg, author, Scouting the Divine and The Sacred Echo
Discover the power and the purpose of women who dare to trust God.
—LaDonna C. Osborn, president, Women's International Network
Product Details
Title: Lee Grady Collection
Author: J. Lee Grady
Publisher: Baker
Volumes: 2
Pages: 480
About J. Lee Grady
J. Lee Grady is an author, award-winning journalist, and ordained minister. He serves as contributing editor for Charisma magazine, one of America's most widely distributed evangelical Christian publications. His "Fire in My Bones" column is distributed to thousands around the world. Lee is also the founder of The Mordecai Project, a ministry aimed at confronting the abuse of women around the world. His preaching ministry has taken him to 24 nations.