Select Studies in Christian Monasticism (5 vols.)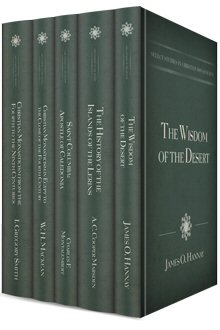 Select Studies in Christian Monasticism (5 vols.)
•
Runs on Windows, Mac and mobile.
Overview
The Select Studies in Christian Monasticism collection provides you with a number of resources on the history, styles, disciplines, and influential figures of early Christian monasticism, beginning with the Desert Fathers of Egypt and culminating with the developed monasticism of both France and Ireland. Everything you need to know about the origin of monasticism, the way it spread, and the people who made it possible is included in this collection. A volume of famous sayings of the Desert Fathers is also included, providing a fascinating glimpse into the theology and piety of early Christian monks.
With the Logos edition of these works, all Scripture references are tagged and appear in your favorite translation on mouseover. Each volume is completely searchable, so you can trace the connections between various themes, events, and historical figures of early Christian monasticism like never before. You can also cross-reference related texts at the touch of a button, and all your dictionaries and other reference tools are just a click away.
Key Features
Historical introduction to early Christian monasticism
Biography of a sixth century Irish missionary to Scotland
Collected sayings of various Desert Fathers and monks
Product Details
Title: Select Studies in Christian Monasticism
Volumes: 5
Pages: 1,158