The Early Christian Literature Primers (4 vols.)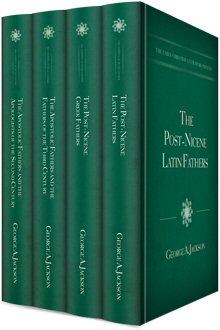 The Early Christian Literature Primers (4 vols.)
•
Runs on Windows, Mac and mobile.
Overview
This series provides a number of introductions and essays on the lives and works of the early Church Fathers, beginning with the apostolic age and continuing all the way through the end of the eighth century. Each father or influential figure is covered in a biographical format, and most of their works are summarized as well. This collection serves as a perfect introduction to the early Church Fathers for anyone interested in either patristics or early Church history.
With the Logos edition, all Scripture references are tagged and appear in your favorite translation on mouseover. Each volume is completely searchable, as well, so you can trace the connections between each figure, including common themes, doctrines, places, and historical events. You can also cross-reference texts at the touch of a button, and all your dictionaries and other reference tools are just a click away.
Key Features
Scholarly introductions to patristic literature
Chronological chart on the lives of the early Church Fathers
Biographies for each individual and summaries of their major works
Product Details
Title: The Early Christian Literature Primers
Author: George A. Jackson
Editor: George P. Fisher
Publisher: D. Appleton and Company
Volumes: 4
Pages: 869
About the Editor
George P. Fisher (1827–1909) was a professor of divinity at Yale College from 1854 to 1861, as well as Titus Street Professor of Church History for the Yale Divinity School from 1861 to 1901.
More details about these resources