A History of Greece (7 vols.)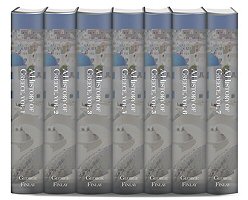 Overview
The importance of Greek history when it comes to understanding the history of Christianity itself can't be underestimated. Being home to several of the churches to whom the apostle Paul wrote occasional epistles, as well as a place of central importance in the interaction between East and West, the story of Greece is often times synonymous with the story of the church. In this masterful seven volume series, George Finlay covers the entire history of Greece, from its days as part of the pagan Roman Empire to its revolution against the Ottomans in the nineteenth century. Throughout these works, the importance and place of the Christian faith in the unfolding history of the Greek people is kept in full view. This set is a must-have for any student of either church history or the history of Christianity in the Greek-speaking world of the East.
With the Logos edition, the entire series is completely searchable, so you can see the connections between various themes, events, and historical figures in the history of Greece and Greek Christianity like never before. You can also cross-reference related texts at the touch of a button, and all your dictionaries and other reference tools are just a click away.
Key Features
In-depth, historical overview of the history of Greece
History of Orthodox Christianity in Greece
First-person account of the struggles for Greek independence under the Ottoman yoke
Product Details
Title: A History of Greece (7 vols.)
Author: George Finlay
Editor: H. F. Tozer
Publisher: Oxford University Press
Publication Date: 1877
Volumes: 7
Pages: 3,072
About George Finlay
George Finlay (1799–1875), born on December 21 in Faversham, Kent, was a Scottish historian. He was raised by his mother and uncle after his father's untimely death in 1802. Thanks to the influence of his mother, he grew to have a fond appreciation for the study of history and attended the University of Glasgow, the University of Gottingen, and the University of Edinburgh, with a keen interest in Greece developing during that time. His love for Greece led to his own involvement in the Greek struggle for independence and he eventually settled in Athens.
About Henry Fanshawe Tozer
Henry Fanshawe Tozer (1829–1916) was an English scholar and author. In 1850, he graduated from Exeter College in Oxford and spent time as the curator of the Taylor Institution at Oxford between 1869 and 1893. He traveled extensively in his career, spending the majority of his time in both Greece and Turkey. He had several published and edited works, including The Highlands of Turkey, Turkish Armenia and Eastern Asia Minor, and The Church and the Eastern Empire.