Select Works on Orthodox History, Part 1 (8 vols.)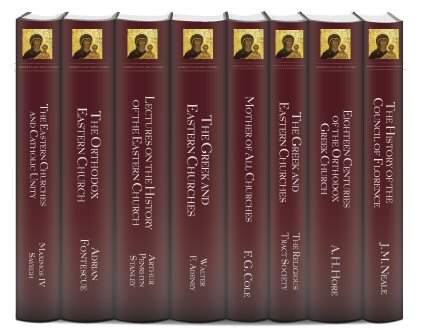 Select Works on Orthodox History, Part 1 (8 vols.)
•
Runs on Windows, Mac and mobile.
$20.00
Reg.: $122.95
Print: $343.45
* Projected price. Future bids may change this price.
Place Your Bid!
Click on the highest price you'd pay. If the final price is lower, that's what you'll pay.
Overview
Part one of this massive collection of resources provides you with both the historical and doctrinal background necessary to better understand the Orthodox Christian Church, or what F. G. Cole called "The Mother of All Churches." Covering everything from a detailed, historical account of the church from the days of the apostles until the nineteenth century, to a number of lectures and treatises on the Orthodox Church and her interaction with other Christian communions, this set is a must-have for anyone interested in the history of Christianity in the East, as well as how the Orthodox Church has had an influence on the Christianity of the West.
With the Logos edition, all Scripture references are tagged and appear in your favorite translation on mouseover. The entire collection is completely searchable, so you can trace the connections between various themes, events, and historical figures in the Orthodox Christian tradition like never before. You can also cross-reference related texts at the touch of a button, and all your dictionaries and other reference tools are just a click away.
Key Features
Multiple historical and doctrinal introductions to the Orthodox Christian church
Descriptions of Orthodox worship, as well as the deeper meaning behind the services
Orthodox viewpoints on reunion efforts between Rome and the Orthodox churches
An Orthodox perspective on the Councils of Basel-Ferrara-Florence in the fifteenth century
Product Details
Title: Select Works on Orthodox History, Part 1 (8 vols.)
Volumes: 8
Pages: 3,385