Kris Vallotton Collection (3 vols.)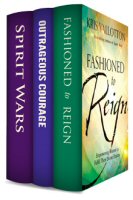 Overview
Kris Vallotton is dedicated to transforming culture for the kingdom of God and encouraging believers toward freedom and spiritual fulfillment. This three-volume collection showcases that dedication as this bestselling author and veteran pastor shares powerful stories of raw faith in action. In Spirit Wars, Vallotton dissects spiritual warfare, from recognizing conflicts to prevailing over the Enemy. Outrageous Courage is the inspirational story of a committed servant of Christ whose radical faith has led her from one adventure to the next. And Fashioned to Reign shares a message of female empowerment and honest biblical identity that both men and women will appreciate.
Logos Bible Software makes this collection easier to study than ever before. Your preferred Scripture translation appears on mouseover, and with Logos' advanced search features, you can perform comprehensive searches by topic or Scripture reference—finding, for example, every mention of "faith" or "Ephesians 6:12."
Key Features
Biblically based discussions of important theological issues
True tales of radical faith
Scriptural framework for handling spiritual warfare
Individual Titles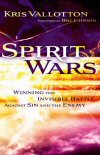 You know the battle is raging—but are you fighting the right enemy? Just as enemies fought Joshua in the Promised Land and Nehemiah faced opposition as he rebuilt the walls of Jerusalem, our enemy will fight us as we approach the spiritual terrain God has promised us. Most Christians retreat at the first sign of conflict because they fail to recognize the true nature of the battle. But you can prevail in freedom and joy.
Sharing his deeply personal story of demonic bondage, torment, and ultimate deliverance, pastor and bestselling author Kris Vallotton turns the idea of spiritual warfare as we know it on its head. He reveals the diabolical lies and strategies of the enemy—attacks and traps so subtle and deceptive that we may find our souls and hearts imprisoned without even knowing it. No more! Now you can win the invisible battle against sin and the enemy. Victory is within your grasp. Will you take hold?
A book like this by a man like Kris is pure gold. These are not only lessons learned in the battlefield, but practices that have helped people get free and stay free over many years. I am confident that Spirit Wars will find its way into the homes of believers all over the world as a handbook for understanding the spirit realm and for opening the eyes and hearts of the saints for generations to come. I would highly recommend that you get in the front of the line in buying this one!
—Danny Silk, family life pastor, Bethel Church, Redding, California
What I have found over the years in deliverance ministry is that while there are many principles we follow, there are no actual formulas in setting the captives free. Many times I have watched prayer ministers get so caught up in what should work that they forget to inquire of the Lord what will work. Thank you, Kris, for courageously exposing our need to continuously follow the leading of the Holy Spirit by broadening the scope of deliverance to include the whole man—body, soul, and spirit.
—Dawna De Silva, founder and coleader, Bethel Sozo International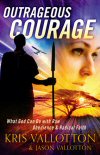 From the moment her motorcycle pulled up outside Kris Vallotton's small country church years ago, Tracy Evans has been impacting lives. Mentored by Kris, Bill Johnson, and Heidi Baker, Tracy has never been afraid of putting her life on the line repeatedly for Jesus—and God has used her repeatedly to do amazing things around the world. This is her story, as recounted to her closest friends. From treating rebel guerillas while captive on an Asian island to having tea in a Mozambican hut with bullets whistling by to caring for 900 HIV-positive orphans, Tracy's story will entrance you, inspire you to adventurous faith, and challenge you to be radically obedient.
This remarkable story will stir you on to greater depths of love and obedience.
—Heidi Baker, founding director, Iris Global
A faith-building book that contains more drama than a novel, except this one is true.
—Randy Clark, founder and president, Global Awakening and the Apostolic Network of Global Awakening
Jason Vallotton is the author of The Supernatural Power of Forgiveness and coauthor of Moral Revolution with his father, Kris Vallotton. A pastor at Bethel Church in Redding, California, he helps oversee the School of Supernatural Ministry. Jason currently serves on the board of Moral Revolution and is a sought-after counselor and speaker.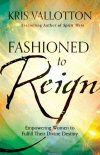 Fashioned to Reign: Empowering Women to Fulfill Their Divine Destiny
Author: Kris Vallotton
Publisher: Baker
Publication Date: 2013
Pages: 256
In the Garden, woman was taken out of man to stand by his side and coreign with him. But Satan's schemes have robbed women of their rightful identity, disempowering and defacing them. The world aches for God's original partnership to be brought into balance once more—and it can be. Join Kris Vallotton for an extraordinary journey of eye-opening insight, including:
God's true plan and purpose for women
Jesus' radical teachings and care for women
Men's important role in restoring women
The true meaning of difficult Bible passages about women
Examples of women in leadership as God intended
God fashioned women to reign alongside men. Jesus set women free to be beautiful and powerful. As daughters and sons of the King, it's time for us to rule together in glory again.
Read, weigh, and embrace the spirit, truth and heartbeat of this book. Its biblical approach rightly addresses unright arguments of strained interpretations. Such balance and beauty makes sense and offers wisdom. I say, 'Amen!'
—Jack W. Hayford, chancellor, The King's University
Finally, a biblical perspective that encourages women to remain themselves and still take their God-given places of leadership. This extraordinary book gives women freedom and biblical confidence to colabor with men and God.
—Stacey Campbell, cofounding pastor, New Life Church, Kelowna
This profound work is a must-read for men and women alike; it has the potential to instill courage in the hearts of men as well as give women permission to dream again.
—Bill Johnson, senior leader, Bethel Church, Redding, California
Product Details
Title: Kris Vallotton Collection
Authors: Kris Vallotton and Jason Vallotton
Publisher: Baker
Volumes: 3
Pages: 624
About Kris Vallotton
Kris Vallotton is the senior associate leader at Bethel Church in Redding, California, where he has served for three decades. He has written several books, including the bestselling The Supernatural Ways of Royalty and Heavy Rain. His prophetic insight and humorous delivery make him a much-sought-after international conference speaker, and his personal testimony of deliverance from fear and torment brings hope and freedom to thousands. Kris is also the cofounder and senior overseer of the Bethel School of Supernatural Ministry, which has grown to more than 1,300 full-time students, as well as the founder of Moral Revolution, an organization dedicated to cultural transformation.
More details about these resources