Cindy Jacobs Collection (2 vols.)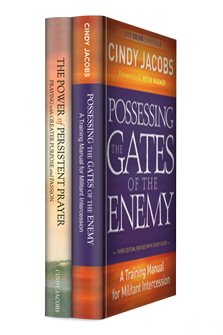 Overview
Cindy Jacobs, bestselling author and recognized leader in the worldwide prayer movement, brings her passionate message to all Christians who struggle with prayer or desire to be more effective prayer warriors. Do you feel "stuck" in your prayer life, wondering if your prayers make it past the ceiling? Do you want your prayers to have greater impact in the lives of your family, friends, community, and nation? If so, Cindy Jacobs shares wisdom and illustrations that will help you transform your spiritual life. Whether you are a beginning "pray-er" or an expert intercessor, you can learn to pray about matters on the heart of God. Written out of the crucible of her own deep prayer life, the volumes in this three-book collection cover the basic teachings and build up to more in-depth topics, including fasting, breaking down prayer barriers, intercessory worship, and spiritual warfare.
The Logos Bible Software edition of this collection is designed to encourage and stimulate your personal or pastoral study. Scripture passages link directly to your preferred English translation and original-language texts; important theological concepts link to dictionaries, encyclopedias, and a wealth of other resources in your digital library. In addition, you can perform powerful searches by topic to find what other authors, scholars, and theologians have to say about prayer and intercession.
Key Features
Offers inspirational and instructional prayer guidance
Includes in-depth study guides for group prayer and discussion
Illustrates the globally transformative power of prayer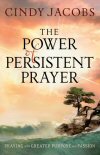 This powerful guide will answer such questions as, "Why pray if God already knows my needs?," "Why does it take so long to receive answers to my prayers?," "How can I take my prayer life to the next level?," and many more. Whether you wonder why your prayers aren't answered, if God likes the way you pray, or if you're persistent enough in your prayers, Jacobs addresses these concerns and provides solid biblical answers. She guides you with instruction, encouragement, and transparency to help you break through the barriers that stifle your prayers and become the effective, powerful prayer warrior God desires you to be.
The Power of Persistent Prayer is packed full of great tools to equip anyone needing instruction on intercession and prayer.
—Beni Johnson, prayer pastor, Bethel Church, Redding, California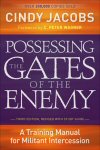 Now revised and updated, Possessing the Gates of the Enemy is an in-demand, strategic source of information on prayer and intercession. Covering everything from the call to intercede to conducting "spiritual mapping" and praying to break strongholds, this book helps believers understand the depth involved in spiritual warfare while offering a wealth of insight for new and veteran intercessors alike. Complete with an in-depth study guide, this classic text on intercession has become required reading for everyone who is serious about prayer.
About Cindy Jacobs
Cindy Jacobs has a worldwide intercession ministry. She and her husband, Mike, are the founders of Generals International, working to achieve social transformation through intercession and prophetic ministry. She is the author of several bestselling books, including The Voice of God, Women of Destiny, and Deliver Us from Evil.
More details about these resources