Baker Academic Church and Mission (3 vols.)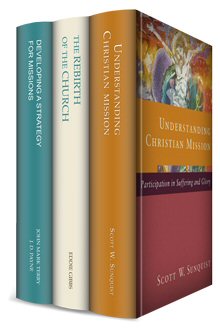 Overview
The Baker Academic Church and Mission collection explores modern approaches to missions and church building. It analyzes current and historical movements and offers practical strategies for developing effective, mission-focused churches. The authors discuss evangelism, missions, ministering in a post-Christian world, revitalization of the church, and more. This collection encourages Christians to live out Christ-centered, disciple-making lives locally and globally.
The Logos version provides you with unique benefits available nowhere else. Scripture references appear on mouseover and link to your preferred translation or the original-language text. This collection fully integrates into your digital library, cross-referencing to your dictionaries, commentaries, and other reference tools and allowing you to discover what other pastors, scholars, and theologians have to say about the missional church and Christian living.
Key Features
Studies missional church movements throughout history
Suggests biblical, practical, and cultural strategies for developing effective missions
Analyzes the role of the church in an increasingly secular world
Encourages revitalization of the local and global church
Individual Titles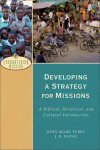 Developing a Strategy for Missions: A Biblical, Historical, and Cultural Introduction
In Developing a Strategy for Missions, two missionary scholars offer readers everywhere an up-to-date discussion of missionary strategy. The authors focus on the biblical, missiological, historical, cultural, and practical issues that inform and guide the development of an effective missions strategy. The book includes tables, diagrams, box inserts, sidebars, chapter summaries, discussion questions, and a list of key terms. Students of global or domestic mission work and mission practitioners will value this new resource.
John Mark Terry earned his PhD from Southwestern Baptist Theological Seminary. He is currently professor of missions at Malaysia Baptist Theological Seminary in Malaysia and has served as a missionary.
J.D. Payne earned his PhD from Southern Baptist Theological Seminary. He is pastor of church multiplication at the Church at Brook Hills in Birmingham, Alabama, and has served as a missionary.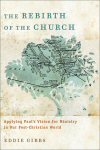 The Rebirth of the Church: Applying Paul's Vision for Ministry in Our Post-Christian World
Author: Eddie Gibbs
Publisher: Baker Academic
Publication Date: 2013
Pages: 272
Churches across the Western world have become increasingly fragmented and marginalized, often struggling to survive. In The Rebirth of the Church, Eddie Gibbs addresses the challenges of reimagining the church in a post-Christian world. He gleans critical biblical insights from the early church's experience to help contemporary leaders and churches minister more effectively.
Gibbs compares the social and cultural context of the twenty-first century with that of the first century, exploring what can be learned about the birthing of churches in the book of Acts and in Paul's letters. He identifies the issues Paul faced in order to sustain a movement growing exponentially and considers what lessons might be learned in addressing current challenges in the church. The book examines vital issues not only for the survival of the church, but also for its revitalization and rebirth.
This is a robust, prophetic missiology for the post-Christendom era from a mature expert who has helped guide us for the last four decades. The advice is sound and the implications are unavoidable. Definitely a worthwhile read.
—Alan Hirsch, founder, Forge Mission Training Network
In The Rebirth of the Church, Eddie Gibbs offers a rich, thought-provoking, and thoroughly biblical approach to church leadership. Gibbs brings his wise and winsome approach to bear on key leadership issues that pertain both to New Testament churches and twenty-first century communities. Only he could write a volume that illuminates and addresses these two worlds in such a compelling way.
—Ryan Bolger, associate professor, Fuller Theological Seminary
Eddie Gibbs is professor emeritus of church growth at the School of Intercultural Studies at Fuller Theological Seminary, and contributes to the Study of Emerging Churches at the Brehm Center for Worship, Theology, and the Arts. He is the author of ChurchMorph, Emerging Churches, ChurchNext, and more.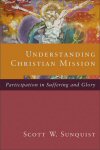 Understanding Christian Mission: Participation in Suffering and Glory
Author: Scott W. Sunquist
Publisher: Baker Academic
Publication Date: 2013
Pages: 480
This comprehensive introduction helps students, pastors, and mission committees understand contemporary Christian missions historically, biblically, and theologically. Scott Sunquist, a respected scholar and teacher of world Christianity, recovers missiological thinking from the early church for the twenty-first century. He traces the mission of the church throughout history in order to address the global church and offers a constructive theology and practice for missionary work today.
Sunquist views spirituality as the foundation for all mission involvement, for mission practice springs from spiritual formation. He highlights the Holy Spirit in the work of missions and emphasizes its Trinitarian nature. Sunquist explores these topics from a primarily theological—rather than sociological—perspective, showing that the whole of Christian theology depends on and feeds into missions. Throughout the book, he presents Christian missions as our participation in the suffering and glory of Jesus Christ for the redemption of the nations.
This book offers a fresh understanding of Christian mission endeavors from historical, theological, and ecclesiological perspectives. It explains how the realities of suffering and glory have shaped the practitioners of mission in local, regional, and international contexts. Scott Sunquist's teaching and living in mission contexts shine through in his expert choice of peoples and events in world Christianity. This work is a must-read for all who reflect on Christian mission and its legacy and prospects.
—Daniel Jeyaraj, professor of world Christianity, Liverpool Hope University
A powerful primer on the history and theology of mission, this book brilliantly lays out a clear understanding of God's mission, which the church today needs to recover and build on. It is a must-read for students exploring Christian mission for the first time as well as a comprehensive resource for practitioners currently involved with global mission.
—Tom Lin, vice president of missions, InterVarsity Christian Fellowship
Scott W. Sunquist earned his PhD from Princeton Theological Seminary and currently serves as dean of the School of Intercultural Studies at Fuller Theological Seminary. He previously served as professor of world Christianity at Pittsburgh Theological Seminary. Sunquist has written numerous scholarly articles and is coauthor, with Dale Irvin, of the multivolume History of the World Christian Movement. He is also coeditor of A Dictionary of Asian Christianity.
More details about these resources