The Mystical Element of Religion (2 vols.)
Overview
In The Mystical Element of Religion, Modernist theologian Baron Friedrich von Hugel shares the results of his extensive philosophical studies of religion and mysticism. Over the course of two volumes, von Hugel applies to religion his sweeping theory of the "three elements." He analyzes spiritual life through three lenses—the institutional, the intellectual, and the mystical—illustrating his argument with events from the life of Saint Catherine of Genoa. These examples emphasize balance among the elements because, according to von Hugel, harmonizing the complexities of religion leads to more profound spiritual experiences. Von Hugel hoped to "spur [readers] on . . . to fuller religious insight, force, and fruitfulness," a goal that has been realized time and again thanks to the insights of this great Christian thinker.
With Logos Bible Software, this collection is completely searchable, making the text easier to access for scholarly work and personal study. Scripture appears on mouseover in your preferred translation, and the Logos version integrates seamlessly into your digital library, so your dictionaries and other reference tools are only ever a click away.
Key Features
Applies the "three elements" philosophical concept to religion
Emphasizes balance between the intellectual, the institutional, and the mystical
Details the life of Saint Catherine of Genoa
Praise for the Print Edition
The author recognizes fully that mysticism is not all of religion, and that if it claims to be such, it becomes abnormal. Therefore he divides mysticism into two classes, a false, or 'exclusive,' mysticism, that leaves no room for other religious elements, and a true, or 'inclusive,' mysticism that recognizes the mystical element as only a part of the total religious life. In this latter sense, Baron von Hugel maintains that mysticism as the immediate sense of union with God through withdrawal from the world is not a peculiar faculty, but is a genuine part of a truly religious attitude.
—Theosophical Quarterly
Individual Titles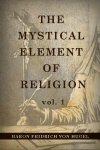 This volume contains parts 1–2 of The Mystical Element of Religion.
Product Details
Title: The Mystical Element of Religion
Author: Baron Friedrich von Hugel
Publisher: J. M. Dent & Company
Volumes: 2
Pages: 949
About Friedrich von Hugel
Baron Friedrich von Hugel (1852-1925) was a Modernist theologian, apologist, and writer who focused on mysticism and the philosophy of religion. His most significant contribution to theological thinking is his concept of the "three elements," which provides a framework for understanding all facets of life. The Mystical Element of Religion is his best-known work, though he is also the author of Eternal Life, The German Soul, The Reality of God, and Religion and Agnosticism.
More details about this resource