Catholic Scripture Study International: The Acts of the Apostles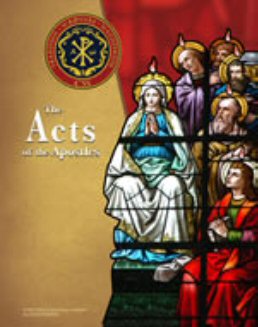 Catholic Scripture Study International: The Acts of the Apostles
•
Runs on Windows, Mac and mobile.
Overview
Includes 28 lessons with suggested responses and commentary on the biblical text.
This is the birth of the Church—the completion of the story of Jesus as manifested in the life of the early Church, Christ's mystical body on Earth. Some highlights of this book include Jesus' Ascension, the replacing of Judas; Pentecost; Peter's primacy; the miracles of and the spread of the Gospel by the Apostles; growth of the first Christian community around Peter; Stephen, the first Christian martyr; Saul, the persecutor of Christians and his miraculous conversion; the first Church council; the mission.
In Logos, these Catholic Scripture Study International studies work even smarter. See Scripture, Catechism, and Church document references appear on mouseover, and instantly find what other authors in your library have to say on the topic. Take notes and share them with your small group on Faithlife, or lead your small group straight from the instructional guide always accessible on your tablet, smart phone, or laptop.
Want more from Catholic Scripture Study International? Get all of the studies at an amazing discount.
Key Features
Examines the book of Acts chapter-by-chapter
Comes with study questions for group study and individual testing
Includes a Group Leader Guide to assist leaders in facilitating discussion
Praise for the Print Edition
This Bible study program is rooted in sound Biblical scholarship and in the Church's magisterium. I hope you will welcome and support this important Bible study program in your parishes.
—Most Rev. Peter Jugis, bishop, Charlotte
This program covers all the desirable bases—thorough textual analysis and exegesis, stimulating questions to engage the individual subscriber, and direct and faithful connections of what has been studied to the Catechism, and to the magisterial writings of the Church. I can easily assure any pastor, that this program will not only enhance the spiritual lives of your people individually, but also the level of spiritual vitality of your parish.
—Most Rev. John F. Donoghue, archbishop emeritus, Atlanta
Product Details
Title: The Acts of the Apostles
Author: Steve Ray
Series: Catholic Scripture Study International Studies
Publisher: Catholic Scripture Study International
Publication Date: 2007
Pages: 350
About the Author
Steve Ray converted to the Catholic Church from a Baptist background in 1994, after an in-depth study of the writings of the Church Fathers. He is the host of the popular, award-winning film series on salvation history, The Footprints of God. Steve is the author of the bestselling books Crossing the Tiber, St. John's Gospel, and Upon This Rock. He is a popular conference and retreat speaker, has been a guest radio speaker, and made appearances EWTN.
Sample Pages from the Print Edition
More details about these resources