Library of Religious Biography (10 vols.)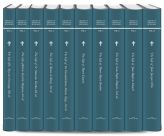 Library of Religious Biography (10 vols.)
•
Runs on Windows, Mac and mobile.
$20.00
Reg.: $199.95
Print: $347.50
* Projected price. Future bids may change this price.
Place Your Bid!
Click on the highest price you'd pay. If the final price is lower, that's what you'll pay.
Overview
In The Library of Religious Biography, Edward H. Thompson brings together a collection of biographies of saints and inspiring people. These biographies provide examples of astonishing humility, sacrifice, purity, and faith, and the lives that embodied these qualities. Covering 10 lives from birth to death, these biographies contain instances of the supernatural, encounters with the divine, and holiness in overwhelming circumstances. Thompson draws from multiple original sources to report on these incredible lives as accurately as possible.The Library of Religious Biography reveals the tremendous perseverance of these men and women, and the circumstances which challenged them to become more Christ-like as they glorified God. Thompson grounds the texts in the facts surrounding each of these lives, and points to the moments in which these men and women became powerful symbols of the qualities they embody.
With the Logos version, all references to Scripture and other texts are tagged and appear with mouseover. Read The Library of Religious Biography on your laptop or mobile device to be encouraged and challenged by these Godly lives wherever you are.
Key Features
Contains 10 detailed biographies of extraordinary people
Offers a diverse selection of people from widely different circumstances
Provides original texts based the best authorities available
Gives detailed citations of source texts

Saint Aloysius Gonzaga, one of the three patrons of youth, died before obtaining priesthood, but not before living a phenomenal life. He joined the newly founded Company of Jesus as a young man, becoming a Jesuit and giving up his right to what would have been a substantial inheritence. After joining the Jesuits, Gonzaga cared for victims of the plague, which he eventually contracted himself. This biography explores the circumstances of his life, and the miraculous events that led to his sainthood.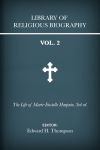 The Life of Marie-Eustelle Harpain
Editor: Edward H. Thompson
Edition: 3rd
Publisher: Burns and Oates
Publication Date: 1868
Pages: 402
Marie-Eustelle Harpain lived a life "sublime in its very simplicity: a life with one dominant purpose, one all-absorbing passion—the love and the worship of our Incarnate God in His Most Holy and Most Divine Sacrament." Her devotion to love and prayer stands as a testimony of the impact a life of humility can have.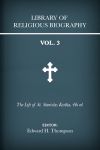 The Life of St. Stanislas Kostka
Editor: Edward H. Thompson
Edition: 4th
Publisher: Burns and Oates
Publication Date: 1870
Pages: 336
Another patron of youth, Saint Stanislas Kostka is examined alongside Saint Aloysius Gonzaga in this biography. His family unable to accept his calling to the Jesuit order, Stanislas's determination and faith led him to disguise himself and walk hundreds of miles from Vienna to Rome to join the Society of Jesus. The biography of his life provides an eye-opening example of how far someone can go to fulfill their calling.
The Life of Baron de Renty
Editor: Edward H. Thompson
Edition: 3rd
Publisher: Burns and Oates
Publication Date: 1873
Pages: 461
Gaston Jean Baptiste de Renty was born in a castle in 1611. As a young man, he devoted himself to serving the poor, and throughout his life he implemented new ways to help provide for those less fortunate. Baron de Renty taught many people about the glories of God in his 37 years of life, and those close to him learned just as much through his death.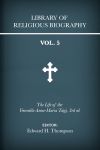 The Life of the Venerable Anna-Maria Taigi
Editor: Edward H. Thompson
Edition: 3rd
Publisher: Burns and Oates
Publication Date: 1873
Pages: 433
Anna-Maria Taigi's life is a shining example of Godly maternity. She is believed to have been gifted with prophetic visions, which often offered insights into the spiritual world surrounding death and intimate knowledge of future events. Included in her biography is an appendix documenting pieces of her prophesies and comparing them with other noteworthy prophesies.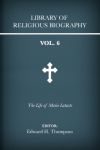 The Life of Marie Lataste
Editor: Edward H. Thompson
Publisher: Burns and Oates
Publication Date: 1877
Pages: 369
Marie Lataste was an uneducated peasant girl whose teachings profoundly impacted those around her. She composed writings which far surpassed her educational background, which supported the belief that Jesus taught her directly and almost daily through parables and words of wisdom, or what she called "the science of salvation." Her biography makes allusions to her writings and includes a thorough discussion of them, but the authenticity of what remains of her writings today cannot be verified. Also included in her biography is "a brief notice of her sister Quitterie," who belonged to the order of Sisters of Charity.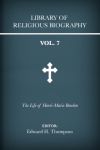 The Life of Henri-Marie Boudon
Editor: Edward H. Thompson
Publisher: Burns and Oates
Publication Date: 1880
Pages: 422
Henri-Marie Boudon is an example of a man whose heart overflowed selflessly into the lives of those around him. At times suffering through poverty, the two words most often on his lips were "God alone." It is said of Boudon that "when preaching, his eyes glowed with animation, and they kindled in like manner when conversing about God and heavenly things."
The Life of Leon Papin-Dupont
Editor: Edward H. Thompson
Edition: 2nd
Publisher: Burns and Oates
Publication Date: 1882
Pages: 489
Leon Papin-Dupont is known for having been so filled with love that his happiness could not be contained. His preaching often brought laughter and joy with its wisdom. The full extent of his devotion to God was not known until the discovery of his confidential letters, which revealed an adoration and passion for the presence of God.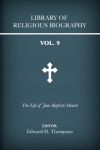 The Life of Jean-Baptiste Muard
Editor: Edward H. Thompson
Publisher: Burns and Oates
Publication Date: 1886
Pages: 553
Jean-Baptiste Muard was a monk who founded the Congregation of St. Edme and the Monastery of La Pierre-qui-Vire. Comte de Montalembert said of Muard, "I have seen in the course of my life many priests and religious in France, in Germany, in Italy, in Spain, in Portugal, in short, throughout Europe, but I do not believe that I ever met any who awakened in my soul in so vivid a manner the idea of a Saint."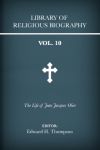 The Life of Jean-Jacques Olier
Editor: Edward H. Thompson
Publisher: Burns and Oates
Publication Date: 1886
Pages: 680
From an early age, it was clear that Jean-Jacques Olier was called to be a significant man. His biography explores a number of supernatural events leading up to his founding of the Seminary of St. Sulpice, as well as the radical healings and appearances believed to have taken place after his death. The biography also includes a detailed index and additional notes.
Product Details
Title: Library of Religious Biography
Editor: Edward H. Thompson
Volumes: 10
Pages: 4,542
About Edward H. Thompson
Edward Healy Thompson (1813–1891) served for a time in Anglican ministry as a curate before becoming Catholic in 1846. He devoted his life to providing religious knowledge, writing up until his death. Much of his published writing is made up of older works which he recomposed for contemporary audiences.