Congregation for Divine Worship and the Sacraments Collection (6 vols.)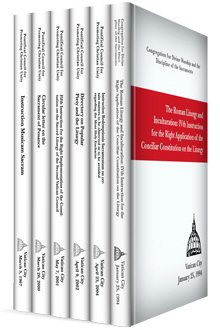 Congregation for Divine Worship and the Sacraments Collection (6 vols.)
•
Runs on Windows, Mac and mobile.
Overview
The Congregation for the Divine Worship and the Discipline of the Sacraments is responsible for upholding the Church's traditions, teachings, and disciplines concerning the Sacraments—especially as they are performed through the Mass and the liturgy of the Church. These documents, authored by the same Congregation, uphold the Second Vatican Council's teachings and explain how to intregrate them into the Church's liturgies. With these essential writings, discover how the Catholic Church brings Vatican II to the Mass and honors the Sacraments with instructions for every diocese around the globe. Learn exactly how Sancrosanctum Concilium works out in the Church today.
In Logos, these teachings build into your library's depth of research. Completely searchable, find the issues or guidelines you're looking for instantly and learn how to live them out in your parish or organization.
Key Features
Discusses the liturgy of the Roman Church in light of Vatican II
Provides guidelines for handling the Eucharist and performing the Sacrament of Penance
Explores principles that guide a standard Roman liturgy in a world of different cultures and languages
Product Details
Title: Congregation for Divine Worship and the Sacraments Collection
Publisher: Libreria Editrice Vaticana
Volumes: 6
Pages: 377
Contents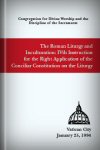 The Roman Liturgy and Inculturation
Publisher: Libreria Editrice Vaticana
Publication Date: 1994
Pages: 32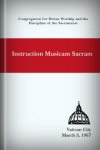 Instruction Musicam Sacram
Publisher: Libreria Editrice Vaticana
Publication Date: 1967
Pages: 20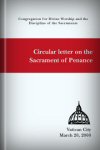 Circular Letter on the Sacrament of Penance
Publisher: Libreria Editrice Vaticana
Publication Date: 2000
Pages: 10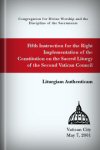 Fifth Instruction for the Right Implementation of the Constitution on the Sacred Liturgy of the Second Vatican Council - Liturgiam Authenticam
Publisher: Libreria Editrice Vaticana
Publication Date: 2001
Pages: 52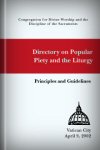 Directory on Popular Piety and the Liturgy: Principles and Guidelines
Publisher: Libreria Editrice Vaticana
Publication Date: 2002
Pages: 205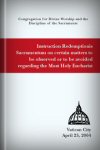 Instruction Redemptionis Sacramentum on Certain Matters to Be Observed or to Be Avoided Regarding the Most Holy Eucharist
Publisher: Libreria Editrice Vaticana
Publication Date: 2004
Pages: 58