Henrietta C. Mears Collection (6 vols.)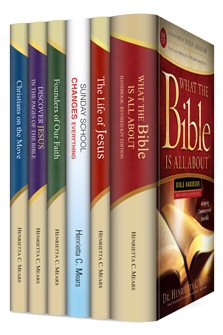 Overview
Get to know Jesus through those who walked in his steps, and let one of the twentieth century's most beloved Bible teachers show you how you fit into God's big picture. What the Bible Is All About, included in this collection, has been trusted by four generations of believers as their guide to growing in God's Word. The Henrietta C. Mears Collection provides an all-new study series based on Mears' perennial bestseller, along with God's Plan and Sunday School Changes Everything. Explore the smaller stories that make up God's sweeping salvation narrative, and understand how each book of the Bible points to Jesus Christ.
With Logos Bible Software, this collection is completely searchable. Scripture passages appear on mouseover, linking to your favorite Bible translation in your library, and with Logos' advanced search features, these texts are more powerful and easier to access than ever before.
Key Features
Bible reading plans
Steps to becoming a member of God's family
Tools to help build your church's education program
Overview of every book in the Bible
Product Details
Title: Henrietta C. Mears Collection
Author: Henrietta C. Mears
Publisher: Gospel Light
Volumes: 7
Pages: 1,952
About Henrietta C. Mears
Henrietta C. Mears was one of the great Bible teachers of the twentieth century. As Christian education director at First Presbyterian Church of Hollywood, she built one of the largest Sunday Schools in the world and wrote curriculum that was in such high demand that to publish it, she founded Gospel Light in 1933.