Phyllis Tickle Collection (2 vols.)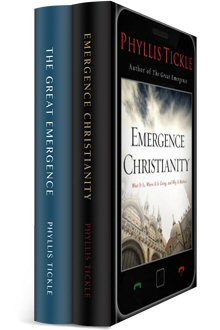 Overview
In this postmodern era, the church is going through a massive transition called the "Great Emergence." Christians are disenchanted with the institutional church, and as a result, Christian worship, community, theology, and evangelicalism are being reshaped and transformed. In this collection, Phyllis Tickle, an authority on religion and spirituality in America, pinpoints what the "Great Emergence" is, how it came to be, and where it is headed. She analyzes past emerging movements, addresses social and cultural changes in our era, and shares the concerns and questions facing today's church.
The Logos Bible Software edition of this collection is designed to encourage and stimulate your study and understanding of the emerging church. You can instantly access important information about dozens of prominent individuals and historical Christian events that have influenced—and continue to influence—the church. Important theological concepts link to dictionaries, encyclopedias, and a wealth of other resources in your digital library. In addition, you can perform powerful searches by topic and find what other authors, scholars, and theologians have to say about past and current movements sweeping the church.
Key Features
Presents a history of past church movements
Analyzes the "Great Emergence"—what it is, how it evolved, and where it's going
Addresses key changes facing the postmodern church
Individual Titles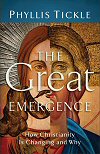 Every 500 years, the church cleans out its attic and has a giant rummage sale. Well, not exactly. But according to internationally renowned religion expert, Phyllis Tickle, this is an accurate summary of the church's massive transitions over time. According to the pattern, we are living in such a time of change right now. Tickle calls it "the Great Emergence"—a time of dizzying upheaval and hopeful promise during which various sectors of today's church swirl into a great confluence at the center.
If you long to make sense of the place in our world that the church has today—and will have in the years to come—The Great Emergence is your history lesson, your sociology experiment, and your field guide to the future. The reading and discussion guide will help you understand, internalize, and live out this extraordinary book, allowing you to bring meaningful practices into our postmodern world.
Phyllis Tickle offers a creative and provocative overview of multiple social and cultural changes in our era, their relation to previous major paradigm shifts, and their particular impact on North American Christianity. This is an immensely important contribution to the current conversation about new and emerging forms of Christianity in a postmodern environment—and a delight to read!
—Katharine Jefferts Schori, presiding bishop and primate, The Episcopal Church
It is too easy to call the emerging movement a new reformation. Why? Find parallels to the sixteenth century, and you've got it. It is just as easy to debunk such a theory. Why? Find absences to the Reformation, and the parallel breaks down. That is why the emerging movement has to be explained as its own thing. Phyllis Tickle does just that. One thing I've learned to appreciate as I've grown older is big theories—and that is what Phyllis gives us. Within a few pages you'll be wondering if she's onto something. If she is, then we're in the eye of a storm.
—Scot McKnight, Karl A. Olsson Professor in Religious Studies, North Park University
The Great Emergence offers a sweeping overview of church history and locates us in a moment of great opportunity and challenge. To some, this analysis will come as a rude awakening, and to others, as a dream coming true. My hunch is that this will be one of the most important books of the year, and will shape the conversation among a wide range of Christians for years to come.
—Brian McLaren, activist, author, and speaker
North American Christianity is presently undergoing a change every bit as radical as the Protestant Reformation, possibly even as monumental as its natal break with Judaism. And it's right on schedule. Tickle . . . observes that Christianity is holding its semi-millennial rummage sale of ideas. With an elegance of argument and economy of description, Tickle escorts readers through the centuries of church history leading to this moment and persuasively charts the character of and possibilities for the emerging church. Don't let this book's brevity fool you. It is packed with keen insights about what this 'great emergence' is, how it came to be, and where it may be headed. Tickle issues a clear call to acknowledge the inevitability of change, discern the church's new shape, and participate responsibly in the transformation. . . . This is a must-read for anyone seeking to understand the face and future of Christianity.
—Publishers Weekly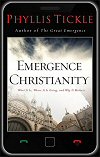 Whatever else one might say about Emergence Christianity, one must agree it is shifting and reconfiguring itself in such a prodigious way as to defy any final assessments or absolute pronouncements. Yet in Emergence Christianity, Phyllis Tickle gathers the tangled threads of history and weaves the story of this fascinating movement into a beautiful and understandable whole.
Through her careful study and culture-watching, Tickle invites you to join this investigation and conversation as an open-minded explorer. You will discover fascinating insights into the concerns, organizational patterns, theology, and most pressing questions facing the church today. And you'll get a tantalizing glimpse of the future.
Phyllis Tickle is in a unique position by reason of experience, education, and personal courage to say things that many cannot say—or cannot see. Here she does it very well—once again. Christianity is emerging with or without Phyllis Tickle, but she is sure helping the rest of us to emerge along with it!
—Richard Rohr, founder, Center for Action and Contemplation
Finally someone has put the emergence conversation in the wider historical context it deserves—showing how what is now emerging owes so much to contributors over the last century, from Walter Raushenbusch to Johann Baptist Metz, from Dorothy Day to Mary and Gordon Cosby, from Azusa Street to Taizé and Iona to Buenos Aires. Phyllis Tickle gets it right and conveys it beautifully, so more and more readers can be a part of it . . . with a clearer understanding of what 'it' is!
—Brian McLaren, activist, author, and speaker
What a fascinating read! A page turner! I read through each story with anticipation as I eagerly awaited the next set of connections Phyllis Tickle would make between seemingly unrelated people, movements, faith, and culture. Never in one volume have I seen such a diverse set of Christian movements not only listed but analyzed for their meaning as it related to the bigger picture. As we have come to expect, Tickle has done her homework, and the result is a unique contribution to the conversation about what Christianity has and will become in the twenty-first century.
—Ryan Bolger, associate professor of church in contemporary culture, Fuller Theological Seminary
Take a heart practiced in faith and trust in God. Add the mind of a finely trained historian and the eye of a keen observer of religion. Add gifted writing, unfailing bluntness, and deep wisdom, and you get Phyllis Tickle. These pages offer you nothing less than the future of the church, chronicled by an author who welcomes this 'great emergence' without an ounce of fear. It's a story you can't afford to miss.
—Philip Clayton, dean, Claremont School of Theology
About Phyllis Tickle
Phyllis Tickle, founding editor of the religion department at Publishers Weekly, is the author of more than two dozen books on the subject. She is frequently quoted and interviewed in such media outlets as the New York Times, USA Today, Newsweek, Time, CNN, C-SPAN, and PBS. A lector and lay Eucharistic minister in the Episcopal Church, she holds the honorary degree of Doctor of Humane Letters from both Berkeley School of Divinity at Yale University and from North Park University.
More details about these resources